Today I have a perfect muffin recipe to share with you if (1.) you're sensitive to dairy or eggs, (2.) you're out of fresh ingredients and limited to pantry staples, or (3.) you know an 11-month-old in need of a smash cake for an upcoming birthday party.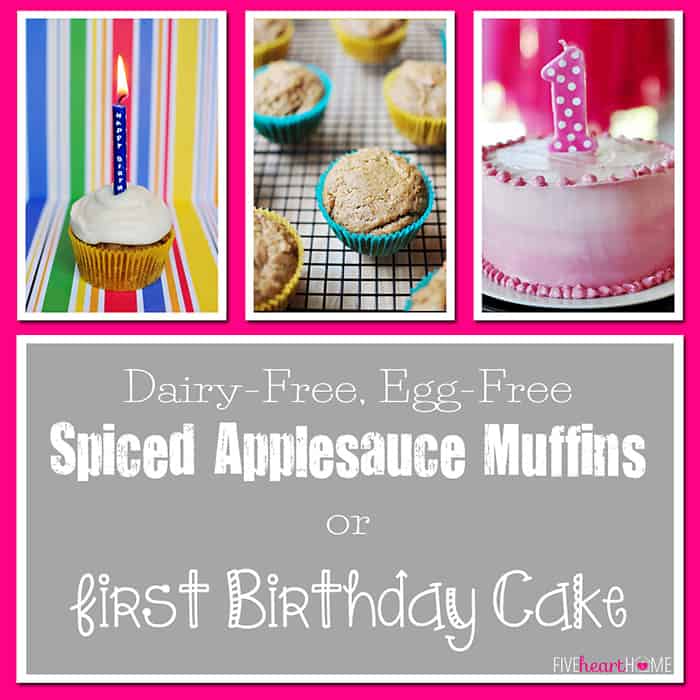 Five years ago, when my oldest son was coming up on his first birthday, I fretted about him having a cute first birthday smash cake to dig his little hands into without risking a possible reaction to allergenic ingredients that were new to him (namely, eggs and dairy). After all, it would really stink to try something for the first time on your first birthday and then break out in hives because of it!
After a bit of research, I came across a recipe for a First Birthday Applesauce Cake. So I baked it, frosted it, and had it ready for smashing at my first baby's first birthday party. My sweet boy ended up being one of those babies who enjoyed playing with his cake more than actually eating it, but when I later sampled some of the decimated cake crumbs, I was pleasantly surprised to find that it was pretty darn tasty!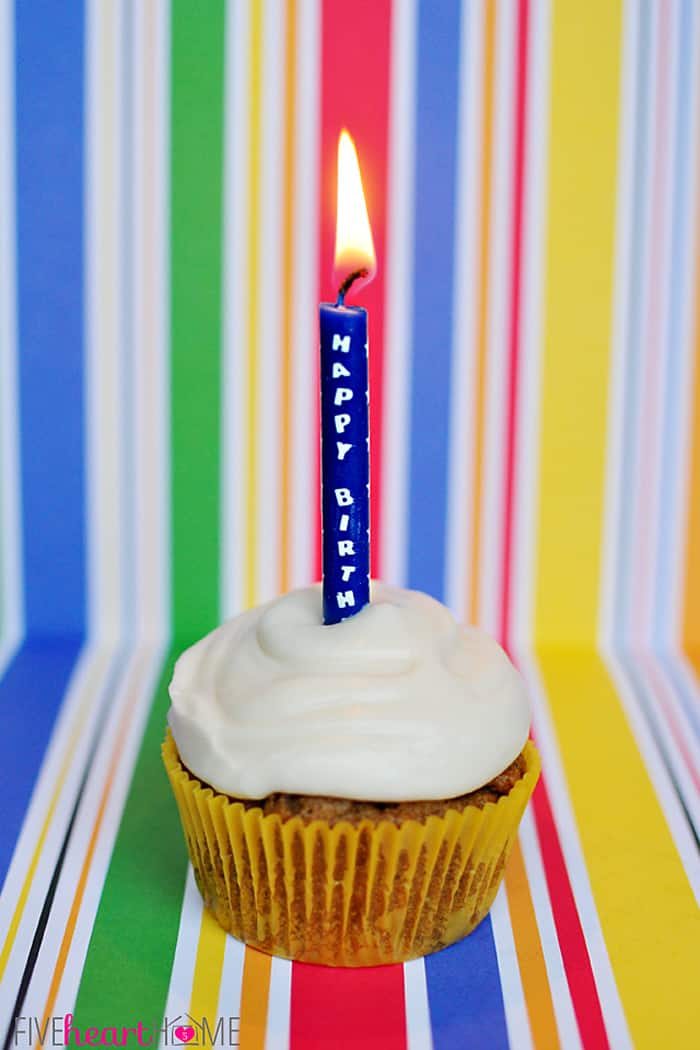 From that day on, you could say that this applesauce cake became a family tradition. I ended up baking it as a first birthday cake for my nephew, my second son and, just recently, my daughter, and I passed the recipe on to countless other moms in the years in between.
But who wants to have to wait for the next first birthday party before getting to enjoy such yummy spiced applesauce goodness? It didn't take me long to figure out that I could use this same batter to bake cinnamon-laced applesauce muffins. They're good year-round, but I've always thought their flavor is particularly appropriate during the fall. And I can assure you that they make a great snack or breakfast on-the-go!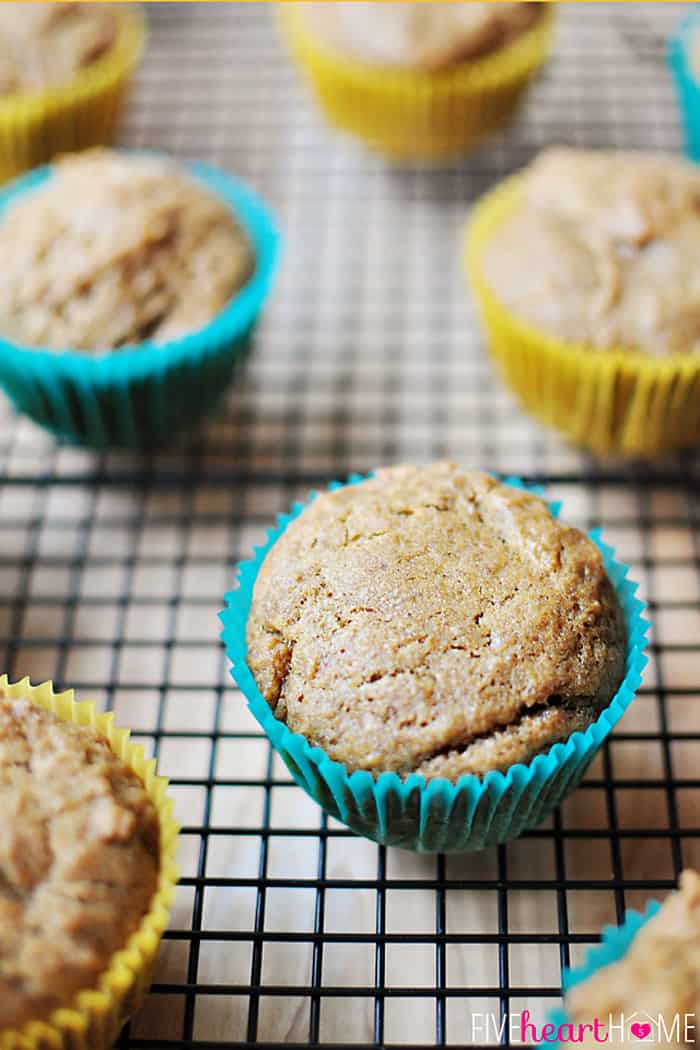 When my daughter turned one a couple of weeks ago, I wanted her to be able to try cake for the first time on her actual birthday, but I also wanted her to have a traditional smash cake for her party a few days later. So I made a double recipe of this spiced applesauce batter. Half of the batter I divided into a 12-cup muffin pan. The other half of the batter I split between two 6-inch round cake pans for her smash cake.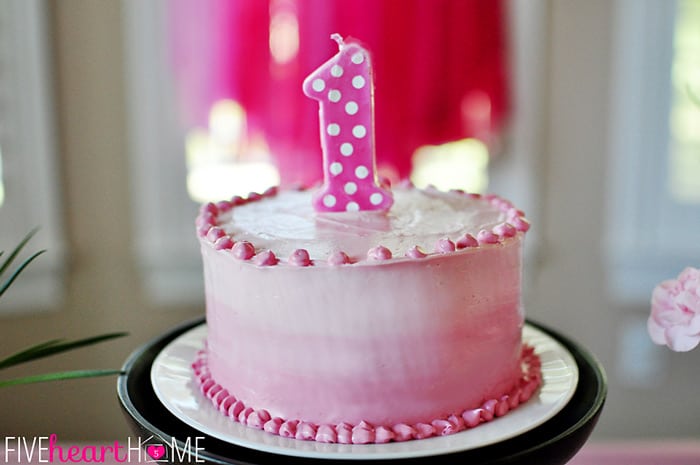 On baby girl's actual birthday, I frosted a few muffins for our little family birthday celebration (frosting muffins turns them into cupcakes, right?), and she got to (let her brothers) blow out a candle before she destroyed her small, cupcake-sized smash cake.
Then on her birthday? She got to dig into the real deal.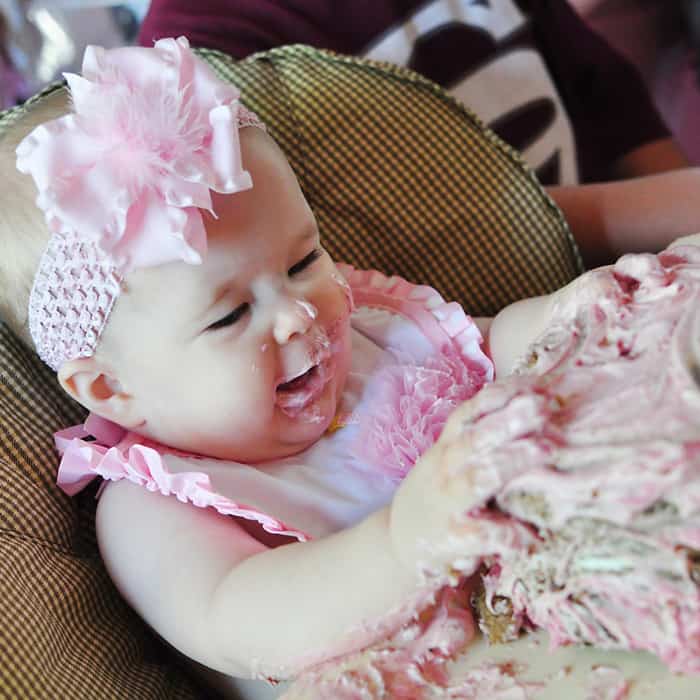 So whether you're craving some quick and easy muffins that taste like fall, or you're looking for a first birthday cake recipe that's free of potential food allergens, this recipe has just what you need. It has served my family well through three 1st birthdays and plenty of muffin munching in between. The only problem is that every time I use this recipe to whip up a batch of applesauce muffins in the future, I'm afraid I may look at my growing-too-fast babies and shed a small tear of nostalgia.
But sadness doesn't last long when you're stuffing your face with something so tasty, so I think I'll be okay. 😉
Five Heart Home flashback… 🙂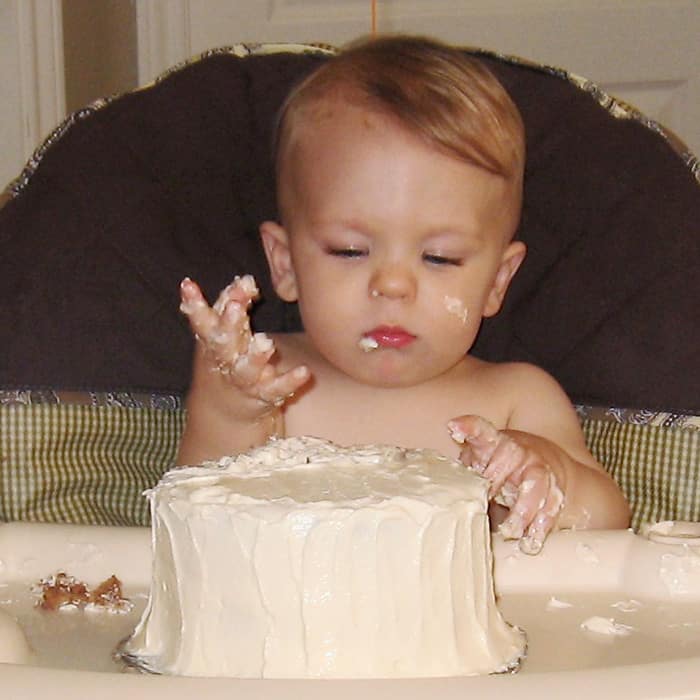 Baby #1's First Birthday Applesauce Cake smash
Baby #2's First Birthday Applesauce Cake smash
This post may be linked up to Live Laugh Rowe, House of Rose, 4 Little Fergusons, Mandy's Recipe Box, Lil' Luna, Uncommon Designs, and these fabulous parties!