Quick and easy Homemade Caramel Sauce is thick, gooey, and made with just FIVE ingredients in FIVE minutes, perfect for apples, brownies, ice cream, or as a gift!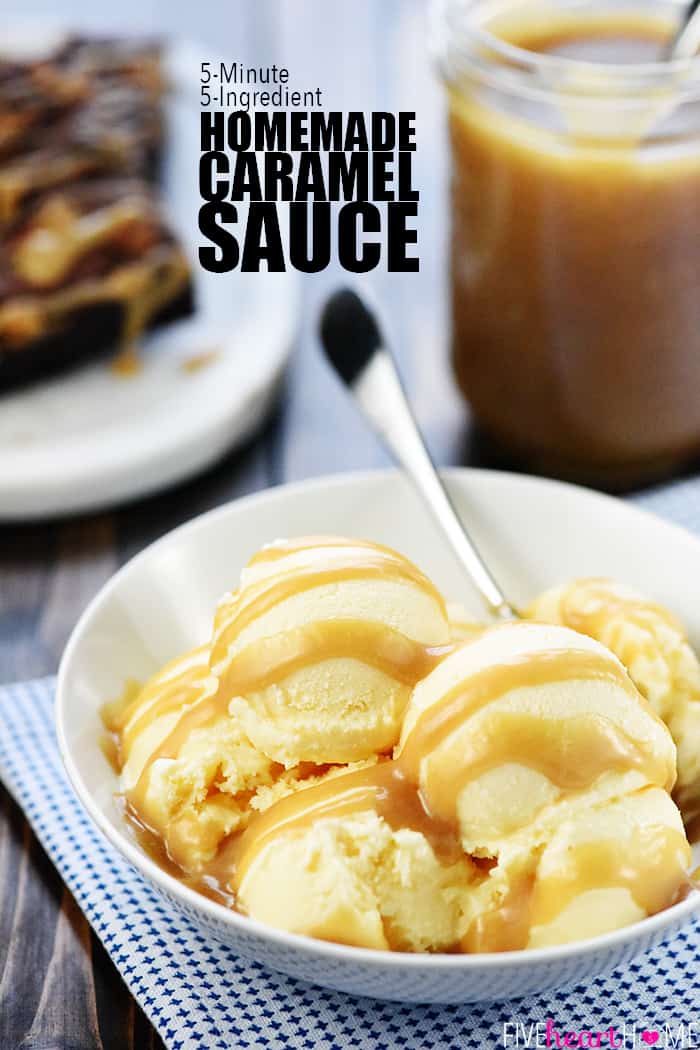 If you enjoy this recipe, you'll also love easy homemade Chocolate Syrup, Strawberry Syrup, and Cinnamon Syrup!
I'm SO excited to bring you today's post, featuring one of my personal favorite, all-time most-popular recipes...quick and easy Homemade Caramel Sauce!
In my opinion, Caramel Sauce is akin to the nectar of the gods. It complements a variety of other flavors, it turns even health food into a decadent treat, and it's pretty darn tasty with no other accompaniment than a straight-up spoon.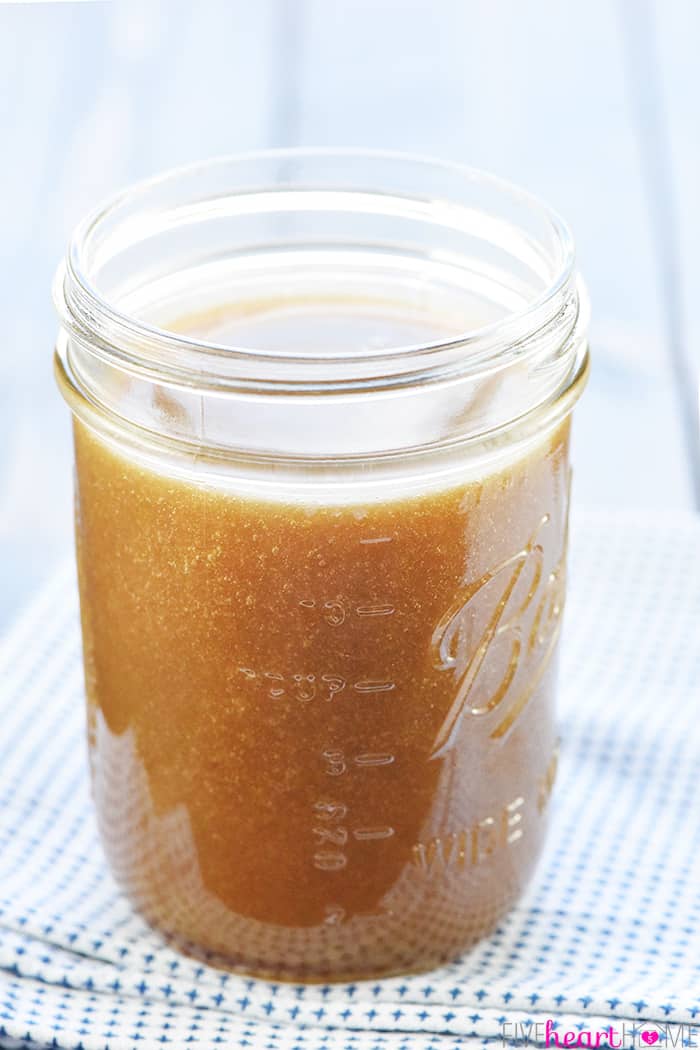 Quick & Easy Caramel Sauce
But...how to make Caramel Sauce?! Well, you won't believe how easy it is using this recipe.
There's no candy thermometer, no persnickety directions, and no extended stirring.
There are just five simple ingredients that transform into gooey, sticky, buttery Caramel Sauce in about five quick minutes. And it's amazing!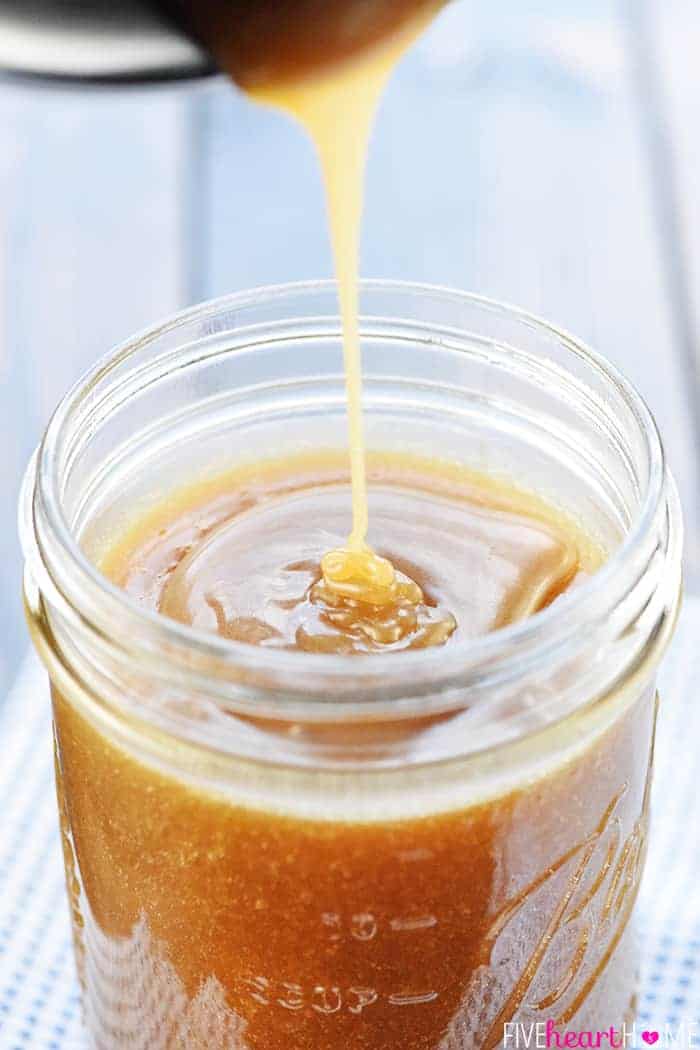 Ingredients
Let's take a moment to analyze those five simple, yet critical, ingredients, shall we?
Butter. Say it with me...everything is better with butter. (And bacon. Maybe dip your bacon in this caramel sauce???)
Brown sugar. In my younger days, I used to babysit a little girl who would hop up on the kitchen counter and eat lumps of brown sugar straight out of the jar when her ever-observant childcare provider wasn't looking. (Why yes, she was a tad bit energetic. Why do you ask?) Years later, I tried a lump of straight brown sugar myself. I totally get it now, kid.
Heavy cream. AKA, the key to rich, silky caramel. Yum.
Vanilla extract. Make sure you use the pure stuff here. I'll share the brand I'm obsessed with in the Tips & Tricks section below.
Salt. Salt (I prefer using fine sea salt) complements caramel beautifully. The end.

How to Make It
Most homemade caramel recipes call for cooking granulated sugar until it reaches a specific temperature and, well, caramelizes. The caveat is that it takes awhile and it's easy to burn the sugar if you're not monitoring it closely.
This recipe relies on brown sugar for the same caramel-sauce-end-result but in a fraction of the time. And the best part? It's easy to make, but not so easy to burn!
Simply melt some butter.
Add brown sugar and stir for 2 minutes.
Add cream and stir for 2 more minutes.
Mix in vanilla and salt.
And you're done! It really is that quick and simple.
Allow for Cooling Time
There is just one small problem. Those five minutes I mentioned do not include the time it takes for said homemade caramel to cool sufficiently enough to eat it by the spoonful without singeing your mouth.
This stuff is pretty molten when it first comes off the stove! In fact, you may be concerned by how thin and almost watery it appears. Don't be!
Once the caramel cools to room temperature, it will set up to the perfect consistency. And once you refrigerate it, it will thicken even more.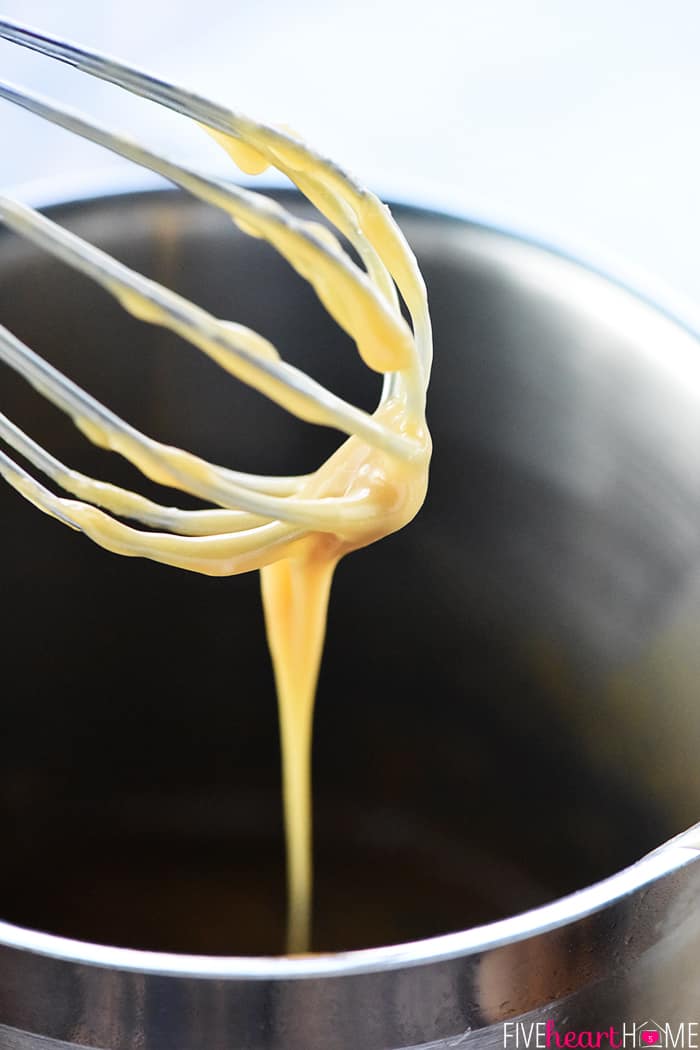 Since you will naturally want to taste test as soon as your caramel is done, however, my advice is to scoop some out on a spoon, set it on a plate for a few minutes until it comes to a reasonable temperature, and then sample away. After all, let's be rational here. If you burn your tongue right off the bat, you're not going to be able to taste the rest of it anyway!
Ways to Enjoy It
So what do you do with your marvelous Homemade Caramel Sauce now that you've spent a whole five minutes of effort on it?
Well, it's perfect as a dip for fresh apple slices, and if you're feeling particularly benevolent, you can even use it to fashion an after-school snack of caramel apple nachos for your eternally grateful kiddos. (Flashback to my little apple nacho bandit back in 2013...)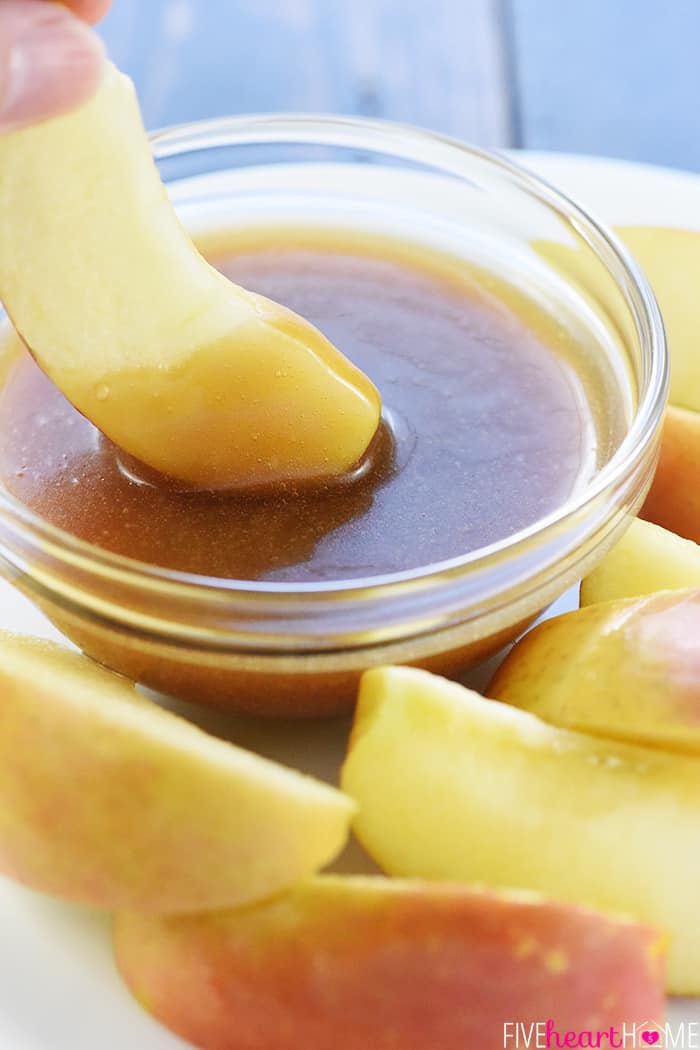 After you've test driven this caramel sauce with apples, might I suggest next pouring it over a classic bowl of vanilla ice cream?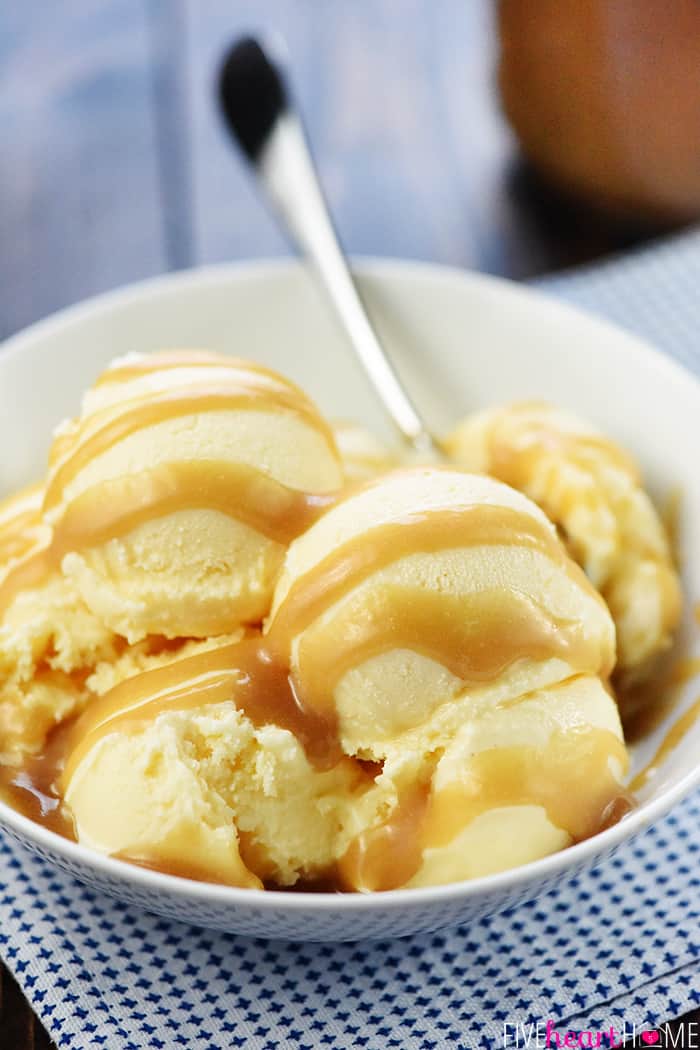 It's also delicious drizzled on bread pudding, apple cake or pie, cheesecake, pumpkin waffles, gingerbread pancakes, or even sweet potatoes! And let's not forget brownies...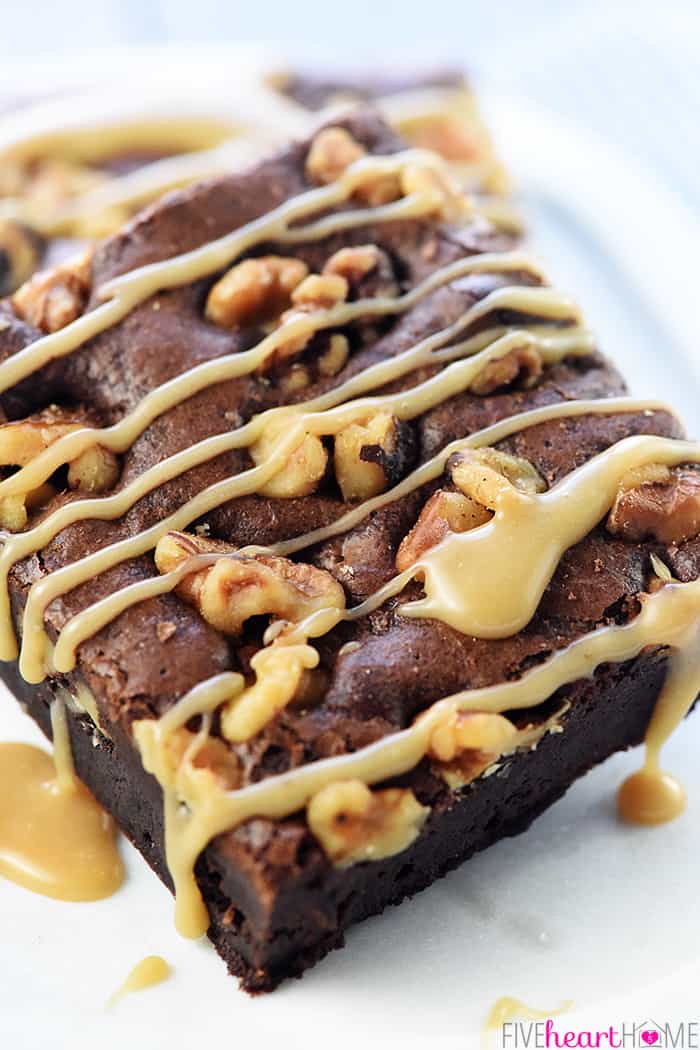 And finally, this Caramel Sauce is a delicious addition to so many other scrumptious recipes, from Caramel Apple Cheesecake Dip to Caramel Brulée Coffee Creamer to Caramel Croissant Bread Pudding to Caramel Apple Cider. Yum, yum, yum, and YUM.
Gift Giving
Just as exciting as all of those mouth-watering options? Caramel Sauce makes a fabulous gift!
With the holidays coming up, I'm always looking for homemade gifts that are quick to make and economical, but that I know will actually be used and appreciated.
I mean, who wouldn't love a jar of homemade caramel sauce? It's a hostess gift that will guarantee that you're invited back, or it's a thoughtful gesture for your neighbor, your child's teacher, the mailman, or anyone else to whom you care to extend some holiday cheer.
As much as I love a plate of Christmas cookies, Homemade Caramel Sauce is a treat that's just a little bit different. It can be enjoyed right away or saved for a special occasion. Indeed, it's the gift that keeps on giving.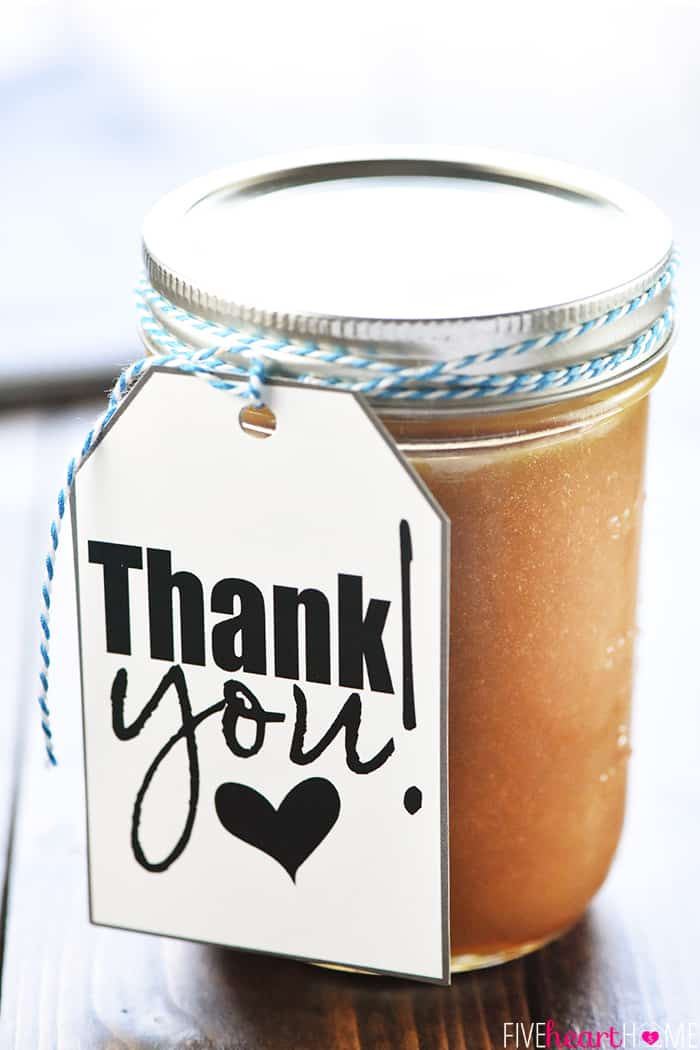 This recipe is a keeper and I hope that you end up loving it as much as I do!
Now if you'll excuse me, I have a carton of vanilla ice cream and a jar of caramel goodness calling my name. 😉
Helpful Tips, Tricks, & Equipment
Use real butter here...no substitutions! Salted butter is recommended for this recipe but unsalted would work as well.
Also use good quality vanilla, because you really do taste it in a recipe like this. Lately, vanilla has been more expensive than usual because of a global vanilla bean shortage, but Nielsen Massey Madagascar Bourbon Vanilla Extract remains my favorite brand. It just has the best darn flavor...forever and ever, Amen.
You can use either light brown or dark brown sugar in this recipe. The caramel sauce will just turn out lighter or darker depending on which you choose, and it really comes down to personal preference. The caramel sauce shown in the photos in this post was made with light brown sugar. And the caramel sauce featured in the video was made with dark brown sugar.
Be sure your saucepan is deep enough to account for the bubbling caramel that may rise up the sides of the pot as it cooks.
The caramel sauce will be thin when it is done cooking. DO NOT PANIC! It will thicken up nicely once it completely reaches room temperature, and even more so once chilled.
If you wish to gift this caramel sauce, just make sure you can keep it chilled while doing so. For example, you could transport it in a small cooler and gift it when you know the recipient has access to a refrigerator.
Recommended applications of caramel sauce: as a dip for apples, stirred into coffee, or drizzled over ice cream, apple pie, brownies, cheesecake, bread pudding, pancakes, waffles, sweet potatoes, and more...or eaten straight out of the jar with a spoon. 😉
More of our BEST, MOST POPULAR Classic Recipes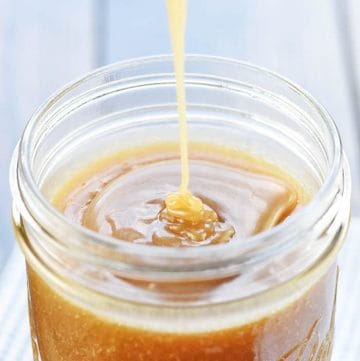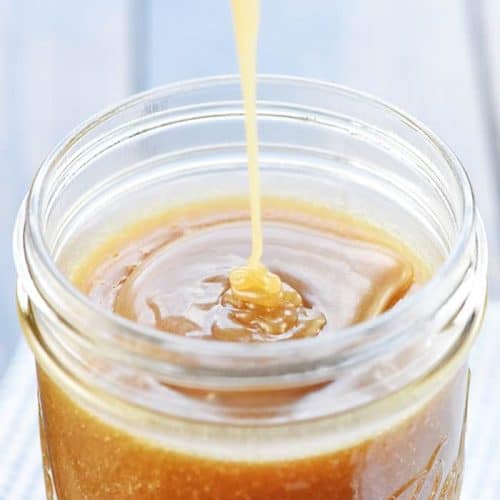 Easy Homemade Caramel Sauce
Quick and easy Homemade Caramel Sauce is thick, gooey, and made with just five ingredients in five minutes...perfect for apples, brownies, ice cream, or as a gift!
Print
Pin
Rate
Servings:
32
(1-tablespoon) servings (recipe yields approx. 2 cups total)
Ingredients
½

cup

(1 stick) salted butter

1

cup

brown sugar

⅔

cup

heavy cream

1

teaspoon

pure vanilla extract

⅛

teaspoon

salt
Instructions
In a medium saucepan set over medium-low to medium heat, melt the butter. Mix in the brown sugar and stir for 2 minutes. Mix in the heavy cream and stir continuously for 2 more minutes (the sauce should be gently bubbling, so adjust the heat, if necessary). Remove the pot from the heat and stir in the vanilla and the salt until well incorporated.

Pour the hot caramel sauce into a jar and allow it to cool completely. Cover and store in the refrigerator for up to a month.
Notes
Be sure your saucepan is deep enough to account for the bubbling caramel that may rise up the sides of the pot as it cooks.
The caramel sauce will be thin when it is done cooking, but it will thicken up nicely at room temperature, and even more so once chilled.
Calories:
69
kcal
|
Carbohydrates:
6
g
|
Fat:
4
g
|
Saturated Fat:
2
g
|
Cholesterol:
14
mg
|
Sodium:
38
mg
|
Potassium:
12
mg
|
Sugar:
6
g
|
Vitamin A:
160
IU
|
Calcium:
10
mg
|
Iron:
0.1
mg
Post originally published on November 15, 2013, and updated on October 4, 2017.
Recipe adapted from Food.com.
Save
Save