Minty Peach Tea Punch is a festive, sparkling beverage of mint-infused tea mixed with fresh peach nectar, simple syrup, ginger ale, and club soda, perfect for spring or summer showers, barbecues, and parties!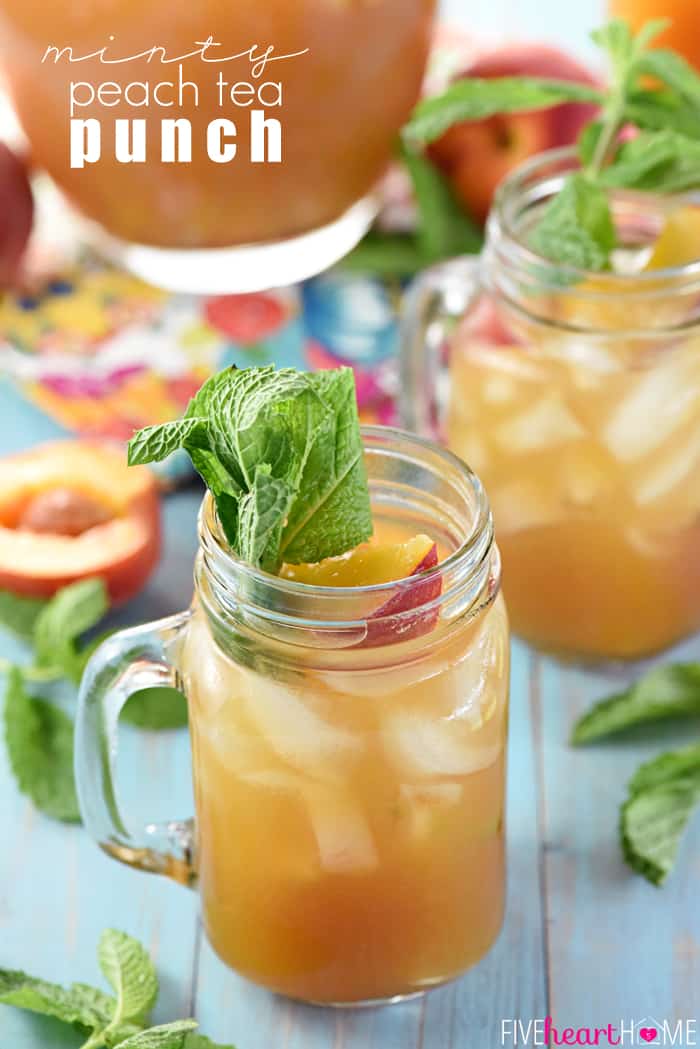 Well, we made it folks...the last day of school is upon us! I'm still not sure how or when that happened, but rather than puzzling over the warp-speed passage of time, I suppose I should just be thankful for the fact that after tomorrow, we can enjoy the next few months of no homework to groan about or lunches to pack or early alarms to inadvertently snooze through. And after our crazy whirlwind summer last year (lest you've forgotten: packing, moving, re-modeling, unpacking, plus a trip to visit family in Germany, thrown in for good measure), I'm looking forward to a low-key summer in lieu of a crazy/busy/stressful one. So I do believe it's time to prop up our feet and toast summer vacation with an ice-cold glass of Minty Peach Tea Punch!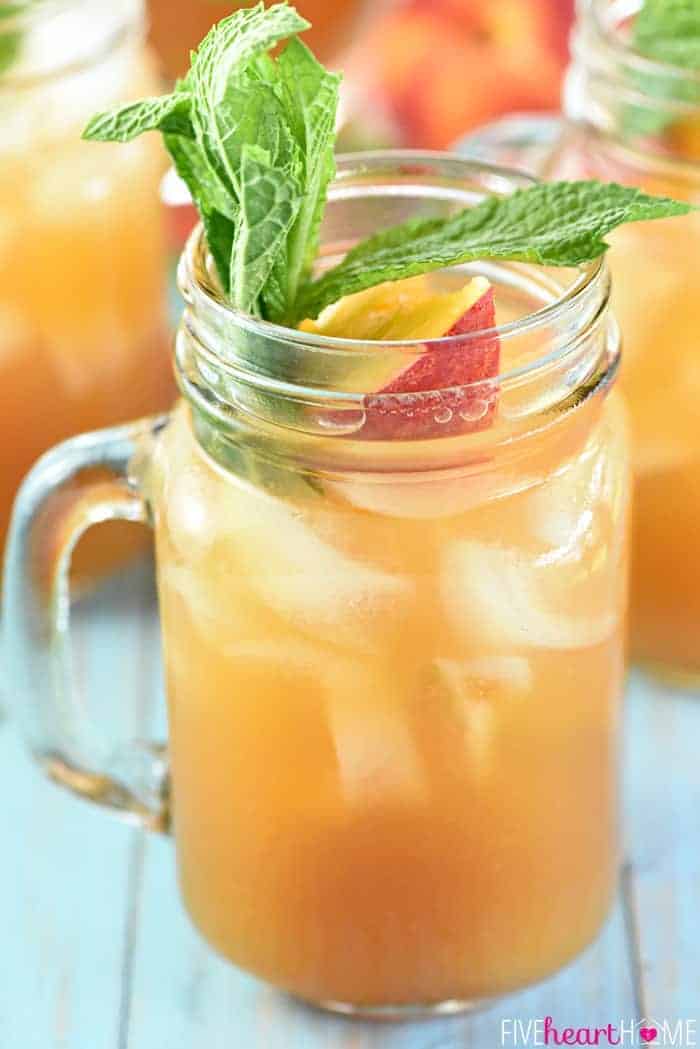 I have been meaning to share this recipe with y'all for several years now, pretty much since I first started this blog. But for one reason or another, I never seemed to get around to doing so...until now. Lucky, lucky you! Because this punch is nothing short of fabulous, friends.
The Inspiration
I was first introduced to this delightful beverage back when I was a first grade teacher. I worked at a school where the PTO took very good care of us and treated the teachers and staff to special meals and celebrations multiple times per year. And it was at one of these fancy, parent-provided luncheons that I first tasted Governor's Mansion Summer Peach Tea Punch. It. Was. Delicious. Like drink-so-many-glasses-you-might-just-give-yourself-a-stomachache delicious. A short time later, I was gifted a cookbook published by The Junior League of Austin that included the recipe which, as its title suggests, originated at the Texas Governor's Mansion.
Since then, I think I've made this punch for every bridal shower and baby shower I've ever hosted, not to mention a few engagement and birthday parties, to boot. And at every occasion, guests guzzle it down and I invariably get asked for the recipe, which I am always happy to share.
That being said, the original recipe calls for bottled peach nectar and frozen lemonade concentrate, which can be difficult (if not impossible) to find without containing high-fructose corn syrup. So I decided to try my own spin on the recipe, taking advantage of summertime's sweet, juicy peaches plus a splash of fresh-squeezed lemon juice. And I made sure to buy an all-natural ginger ale to avoid potential HFCS there as well.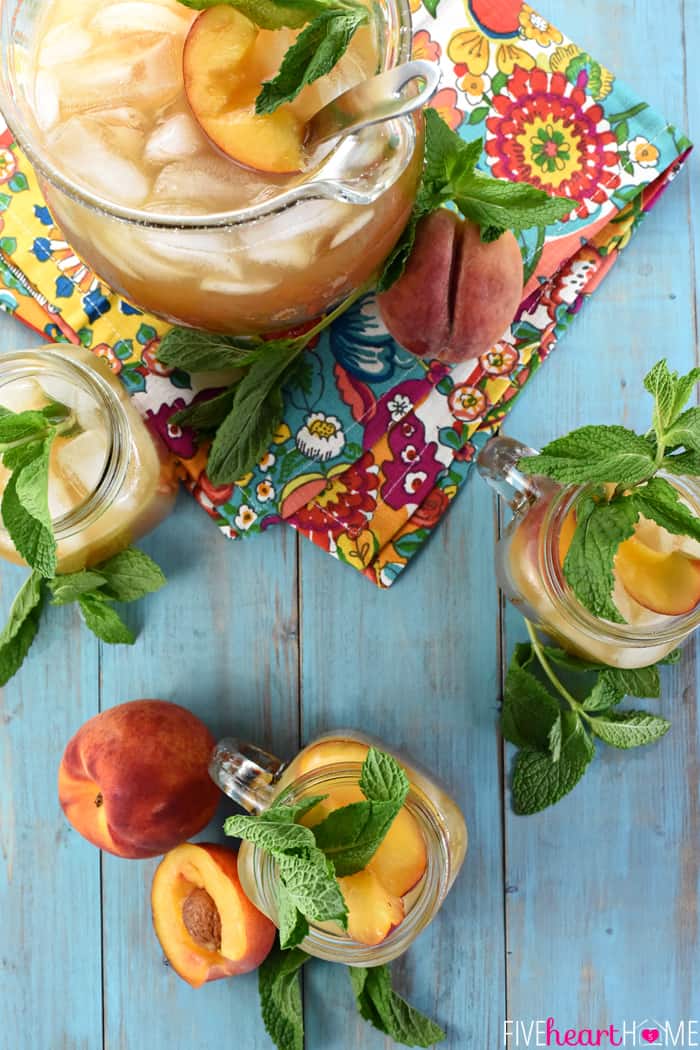 Ingredients
The results did not disappoint.
The base of this punch is tea, but it doesn't end up tasting overly tea-like...instead, it boasts a distinct hint of mint (which is why I decided to add that adjective to the recipe title) with a nice undertone of peach. The lemon juice adds brightness, but not in a quantity to be detectable.
Like all good party punches, this one is sweet, though its sweetness can be tweaked depending on how much simple syrup and/or club soda you decide to add.
It's also fizzy, with some nice sparkling action contributed by ginger ale and club soda. Just be sure to add those two ingredients right before serving to preserve the bubbles!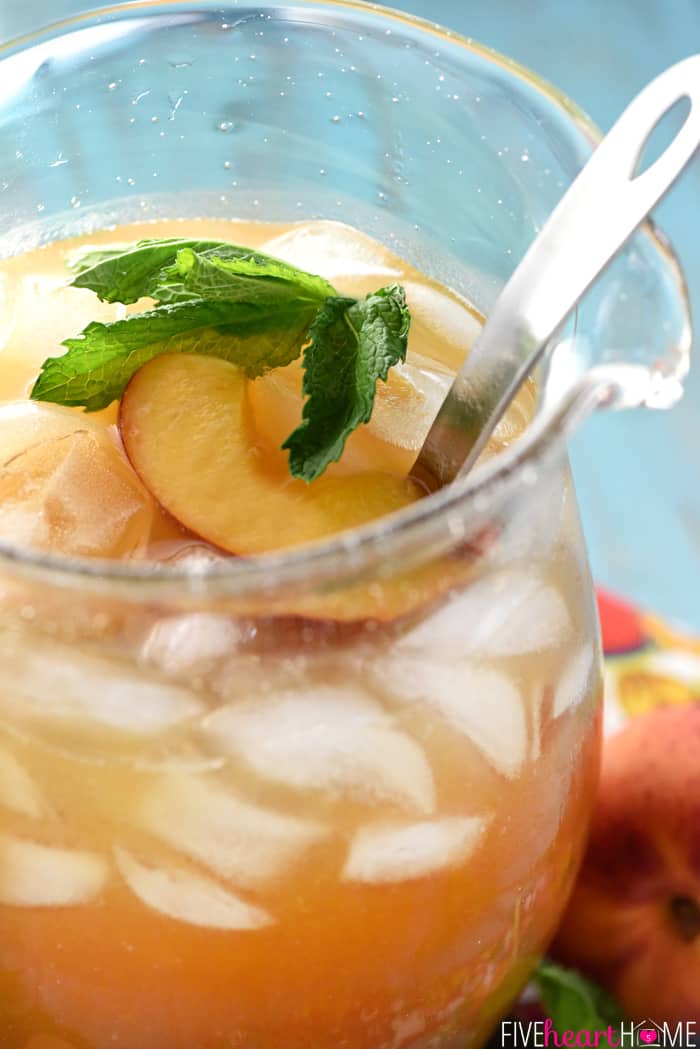 Substitutions & Additions
While this Minty Peach Tea Punch screams summer to me, it's actually good enough to drink year-round.
So in the event that fresh peaches aren't available, you can go ahead and substitute store-bought peach nectar...just try to find one with all-natural ingredients.
I still think I'd forgo the frozen lemonade concentrate (because I've never been able to find a brand with all-natural ingredients), sticking with a bit of fresh lemon juice instead.
Also -- just in case you're wondering -- for an adults-only version, a little birdie told me that this punch is also yummy enhanced with a little vodka. 😉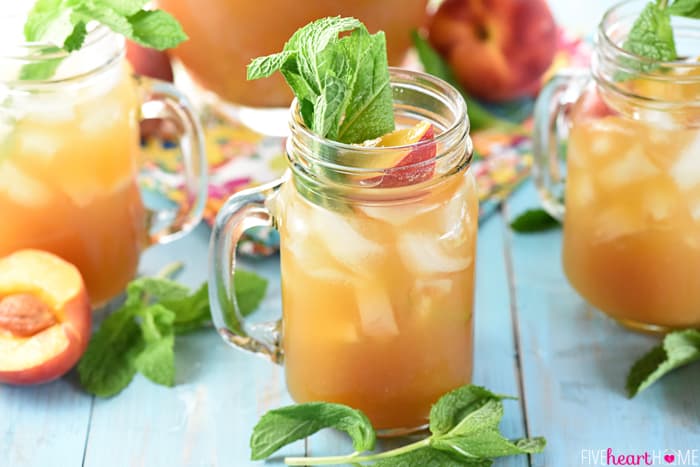 A Note About Servings
One last thing and I'll stop yammering. 😉
This recipe makes a big batch. So for a party, I make the full recipe.
But if I'm whipping it up for a smaller get-together or for my family to enjoy at home, I cut the recipe in half. This is because, in the event of leftovers, the ginger ale and club soda lose their fizz by the second day and the punch ends up tasting a little flat.
It can be refreshed by pouring a splash of fresh ginger ale or club soda directly into your glass, and it will still be tasty. However, this recipe is best enjoyed on the day it's made. So don't go tripling the batch if you think there will be a ton left over!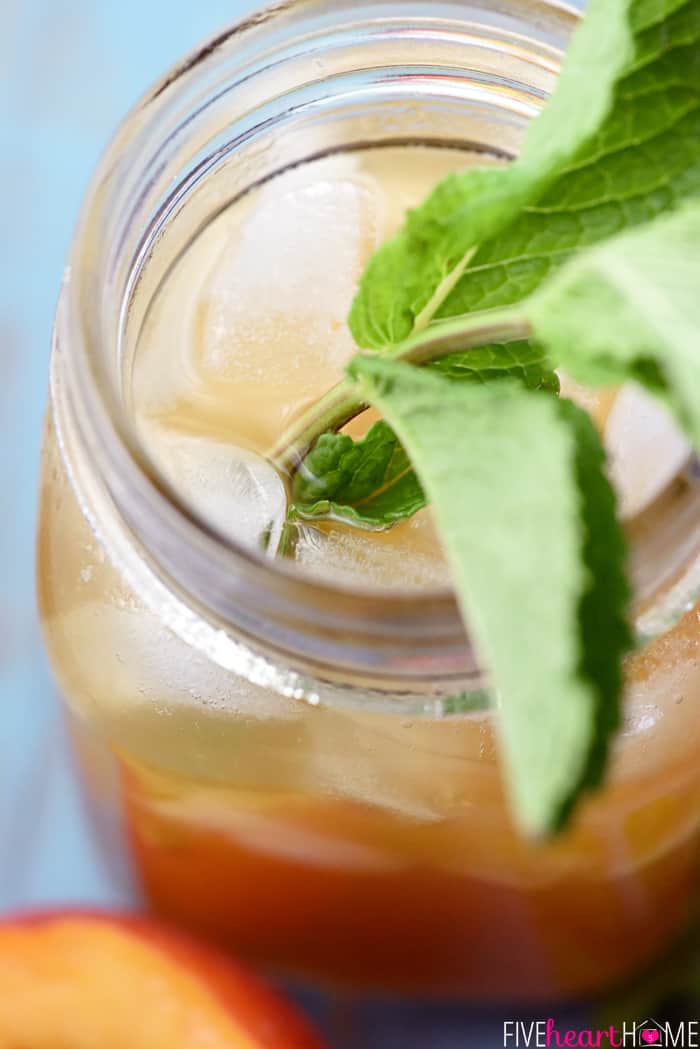 So who's excited about the arrival of summer? Well, what say we celebrate peach season and the end of a another successful school year with a pitcher of refreshing Minty Peach Tea Punch! In fact, you should enjoy it all summer long. As a bonus, you'll know it's high time for the kids to head back to school when you find yourself slipping vodka in your punch glass... 😉
More Summer Drink Ideas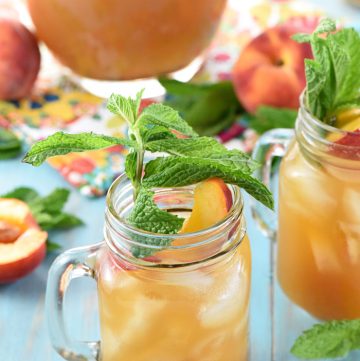 Minty Peach Tea Punch
Minty Peach Tea Punch is a festive sparkling beverage of mint-infused tea mixed with fresh peach nectar, simple syrup, ginger ale, and club soda, perfect for spring or summer showers, barbecues, and parties!
Print
Pin
Rate
Servings:
40
(4-ounce) servings (Approximately 1 ¼ gallons)
Ingredients
2

cups

sugar

7

cups

water

,

DIVIDED

4

family-sized iced tea bags

2

cups

loosely-packed fresh mint leaves

2 ½

pounds

fresh ripe peaches

,

(about 9 average-sized peaches)

¼

cup

freshly-squeezed lemon juice

3

cans

(12-ounces each)ginger ale

,

chilled

2

liters

club soda

,

chilled, DIVIDED
Instructions
PREPARE THE SIMPLE SYRUP: In a small saucepan, combine the sugar and 1 cup of water. Set the saucepan over medium-high heat and bring to a boil. Reduce to a simmer and stir for a minute or two until the sugar dissolves. Remove from the heat and set aside to cool.

PREPARE THE MINT TEA: In a large pot, bring the remaining 6 cups water to a boil. Remove the pot from the heat and add the tea bags and the mint leaves. Allow to steep for 10 minutes. Remove the tea bags. Cool to room temperature and strain the tea into a 2-gallon jug, punch bowl, or container, discarding the mint leaves.

PREPARE THE PEACH NECTAR: While the simple syrup and mint tea are cooling, add enough water to a large pot to cover the peaches once they are added (the pot will probably be about ½ to ⅔ full of water). Bring the water to a rolling boil. Gently lower the peaches into the boiling water and cook for about 30 seconds until the skins start to split. Use a slotted spoon to immediately transfer the peaches from the boiling water into an ice bath (a large bowl filled with ice and water). After 20 seconds in the ice bath, remove a peach, pinch the skin, and slip off and discard the skin.

Cut the peaches into slices, discarding the pits (you should end up with about 4 cups of sliced peaches). Add the peaches to a blender or food processor along with the lemon juice. Blend/process until smooth. Pour the peach puree through a fine mesh sieve into the jug of cooled mint tea. Add 1 cup simple syrup and stir well to combine all ingredients (cover and refrigerate leftover simple syrup).

Cover and refrigerate punch for at least 4 -- and up to 12 -- hours. Just before serving, gently stir in the ginger ale and 1 liter club soda. Taste and adjust the sweetness by adding more simple syrup (for sweeter) or more club soda (for less sweet) or both (for sweeter and fizzier).
Notes
The ideal peaches to use in this recipe should be sweet, soft, and ripe, not hard or green. If the skins don't slip off the peaches after the boiling water/ice bath, they probably aren't ripe enough.
You can actually make the punch early in the day (or even the day before) and allow the ingredients to chill. Just make sure that you wait to add the ginger ale and club soda to the punch until just before serving.
This recipe will use one full liter of club soda for sure. You may not use the second liter, or you may use only a portion of it, depending on how sweet/fizzy you prefer your punch. Any leftovers from the second liter of club soda can be used to "refresh" the fizziness of any leftover servings of punch the next day.
If peaches are out of season, you may substitute 4 cups of store-bought "peach nectar" (try to find a brand with all-natural ingredients) for the fesh peach puree.
Calories:
62
kcal
|
Carbohydrates:
16
g
|
Protein:
1
g
|
Fat:
1
g
|
Saturated Fat:
1
g
|
Sodium:
16
mg
|
Potassium:
59
mg
|
Fiber:
1
g
|
Sugar:
15
g
|
Vitamin A:
100
IU
|
Vitamin C:
18
mg
|
Calcium:
15
mg
|
Iron:
0.3
mg
Adapted from Austin Entertains