Brain Healthy Salad is loaded with leafy greens, blueberries, walnuts, and extra-virgin olive oil for an easy way to enjoy brain-protective foods in your diet!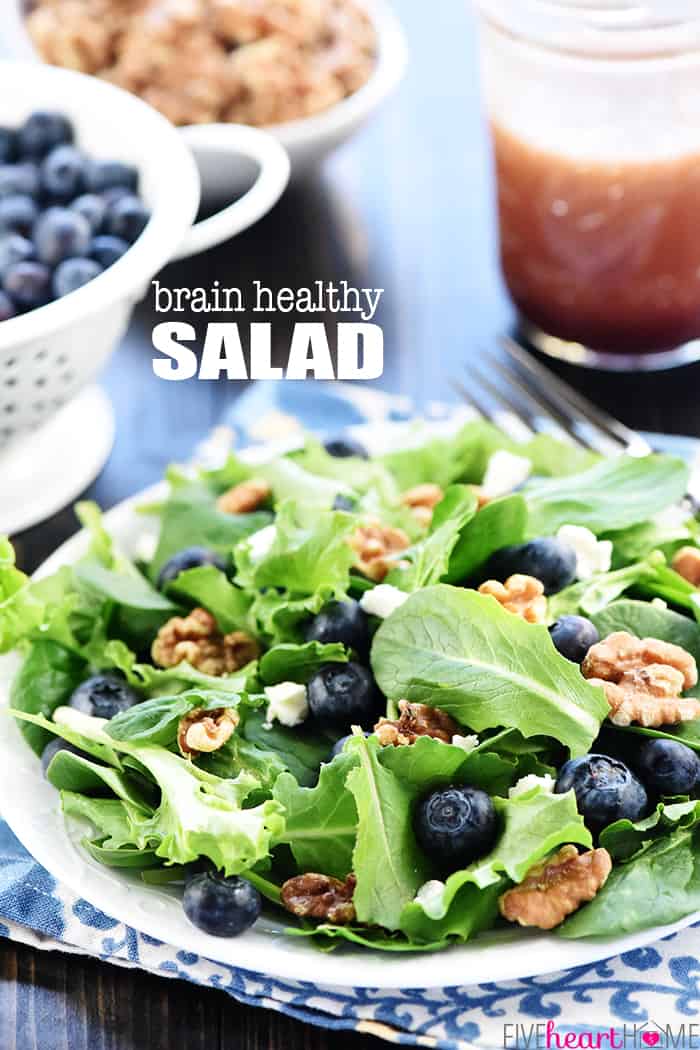 For more berry-loaded salads and dressings, you'll also enjoy Raspberry Vinaigrette, Strawberry Spinach Salad, and Spring Salad!
Hi, friends. I'm a little nervous about today's post. So let me first start out by saying that I am not a doctor or a nutritionist, and I don't want what I share today to be construed as medical advice. Talk to your own doctor and do your own research.
Let me also share that, as simple as it is, today's recipe is very important to me, and I'll be getting deeper and more personal with y'all in this post than I usually do. In fact, I'll likely have tears rolling down my face as I type. So all of that being said, if you'd like to skip straight down to the recipe, I totally understand. But if you decide to stick around, I hope you'll bear with me. 🙂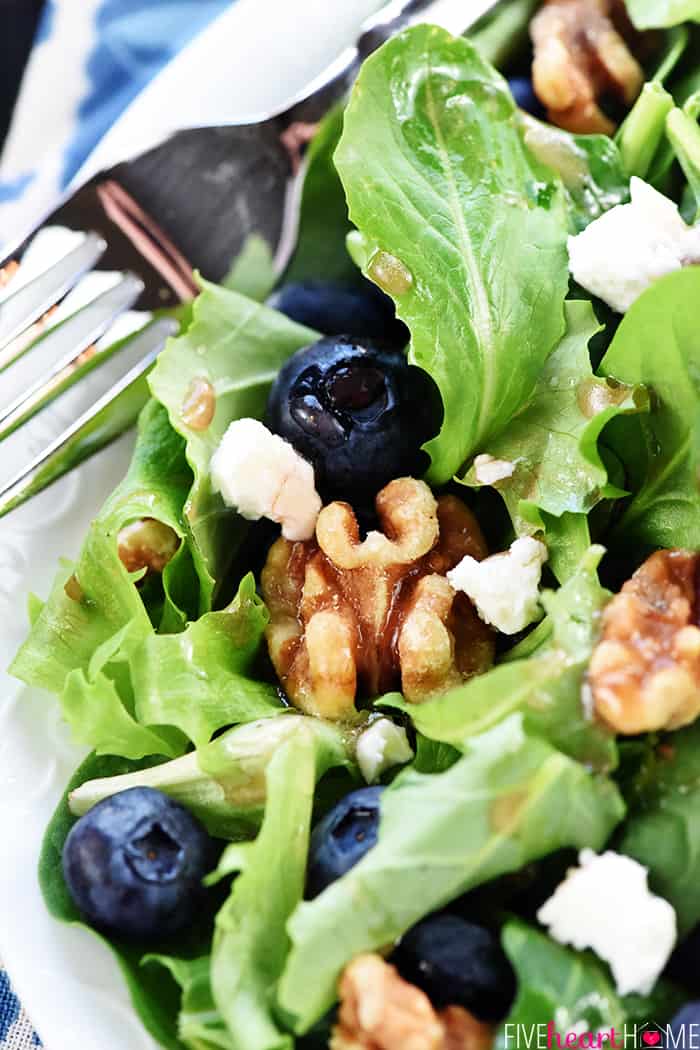 Seven years ago this summer, I lost my dad to Alzheimer's disease. His death, and the years leading up to it, were the hardest things I've ever been through. I didn't understand just how horrific of a disease Alzheimer's is until I witnessed it first-hand through countless heart-wrenching experiences with my dad.
I watched a strong, loving, independent man literally deteriorate before my eyes until he'd lost every capability he'd ever had, from walking to swallowing to speaking to everything in between. My baby and toddler at the time were more cognitively advanced than my formerly brilliant father, who had led such an amazing, accomplished life. When he finally lost his battle a few years after being diagnosed, I simultaneously felt devastated and relieved.
Time has softened the pain, but I will never forget the terrible, debilitating progression that my sweet Daddy went through. And as his daughter and the one who was responsible for overseeing his care thought that difficult time, I'll also never forget what I went through.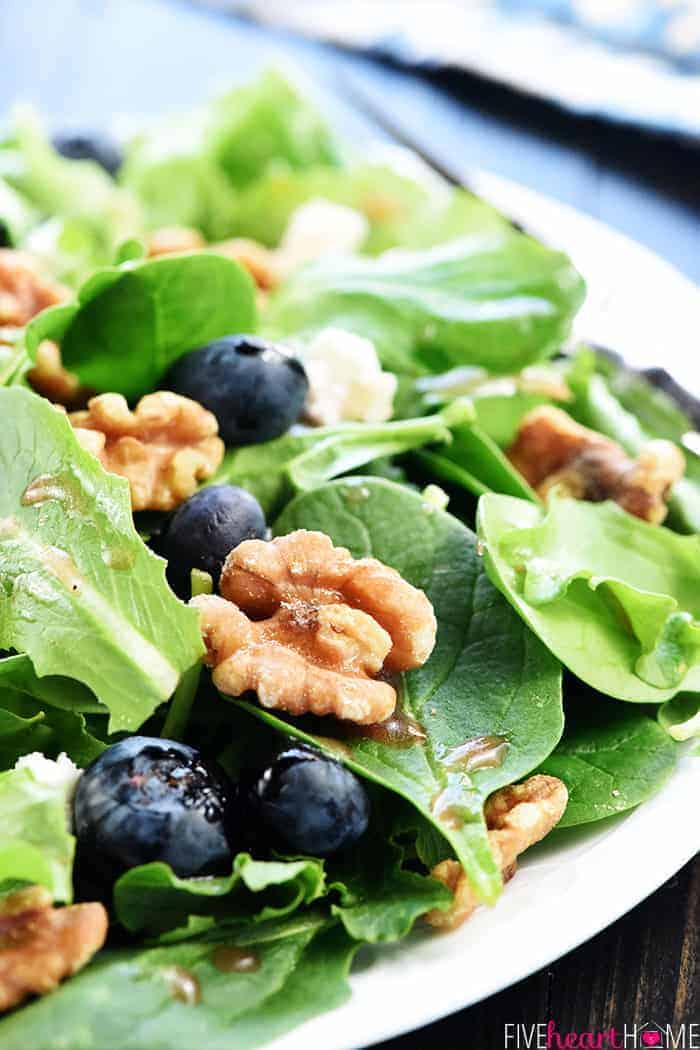 So when I turned 40 last summer, I was having those usual "new decade thoughts" about how life is zooming right by, faster every year. Alzheimer's disease runs on my husband's side of the family as well, and it hit me harder than ever that, down the road, it might be our kids who have to go through with us what I went through with my dad.
Well by golly, my husband and I decided that, effective immediately, we're going to do everything in our power to make sure that doesn't happen. Obviously there are a lot of things we can't control, and dementia and Alzheimer's disease are thought to be at least partially genetic. But really, the cause of Alzheimer's is still very much a mystery.
That being said, there are some things we can do. My husband has started faithfully exercising and I vow that I'm not far behind. After years of sleep deprivation, we're making it a point to get to bed at a (more) decent time. My brain is (surely?) sharpened every time I help my 5th grader study for a social studies test (heyyyy, history!) or check his math homework (good brain exercise but not particularly a favorite subject of this English major). We make a monthly contribution to the Alzheimer's Association. We cheer when Bill Gates donates millions of his own dollars to finding a cure. And I've done a whole bunch of research on brain healthy foods to make sure we're incorporating a lot more of them into our family's diet.
And so we arrive at today's lovely Brain Healthy Salad. Basically, I took ingredients recommended in the MIND Diet (a diet designed by a nutritional epidemiologist to promote brain health while lowering the risk of Alzheimer's disease) and crafted them into an easy, delicious salad. The MIND Diet recommends regularly consuming ten specific foods, and -- wait for it -- this salad actually includes FIVE OF THEM!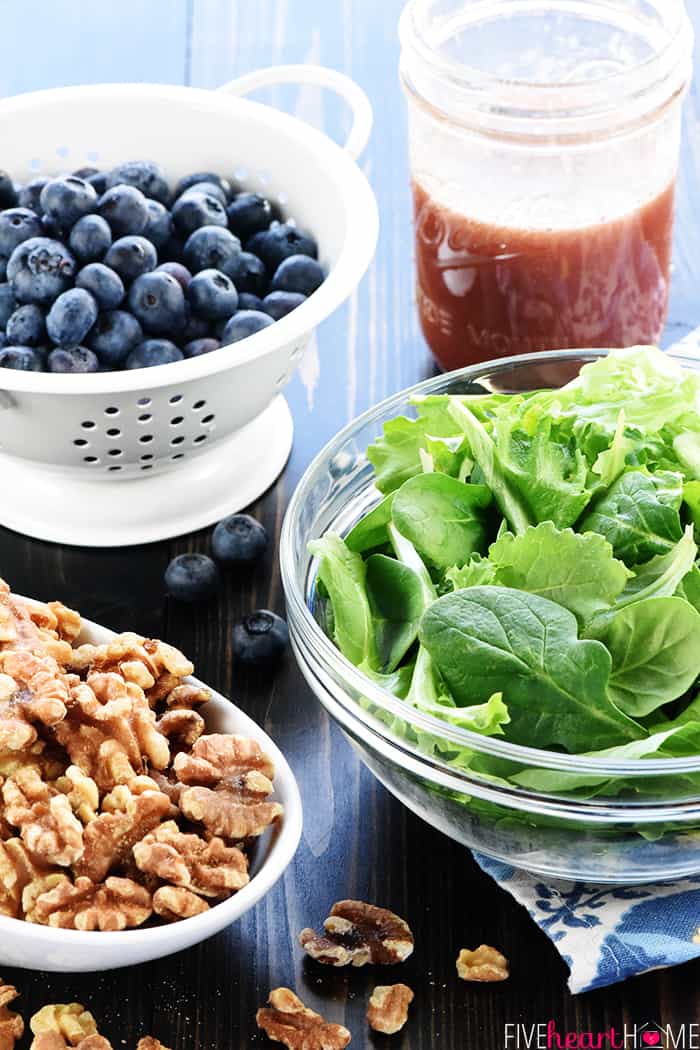 Ingredients
So let's break it down, shall we?
Leafy greens. I typically use baby spinach, baby kale, or a combo of the two...or I buy a tub of mixed salad with a name like "super greens" or "power greens."
My kids have always been romaine lettuce eaters and have never been interested in any salad with pieces they deemed too dark or colorful or curly. Oh, the horror! So I truly thought that they were going to balk when -- cold turkey -- I stopped buying romaine and started buying dark leafy greens instead.
But here's what I figured out: if I chop up my kids' leafy greens into small pieces (before adding the other ingredients to the salad), any long stems or weirdly shaped leaves are disguised. On top of that, the dressing provides better coverage and the add-ins get more evenly distributed. In other words, my offspring eat chopped leafy greens with nary a complaint!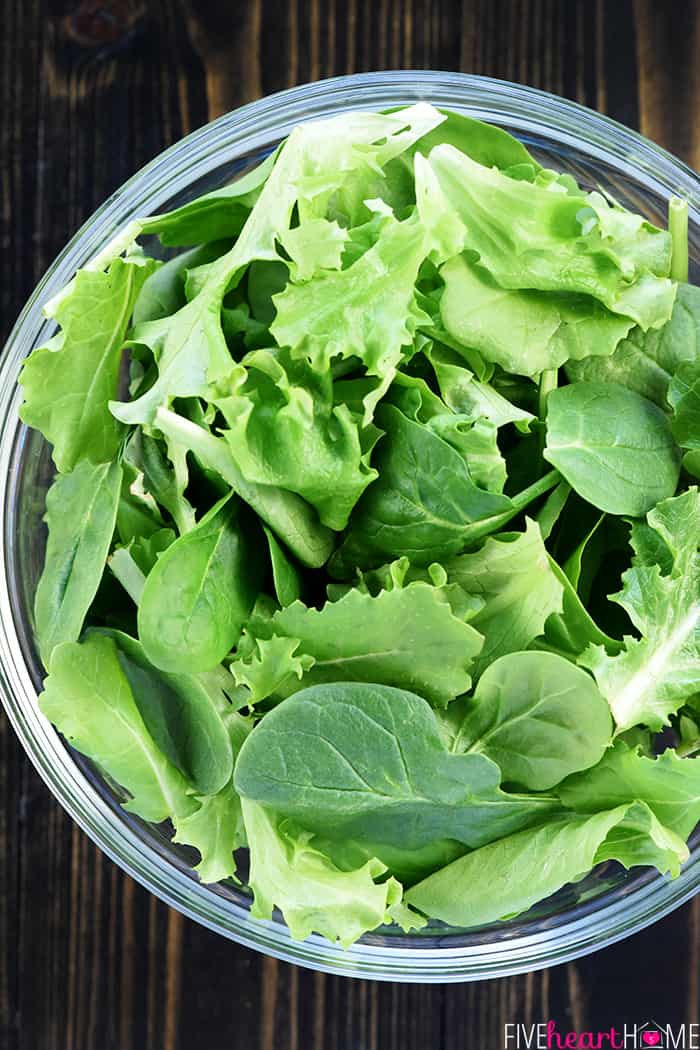 So yep, my kids have been scarfing down a huge, non-romaine salad almost every night with dinner...and I still inwardly cackle with glee every darn time.
Blueberries. Berries in general are recommended for brain health, but blueberries in particular are one of the most potent foods for protecting the brain. And it doesn't hurt that they're like sweet, juicy little jewels in this salad.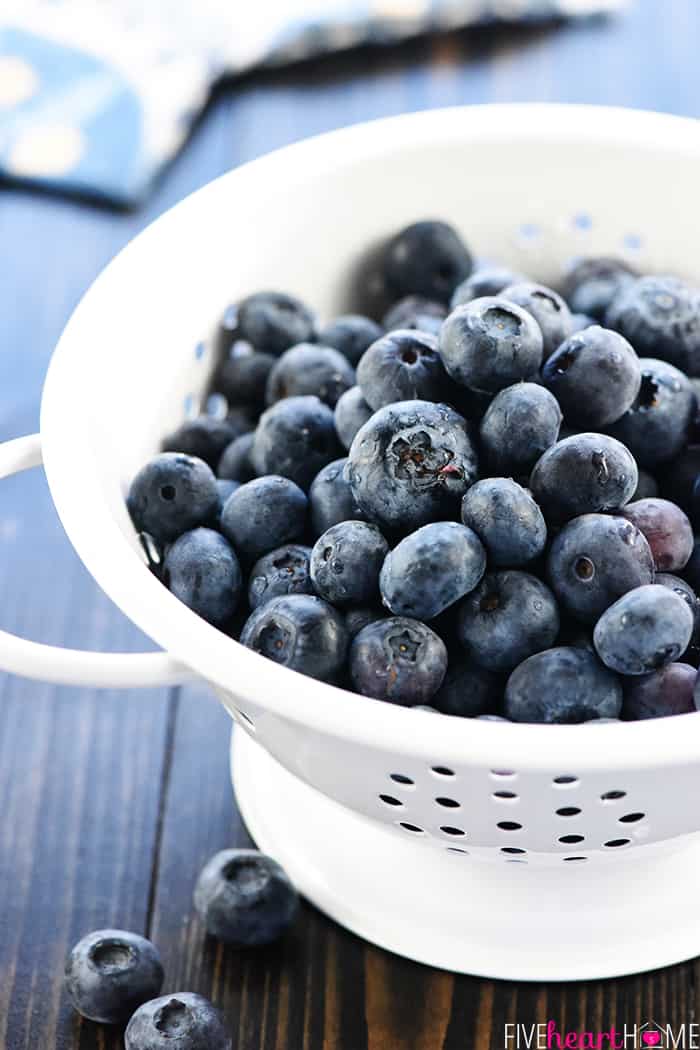 Walnuts. Again, there are lots of nuts that are good for brain health, but walnuts happen to be at the top of the list because of their high DHA levels. My family loves them toasted for deeper flavor and extra crunch, but if I don't have time to pop them in the oven, I just toss them on our salads raw.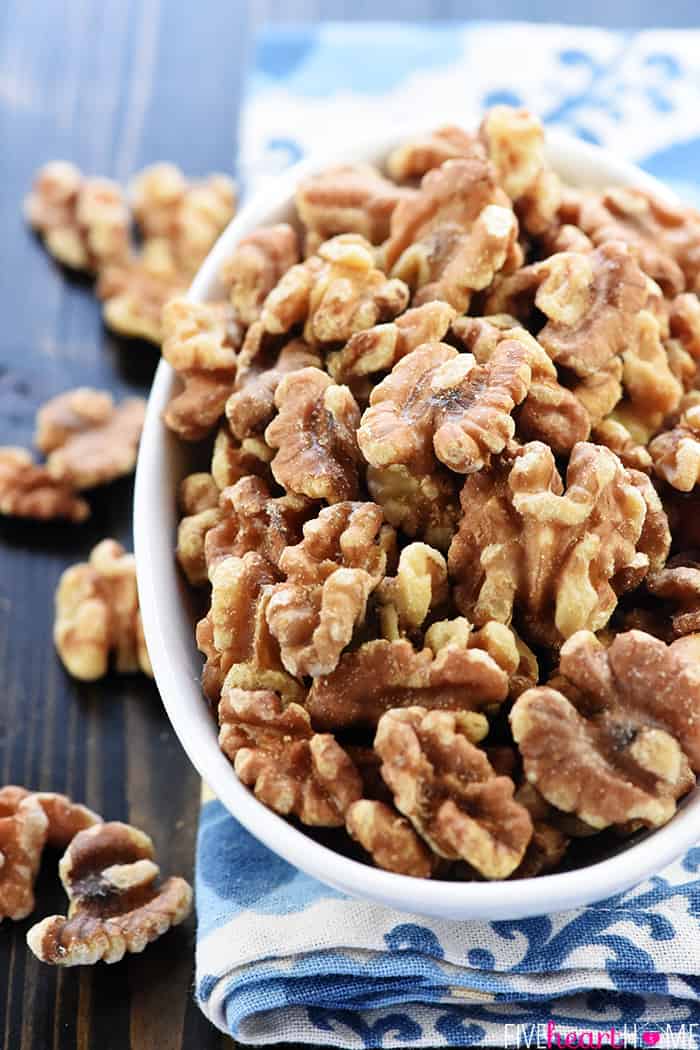 Extra-virgin olive oil. A new study shows that extra-virgin olive oil promotes healthier brain cells and stronger neuron connections while inhibiting the formation of plaque on the brain. So the dressing for this salad clearly needed to have a base of EVOO. And finally...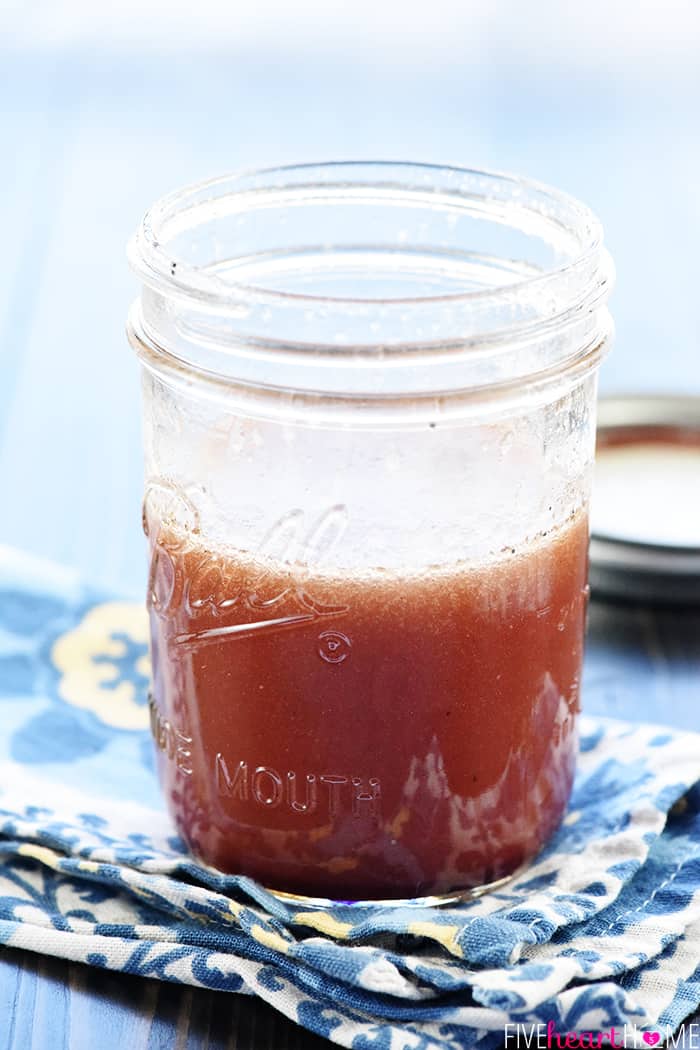 Red wine. No, this salad doesn't actually include red wine. But red wine is one of the ten recommended foods of the MIND Diet, and it's actually a specific extract from the skin of red grapes -- resveratrol -- that's thought to be beneficial to brain health. So in order to incorporate this brain-boosting compound into our salad, I created a vinaigrette with red wine vinegar AND unsweetened grape juice! Because guess what? Resveratrol is found in grape juice as well as red wine, so might as well go for a double whammy. 😉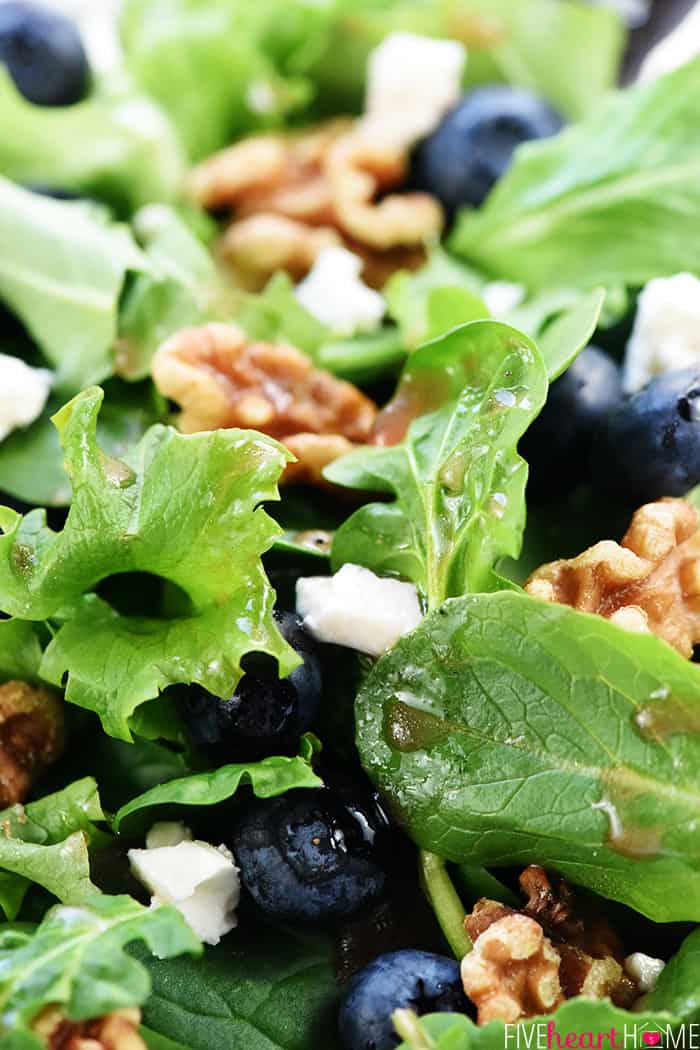 Now, you might notice a few teensy bits of feta cheese peeking out amidst the other ingredients in this Brain Healthy Salad. Alas, feta is not recommended for brain health. But if you've been hanging around Five Heart Home for awhile and are familiar with my love for any salad with fruit and nuts, you might remember that those salads always include a bit of cheese! So if you're up for it, a smidge of feta (or goat cheese...or even blue cheese) in this salad lends salty contrast and smooth creaminess. It's not necessary to add it, and it's certainly not brain-boosting, but it sure is delicious.
I'm not kidding when I say we enjoy this recipe (or a close variation of it) as a side salad with dinner multiple times per week. Sometimes I may not have all of the exact ingredients on hand, but that's okay...strawberries or raspberries instead of blueberries and pecans or almonds instead of walnuts still make for a healthy and yummy salad. The important thing is that my family is regularly consuming a lot more brain healthy foods than we used to. And not only is doing so painless in the form of a salad like this, but it's actually pretty effortless and extremely yummy.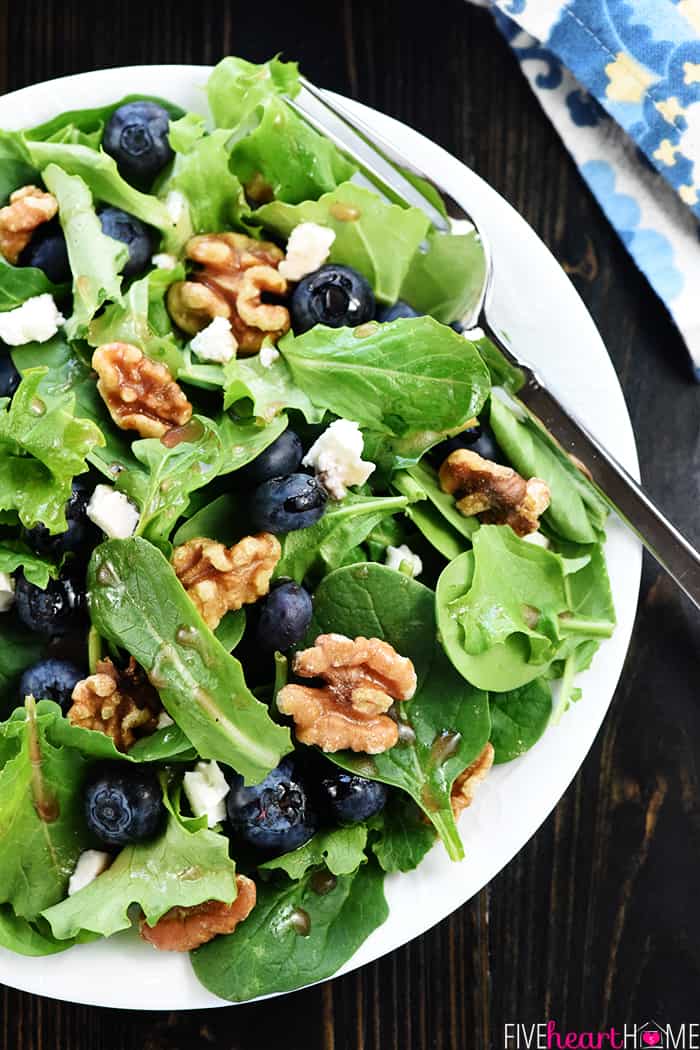 I grew up a Daddy's girl and, even as an adult, my dad never failed to take good care of me. I did my best to take care of him in the same way when he needed me. Now I'm doing everything in my power to care for my own kids...and my husband...and myself.
There are so many things in life that I can't control or protect us from, and realizing that can be really humbling and scary. But one thing I can control is what comes out of my kitchen. And recipes like this Brain Healthy Salad make me feel like I'm doing small, positive things to nourish minds (ours, and hopefully yours) while also honoring my dad.♥
Helpful Tips, Tricks, & Equipment
I didn't list amounts for the salad greens, berries, or nuts in the recipe below. Start with a whole bunch of greens, then add more or less toppings to your liking. I usually just layer the ingredients in individual bowls for each person eating, and then dress and toss one salad at a time.
Extra vinaigrette should be stored in the refrigerator. That being said, the extra-virgin olive oil will most likely thicken and solidify once chilled. So you'll want to allow the dressing to come to room temperature before using it again.
Extra-virgin olive oil is the best oil for your brain, but grapeseed oil is another brain healthy option. So if you'd like to swap out half of the olive oil for half grapeseed oil, the resulting vinaigrette may thicken a bit in the fridge but shouldn't solidify. A good shake and it will be ready to enjoy (in case waiting for the vinaigrette to come to room temperature bothers you).
You can shake up the dressing in any jar, bottle, or Mason jar. Or, if you want to measure ingredients straight into a container (without dirtying a measuring cup as well) or if you want to make a big double batch, you can get all fancy with a salad shaker like this.
Feel free to add cooked salmon to this salad to turn it into a main course that boasts yet another brain healthy ingredient!

More Blueberry Goodies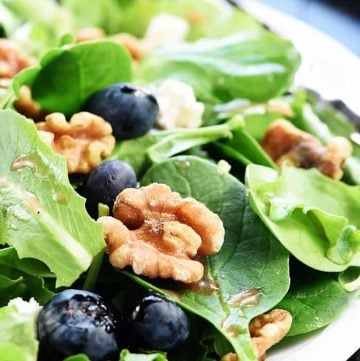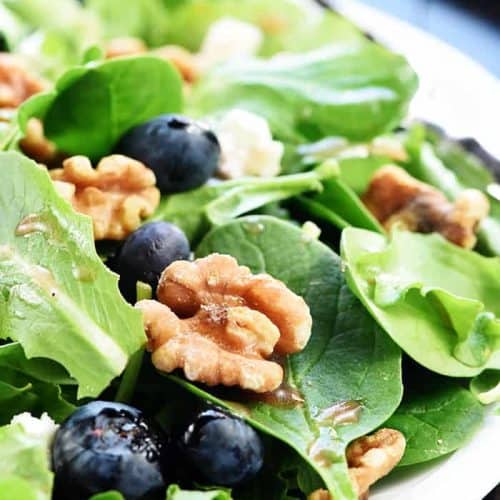 Brain Healthy Salad
This Brain Healthy Salad is loaded with leafy greens, blueberries, walnuts, and extra-virgin olive oil for an easy way to include brain-protective ingredients in your diet!
Print
Pin
Rate
Ingredients
For the Red Wine Vinaigrette:
½

cup

extra-virgin olive oil

¼

cup

red wine vinegar

¼

cup

unsweetened red grape juice

1

tablespoon

lemon juice

1 to 3

teaspoons

honey

,

to taste

½

teaspoon

salt

Freshly ground black pepper

,

to taste
For the salad:
Dark leafy salad greens

,

such as baby spinach, baby kale, or other superfood greens

Blueberries

Walnut pieces

,

toasted or raw
Instructions
To prepare the Red Wine Vinaigrette, measure oil, red wine vinegar, grape juice, lemon juice, honey, salt, and pepper into a mason jar. Tightly screw on lid and shake vigorously until everything is thoroughly combined. Alternatively, you may briskly whisk the ingredients together in a medium bowl, or blend them in a blender or mini food processor.

Fill a bowl or salad plate with a big pile of leafy greens. Sprinkle blueberries and walnuts over the top. Drizzle with dressing and toss to combine.
Notes
To toast the walnuts, adjust oven rack to the center position and preheat the oven to 350°. Spread the walnut pieces on a sheet pan and bake for 4 to 6 minutes, or until fragrant and lightly toasted, watching carefully to prevent burning. Set aside and allow to cool.
Other berries and nuts may be substituted for the blueberries and walnuts.
You may add a sprinkle of feta cheese or goat cheese to your salad, if you like.
If you think the dressing is sweet enough from the grape juice, you may omit the honey.
Store leftover vinaigrette in the refrigerator. Allow to come to room temperature and shake well before using.
Calories:
256
kcal
|
Carbohydrates:
10
g
|
Protein:
4
g
|
Fat:
23
g
|
Saturated Fat:
2
g
|
Sodium:
194
mg
|
Potassium:
427
mg
|
Fiber:
3
g
|
Sugar:
5
g
|
Vitamin A:
5645
IU
|
Vitamin C:
21.2
mg
|
Calcium:
74
mg
|
Iron:
2.2
mg