Biscoff Spread and melted white chocolate make for a sweet, creamy, decadent, warming drink in this Cookie Butter White Hot Chocolate!

Oh, y'all...this recipe. It's just...good. I recently decided that there is a serious dearth of Biscoff/cookie butter recipes here on Five Heart Home, and it was high time to remedy that. So the next time you need a hot beverage to warm you up on a frigid day (helloooo, February!), don't reach for boring ol' hot chocolate...give this Cookie Butter White Hot Chocolate a whirl instead!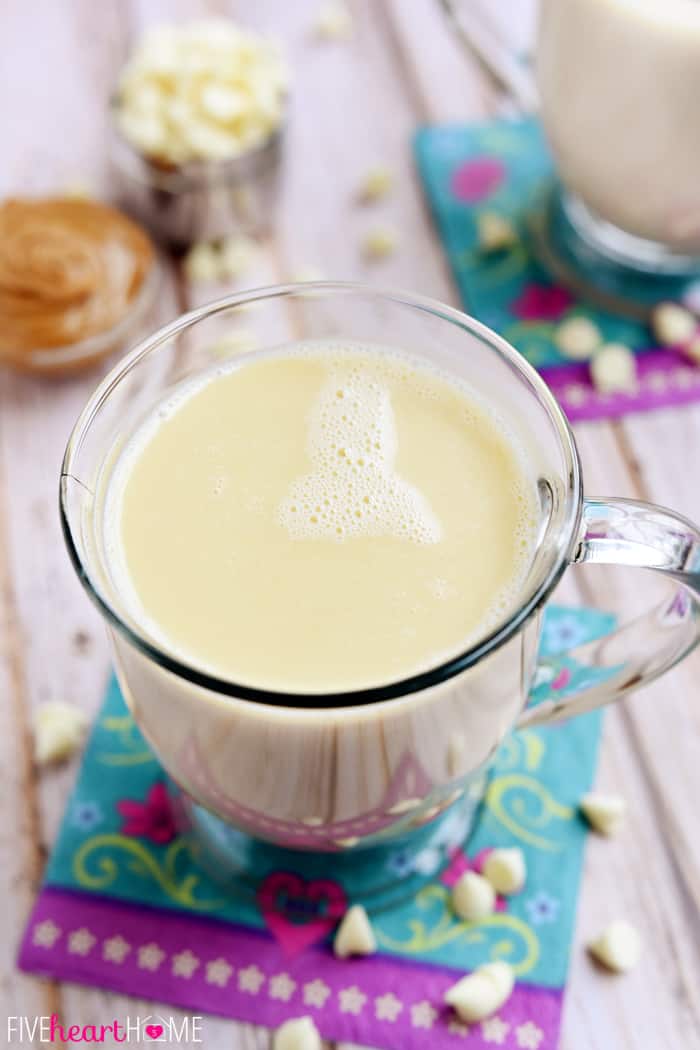 As you most likely know by now, Biscoff Spread is a creamy, nut-free spread made with ground up Biscoff cookies. Trader Joe's has their own version called Cookie Butter. Whichever brand you buy and whatever you want to call it, it's delicious. Like, eat-it-straight-off-the-spoon-because-who-needs-to-spread-it-on-anything delicious. And while that (a spoon) is the way I typically enjoy my cookie butter, I have to say that working it into recipes tends to yield some pretty yummy results.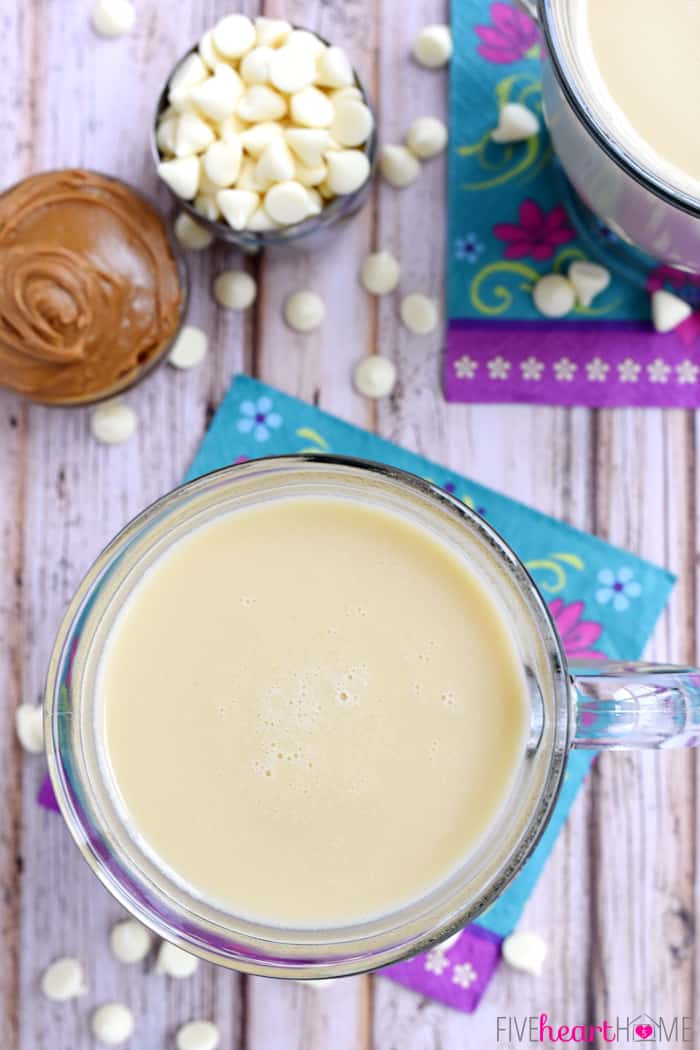 So back to today's delectable beverage. I decided that I wanted to feature Biscoff in a hot chocolate-esque treat, but I was worried that dark chocolate would overshadow the flavor of the cookie butter. Enter smooth, creamy white chocolate! And guess what? White chocolate ended up being the perfect counterpoint to the cookie butter.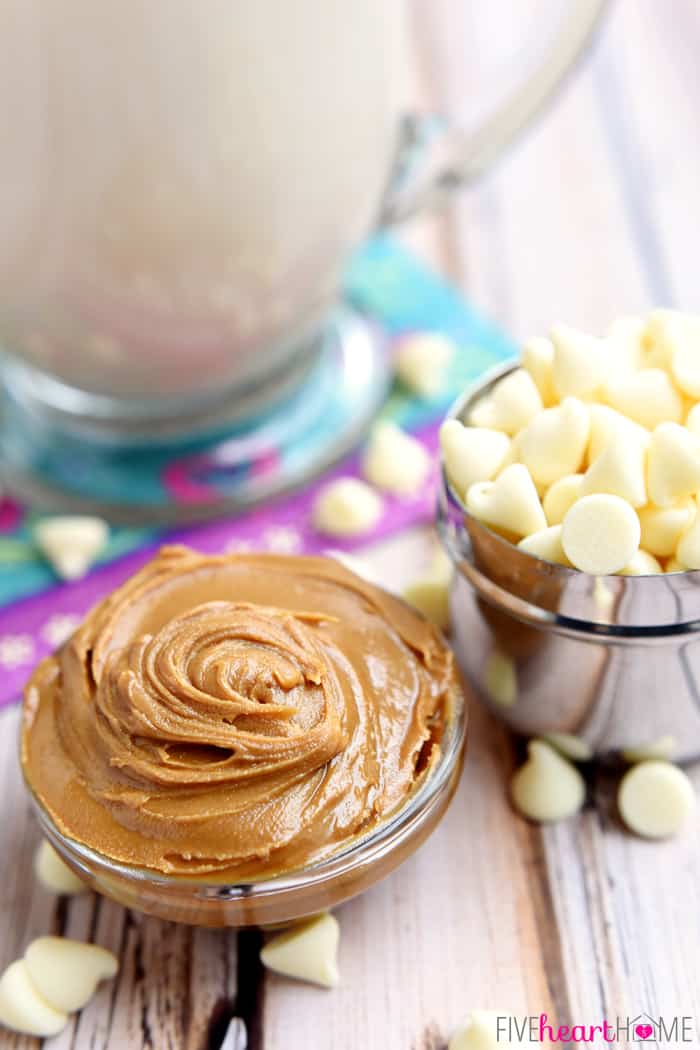 The tricky part was figuring out what ratio of white chocolate to cookie butter would produce the yummiest results. It took making four batches of this drink to achieve perfection, my friends. But, dedicated food blogger that I am, it's a sacrifice I was willing to make for my faithful readers. 😉 On the plus side, ending up with a quart of this drinkable goodness allowed me to surprise my kids with mugs of Cookie Butter White Hot Chocolate as an after-dinner treat that evening. And their verdict? Well, in the words of my 2-year-old...DEE-wishus!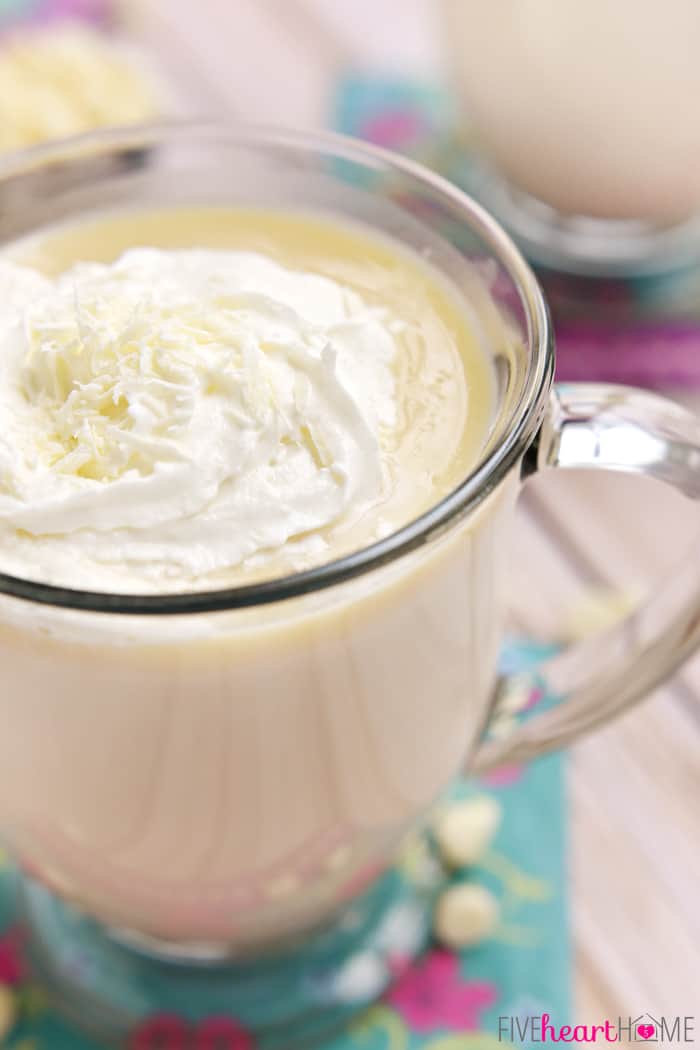 (She also couldn't keep her sticky little fingers away from the white chocolate chips while I was attempting to take photos for this post, but that's a different story altogether...)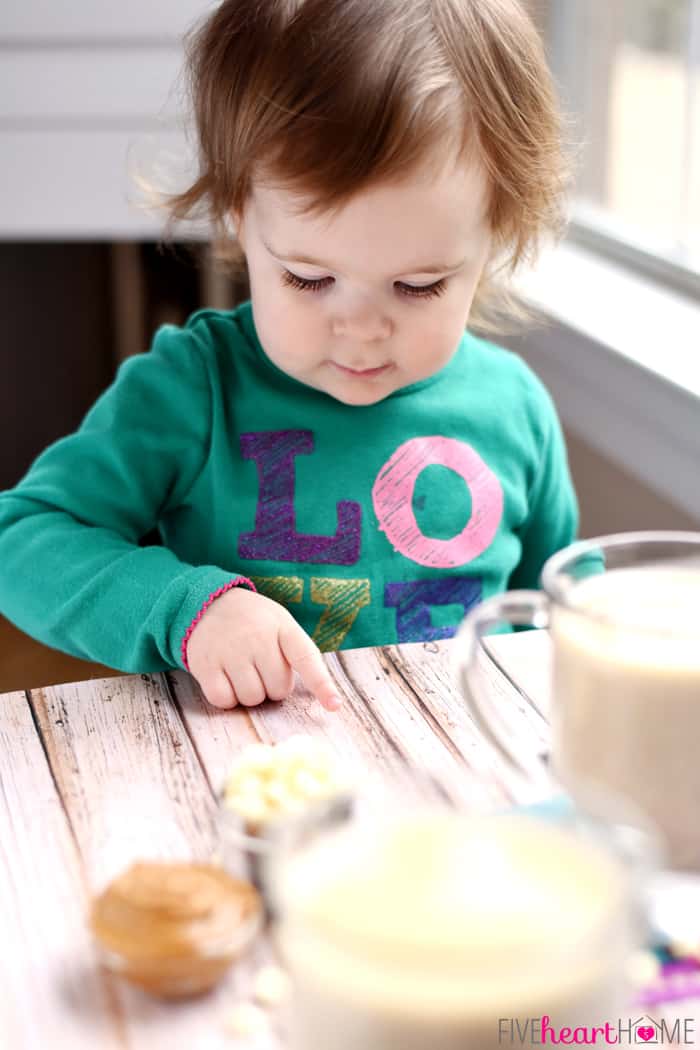 Yup, I'm thinking I was pretty much the coolest mom on the block for that small blip in time as they were sucking down their drinks. And as a bonus for yours truly, the next morning I had just enough leftover to mix half-and-half with my coffee, which resulted in a pretty tasty copycat of a White Chocolate Mocha...with a Biscoff twist!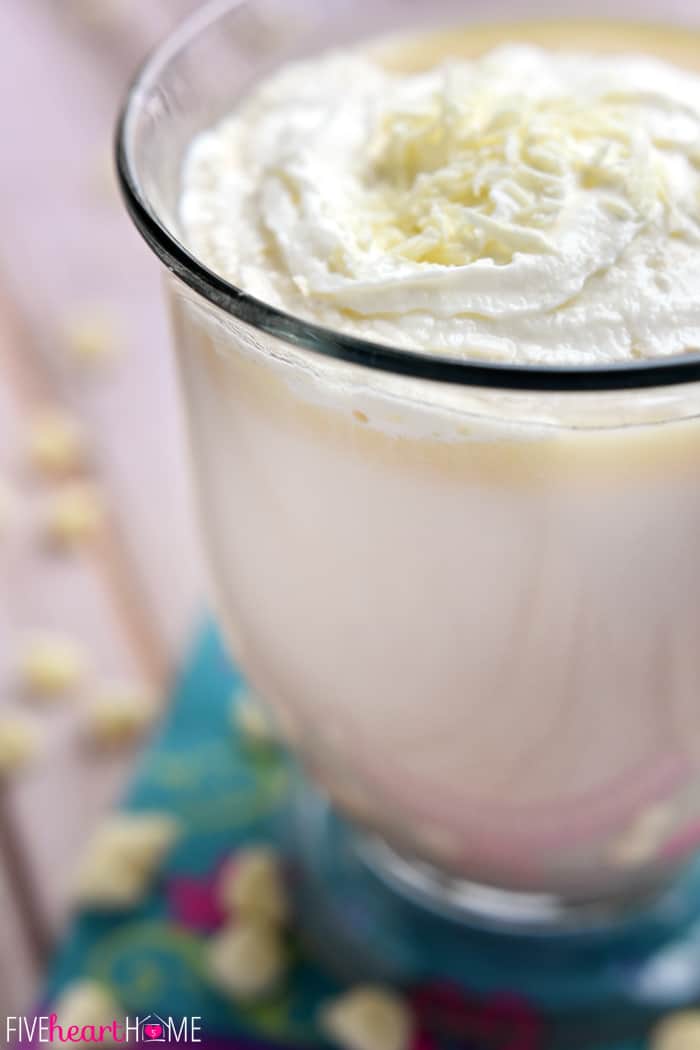 Texas happens to be in the midst of a freakish Feburary warm spell right now, but the moment hot chocolate weather returns (which, for me, is anything below 65°), you can bet I'll be stealing my hubby's (highly attractive) Cabela's wool socks, throwing a log on the fire, and wrapping my frozen fingers around a mug of Cookie Butter White Hot Chocolate! Or maybe I'll just crank the A/C, pretend it's hot chocolate weather now, and do the same later today. Either way, I'll bet you a jar of Biscoff that this beverage rivals sneaking cookie butter straight out of the jar any day!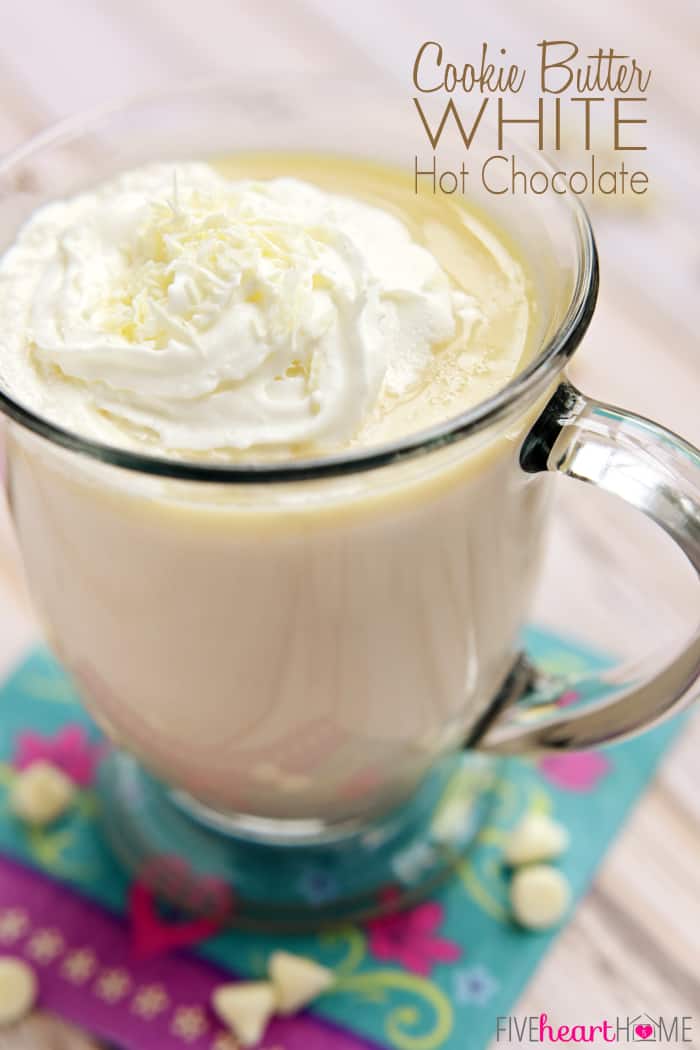 More Yummy Things to Drink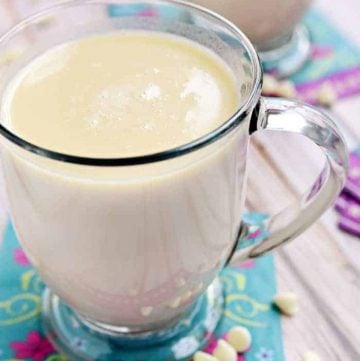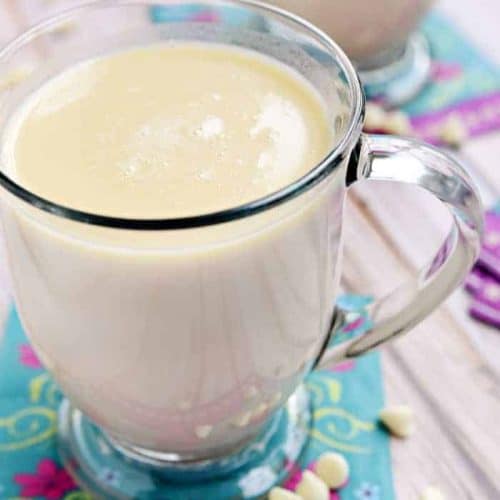 Cookie Butter (Biscoff) White Hot Chocolate
Biscoff Spread and melted white chocolate make for a sweet, creamy, decadent, warming drink in this Cookie Butter White Hot Chocolate!
Print
Pin
Rate
Ingredients
1

cup

milk

1

heaping tablespoon white chocolate chips

,

or ½ ounce chopped white chocolate

1

tablespoon

Biscoff Spread/cookie butter

¼

teaspoon

pure vanilla extract
Instructions
In a small saucepan set over low to medium-low heat, combine milk, white chocolate, and Biscoff. Stir continuously until all ingredients are completely smooth and melted (about 5 minutes...milk will form bubbles around the edges but should not come to a simmer). Remove from heat and stir in vanilla extract. Garnish with whipped cream and white chocolate shavings, if desired. Serve immediately.
Notes
You may make multiple servings in one batch...just multiply the recipe by the number of servings you desire.
I use whole milk for this recipe, but you may use 2% (to make it lighter), half-and-half (to make it richer), almond milk, or whatever your favorite type of milk may be. You may also adjust the sweetness by using a bit more or less milk.
The vanilla adds a nice depth of flavor to this drink, but be sure to stir it in at the end after removing the pot from the heat or its flavor will be diminished.
Calories:
246
kcal
|
Carbohydrates:
20
g
|
Protein:
9
g
|
Fat:
14
g
|
Saturated Fat:
6
g
|
Cholesterol:
25
mg
|
Sodium:
106
mg
|
Potassium:
322
mg
|
Sugar:
18
g
|
Vitamin A:
395
IU
|
Calcium:
276
mg