! Peanut Butter Cheerio Bars feature whole grain toasted oat cereal, chopped nuts, peanut butter, coconut oil, and honey for no-bake breakfast bars that also make a tasty snack!

Well, my Texas friends...have y'all floated away yet? I realize that some parts of the country are currently experiencing idyllic spring weather. But some of y'all are actually getting snow right now (what the what?). In central Texas, however, these past few days have been peppered with torrential downpours. When it rains, it pours, I suppose...although for the majority of the year, we're typically on the verge of a drought. So I guess we should enjoy it while it lasts, minus any hail or tornadoes, thankyouverymuch.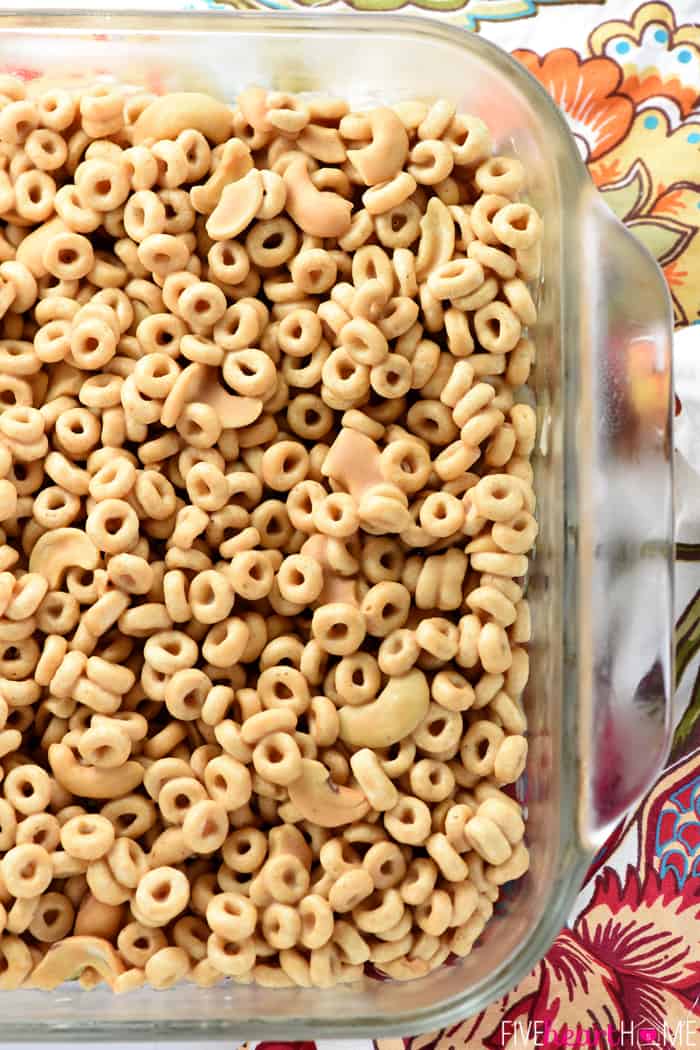 So yesterday, when we were all cooped up in the house, I made a big pot of homemade chicken noodle soup (poor hubby was sick) and a pan of these Peanut Butter Cheerio Bars for upcoming breakfasts this week. The kids had asked me to make granola bars but I was plumb out of oats. I did, however, have an extra box of "Toasty Os" in the pantry, the organic version of Cheerios available at our local grocery store. And so I pondered whether substituting cereal for oats would work in my favorite Chewy No-Bake Granola Bar recipe...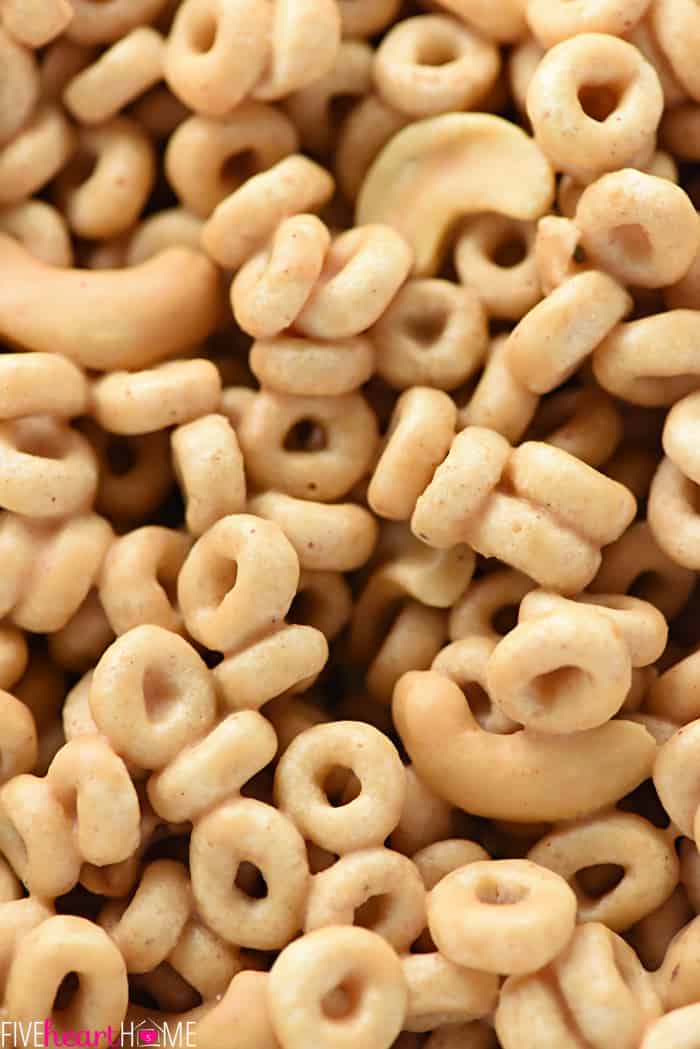 Tips for Making Peanut Butter Cheerio Bars
And sure enough, it did! These peanut butter and and honey cereal bars were such a hit, in fact, that I decided to share them on the blog today. But first I made 'em a couple more times to get them juuuust right for y'all. And here's what I figured out:
Be sure to use regular coconut oil -- as in, the kind that solidifies when it's cool and melts when it's warm. When these bars are refrigerated, the coconut oil hardens and helps hold everything together. So the "liquid coconut oil" available these days (that stays liquid) won't cut it. As an aside, "liquid coconut oil" is manufactured -- not natural. It's stripped of the key ingredient that makes coconut oil so healthy in the first place...so I'd stick with the real stuff anyway. 😉

Try to use a natural, unsweetened (or low-sugar) peanut butter. And use a plain oat Os cereal, not the sweetened honey-nut variety. The honey in these bars helps hold them together, but it also makes them plenty sweet without additional sugar from another source.
When you melt together the peanut butter, coconut oil, and honey, make sure it's nice and smooth. Then remove the pot from the heat and allow it to cool for a few minutes before stirring in the cereal and nuts. If the mixture is too warm and runny, it may slide right off your Os and sink to the bottom of the pan. If it's slightly cooled and thickened, it will stick to the cereal better.

These bars must be refrigerated for multiple hours (preferably overnight) before you slice them. They are rather delicate (no marshmallows or corn syrup here). So they will fall apart during slicing if not allowed to fully set. On the other hand, once the bars are completely chilled, they may be a bit difficult to cut. That means it's okay to let them sit on the counter for just a few minutes before slicing. Use a sharp knife to slice them into bars and use a thin spatula (like an offset spatula -- *affiliate link) to carefully loosen them from the bottom of the pan.
These cereal bars make a fabulous breakfast or eat-at-home snack, but unfortunately, they aren't ideal as a portable snack. They need to be stored in the refrigerator, since at room temperature, they become melty and start to fall apart.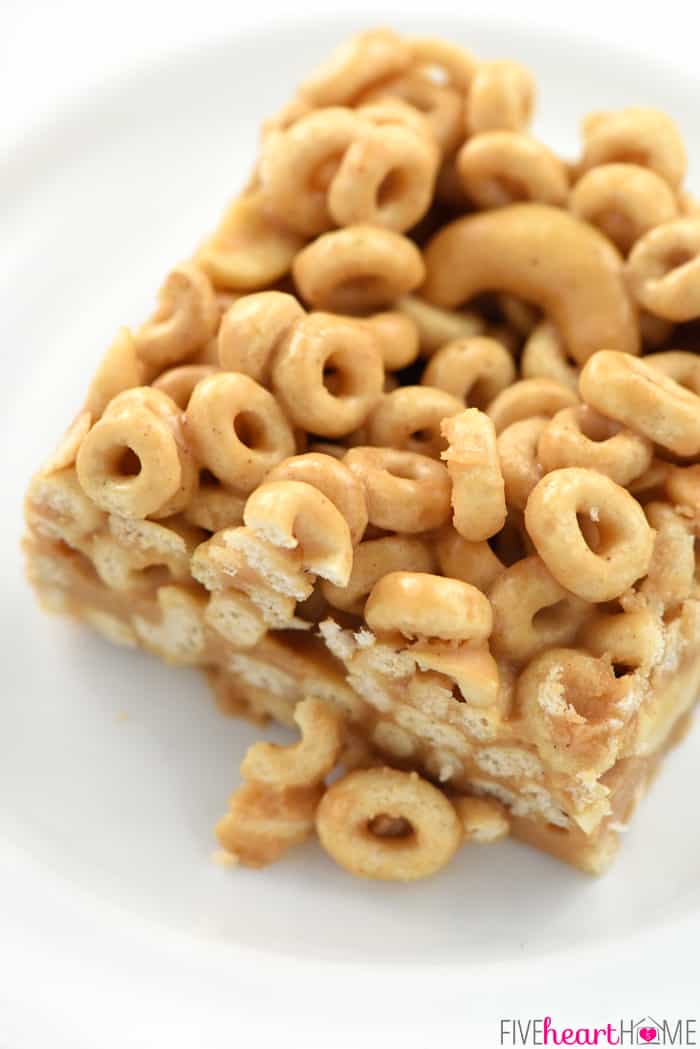 Don't let the above bulleted list of dos and don'ts intimidate you, though. These Peanut Butter Cheerio Bars are actually super simple to make! It's also easy to customize them by swapping in your favorite nut butter (or non-nut butter) and/or type of nut. My family loves cashews and I already had a big tub of them on hand. But one day soon I'm going to try this recipe with almond butter and toasted almonds...or even a nut-free version like sunflower seed butter and dried cranberries.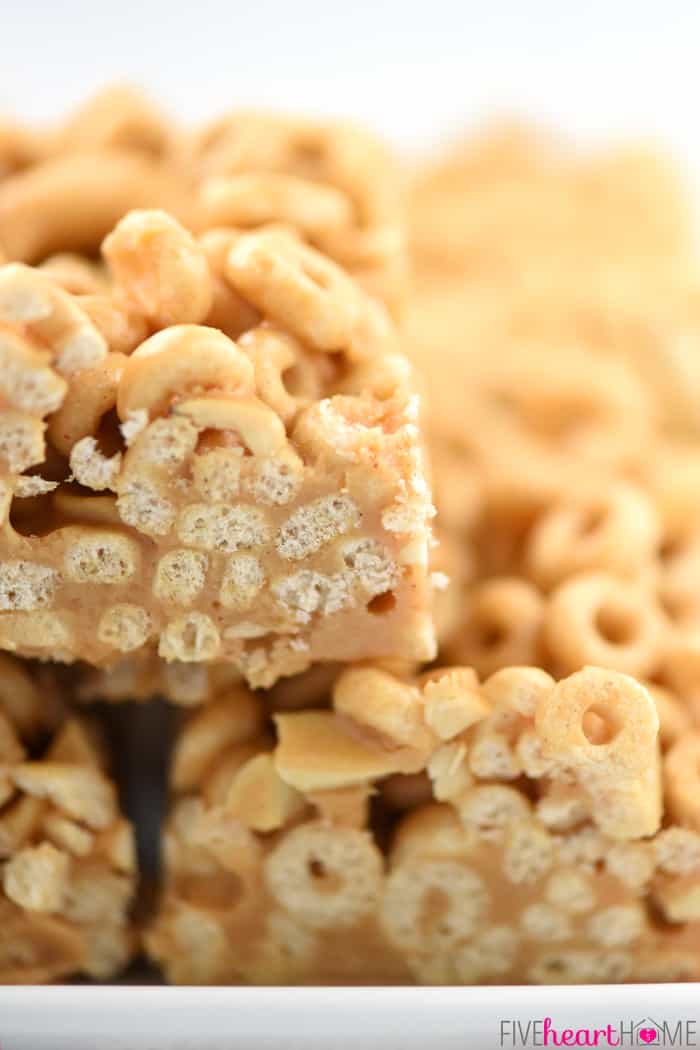 Well, the thunder's a-rumbling so I suppose I better get off the computer. Stay dry (those of you getting rain)! Stay warm (those of you getting snow)! Or, you know, try not to gloat (those of you enjoying warmth and sunshine). 😉 And sooner than later, I hope you enjoy this yummy, different way to eat your morning cereal!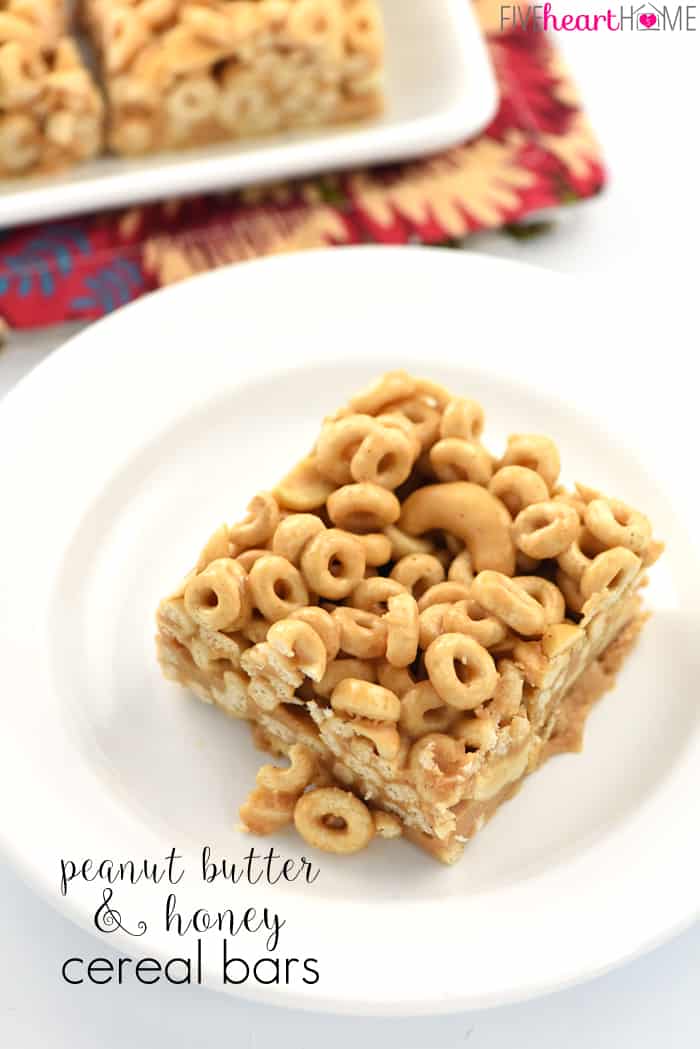 Peanut Butter Cheerio Bars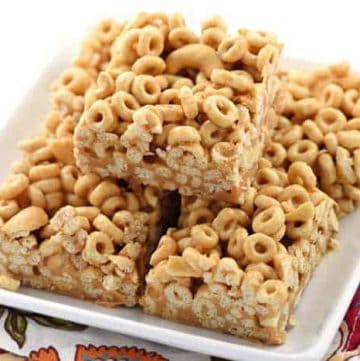 Peanut Butter & Honey Cereal Bars
Whole grain toasted oat cereal, chopped nuts, peanut butter, coconut oil, and honey combine for no-bake breakfast bars that also make a tasty snack!
Print
Pin
Rate
Ingredients
1

cup

peanut butter, almond butter, sunflower seed butter, or your favorite nut butter

1/2

cup

honey

1/2

cup

coconut oil

5

cups

toasted oat "O"s cereal

,

such as Cheerios

1 1/2

cups

nuts

,

such as cashews, peanuts, or toasted & chopped almonds, pecans, walnuts, etc.
Instructions
Grease a 9- by 13-inch baking dish; set aside.

In a large pot set over medium-low heat, melt together nut butter, honey, and coconut oil, stirring until smooth. Remove from stove and allow to cool for a few minutes until it thickens up just a bit Carefully stir in cereal and nuts until well-coated.

Pour mixture into prepared baking dish. Spread into an even layer and press down with the back of a spatula or hands. Refrigerate for several hours (preferably overnight) until completely set. Use a large, sharp knife to slice into squares or bars (I like to cut 4 rows of 4 bars each) and remove from pan with the help of a thin spatula. Store cereal bars in an airtight container in the refrigerator, with wax paper separating the layers.
Calories:
290
kcal
|
Carbohydrates:
20
g
|
Protein:
7
g
|
Fat:
22
g
|
Saturated Fat:
9
g
|
Sodium:
114
mg
|
Potassium:
233
mg
|
Fiber:
3
g
|
Sugar:
10
g
|
Vitamin A:
215
IU
|
Vitamin C:
1.5
mg
|
Calcium:
43
mg
|
Iron:
3
mg
More Breakfast Bars & Snack Bars