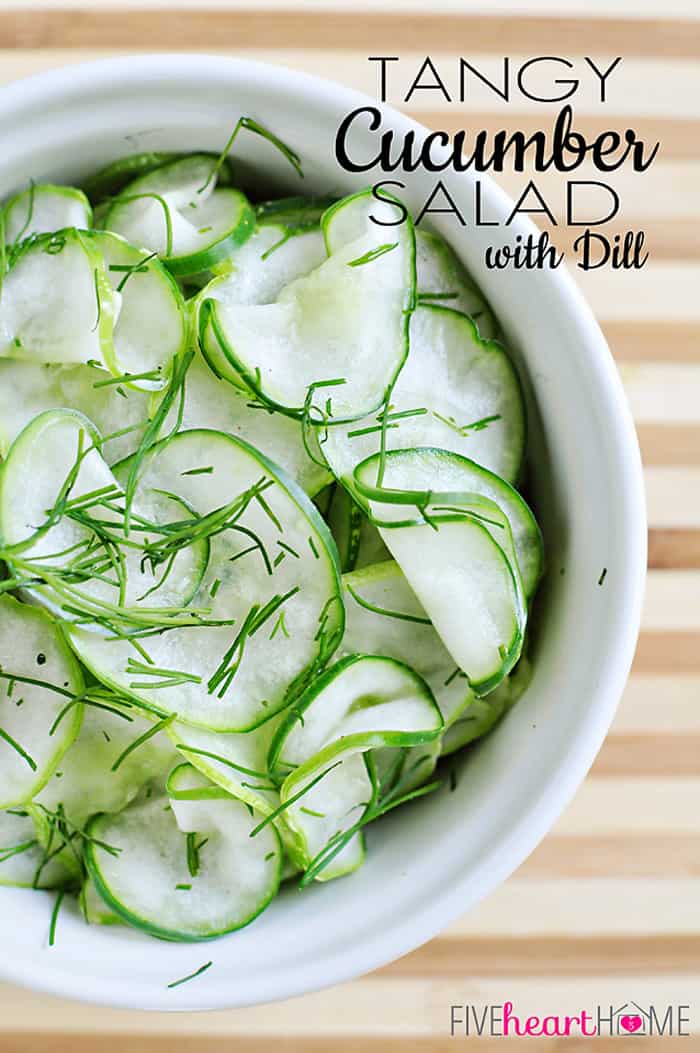 Crisp, thinly-sliced cucumbers are marinated in a simple dressing of white wine vinegar, salt, pepper, sugar, and fresh dill for a refreshing, sweet-and-sour salad that makes a perfect summer side dish!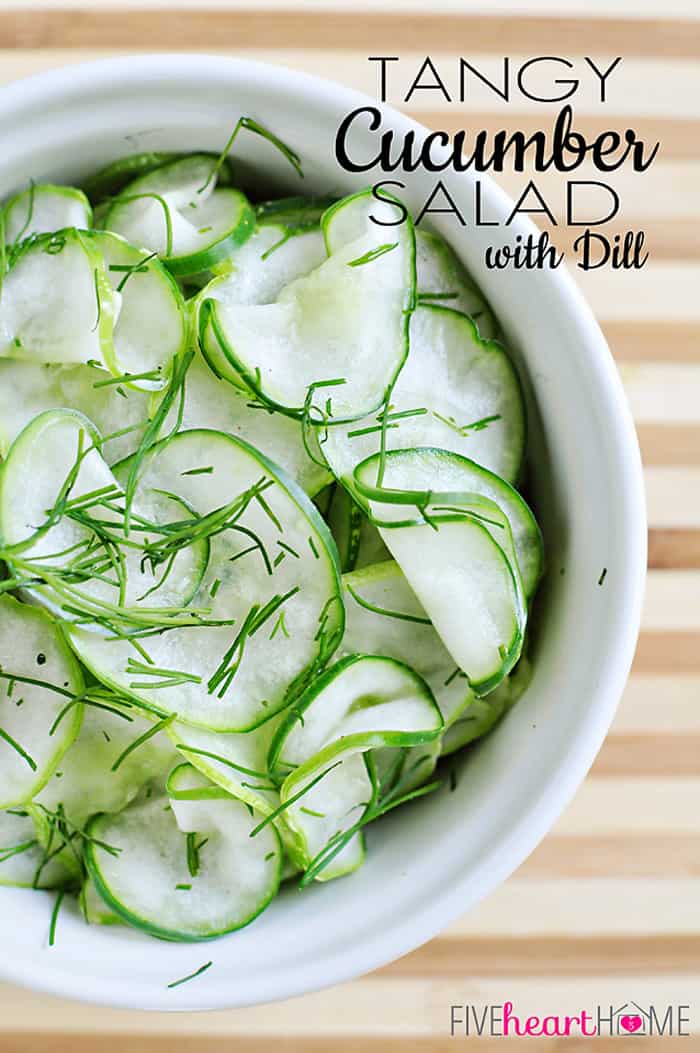 If you love dill, you'll also enjoy Dreamy Dill Dip, Cucumber Tomato Feta Salad, and Healthy Greek Yogurt Dip!
I realize that I've been bombarding y'all lately with quite a few recipes featuring garden-fresh summer produce...and I can't promise that I'm quite done yet. Case in point: today I'm sharing the BEST Tangy Cucumber Salad with Fresh Dill!
I've already got a Creamy German Cucumber Salad in my repertoire. But for years I've been on a mission to find the perfect, vinegar-based cucumber salad recipe. Well, by golly...I think I've finally struck gold!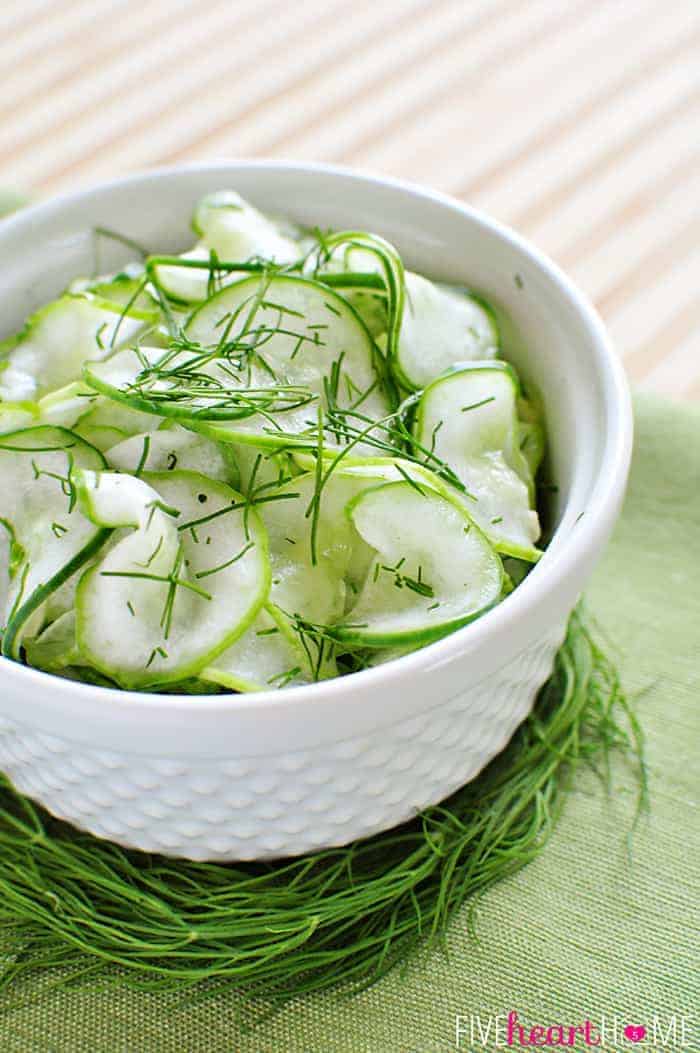 As its name implies, this salad is tangy and refreshing. The paper-thin cucumbers still retain a crisp bite thanks to the skin remaining intact, and the simple dressing is both sweet and sour, thanks to a bit of sugar and a base of white wine vinegar.
I think I'm particularly enamored with the flavor of this salad because my mom is from Germany and every time we visit our overseas relatives, we enjoy the tastiest salads dressed in simple, white vinaigrettes. That's exactly what these cucumbers remind me of! It really is a case of simple is best.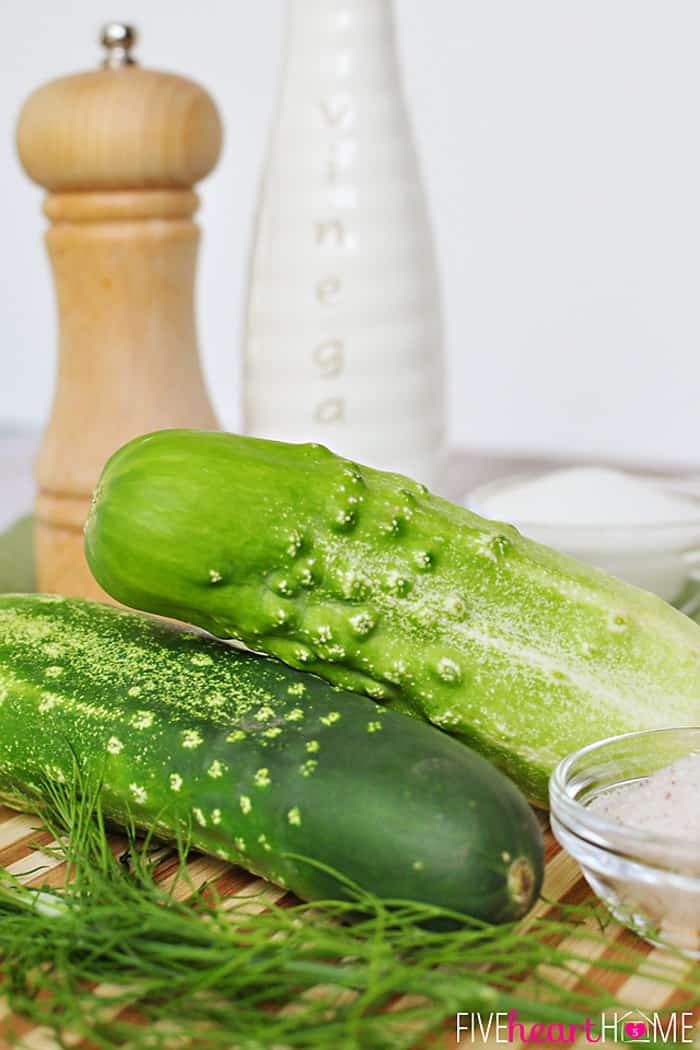 Thinly-Sliced Cucumbers
This cucumber salad is also incredibly easy to prepare. I do feel it's very important to get your cucumbers sliced as thinly as possible, particularly since you're not going to be peeling them. Unless you're a knife-wielding prodigy, that's probably going to be most easily achieved using a mandoline slicer. If you don't already have one, I highly recommend investing in an inexpensive mandoline. My mandoline comes in quite handy any time I want to make a cucumber salad such as this, or when I'm making a variation of scalloped potatoes or certain apple desserts. It takes up hardly any cabinet space when I'm not needing it, but it makes such a difference in the outcome of the final recipe when I have reason to use it.
I will warn you, however, that a mandoline slicer can be very dangerous if you're not paying attention! Let's just say my fingernails have saved the skin from being shaved off of my fingertips a time or two. If you're slicing manually, just make sure to go slowly and use the handguard when whatever you're slicing becomes small enough. And unless it has a blade cover, don't store a mandoline in a drawer where your (or a small somebody else's) hand might accidentally skim the sharp, sharp blade when reaching for something else. (With young children in the house, I actually store my mandoline in its original box in a high cabinet.)
Now that I've made you too paranoid to ever want to use a mandoline...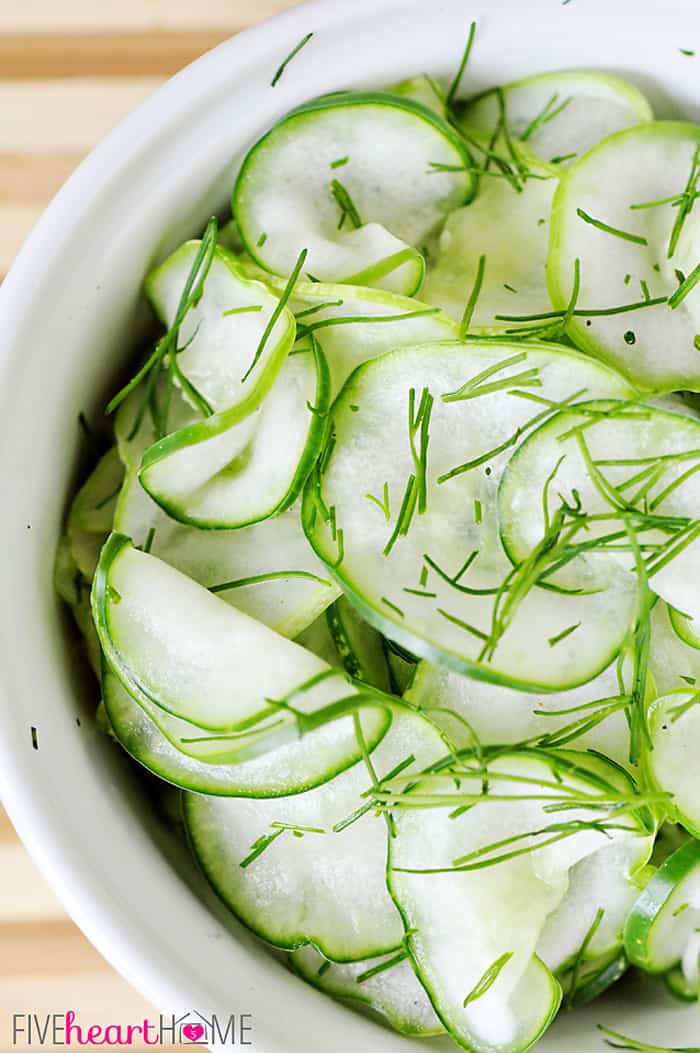 How to Make It
After slicing up your cucumbers for this salad, you'll want to mix them with some salt and allow them to drain in a colander for 15 minutes or so. The salt will simultaneously season and draw the excess moisture out of your cucumbers, thereby preventing your dressing from becoming watered-down.
Just stir together a few more ingredients while your cucumbers drain.
Then mix everything together, and refrigerate for a bit to allow the flavors to meld. Chilling your cucumber salad for 15 minutes will yield fresh-tasting, still-crunchy cucumbers, while a longer stint in the refrigerator will result in a stronger sweet-and-sour flavor permeating more tender slices.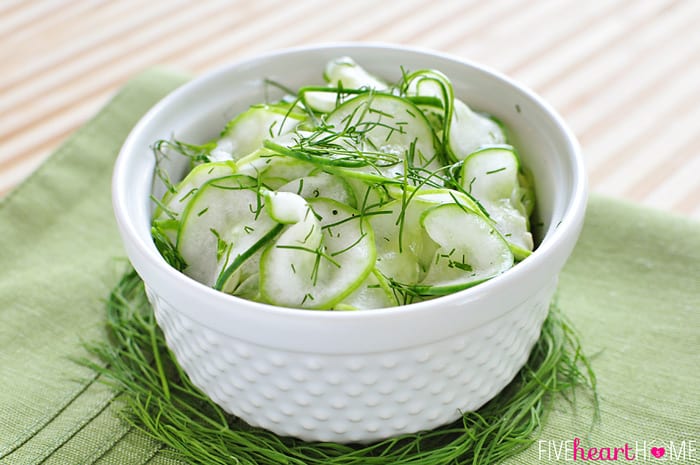 Fresh Dill
One last hint...don't skimp on the fresh dill! It really does make the salad. I can't think of any flavor that complements cucumbers better than dill, and using fresh rather than dried will really make this salad pop.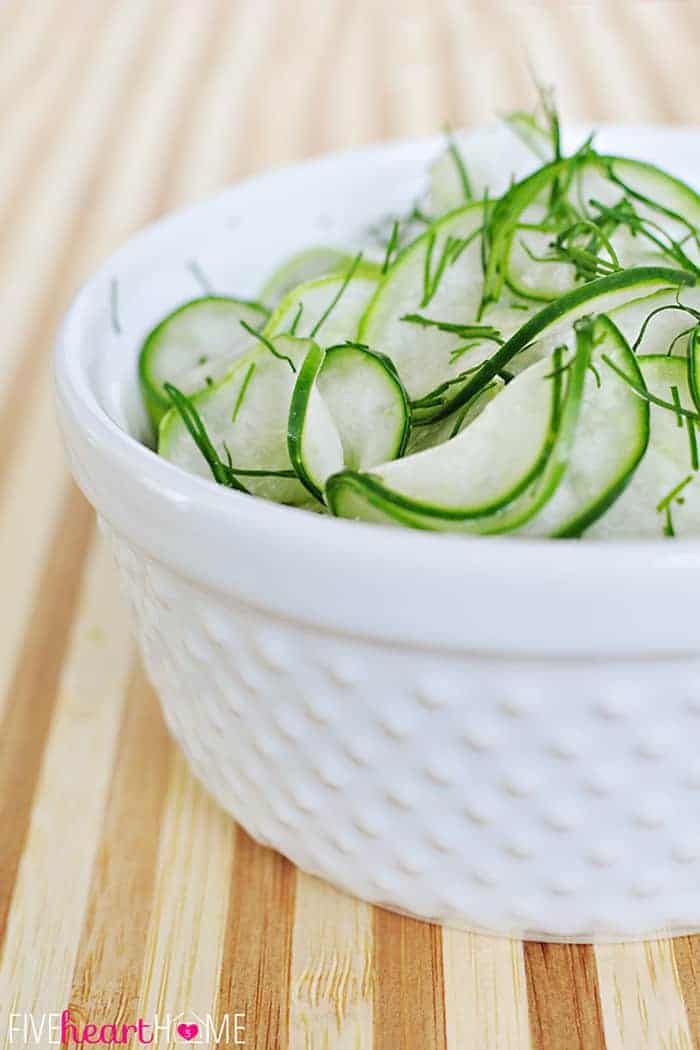 So there you have it...a simple, scrumptious Tangy Cucumber Salad with Fresh Dill that will have family members licking their plates clean and friends begging for the recipe! Or, in the case of my picky four-year-old, this was a salad that had him eating all of his vegetables before anything else on his plate. And those, my friends, are called Darn Good Cucumbers. 😉
More Scrumptious Summer Recipes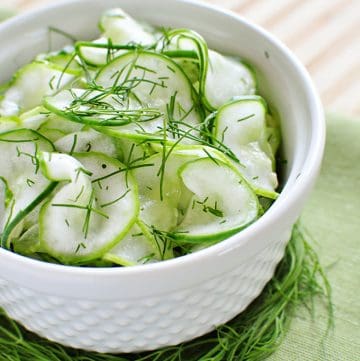 Tangy Cucumber Salad with Dill
Crisp, thinly-sliced cucumbers are marinated in a simple dressing of white wine vinegar, salt, pepper, sugar, and fresh dill for a refreshing, sweet-and-sour salad that makes a perfect summer side dish!
Print
Pin
Rate
Servings:
6
to 8 servings
Ingredients
1 ½

pounds

cucumbers

,

try to avoid large seeds by using small cucumbers or English hothouse cucumbers, unpeeled & very thinly sliced

2 ½

teaspoons

salt

,

I use sea salt

½

cup

white wine vinegar

¼

cup

chopped fresh dill

2

tablespoons

sugar

Freshly ground black pepper

,

to taste
Instructions
Sprinkle salt over bowl of cucumber slices, tossing and making sure that all cucumbers are coated. Place salted cucumbers in a colander and allow to sit for 15 minutes, occasionally stirring.

In a large bowl, prepare dressing by whisking together white wine vinegar, fresh dill, sugar, and pepper.

Press down on cucumbers in colander to extract as much liquid as possible. Pat dry and add to bowl of dressing. Stir until coated and refrigerate for 15 minutes to 2 hours before serving chilled.
Calories:
34
kcal
|
Carbohydrates:
7
g
|
Protein:
1
g
|
Fat:
1
g
|
Saturated Fat:
1
g
|
Sodium:
974
mg
|
Potassium:
176
mg
|
Fiber:
1
g
|
Sugar:
6
g
|
Vitamin A:
235
IU
|
Vitamin C:
5.3
mg
|
Calcium:
20
mg
|
Iron:
0.5
mg
Adapted from Epicurious.