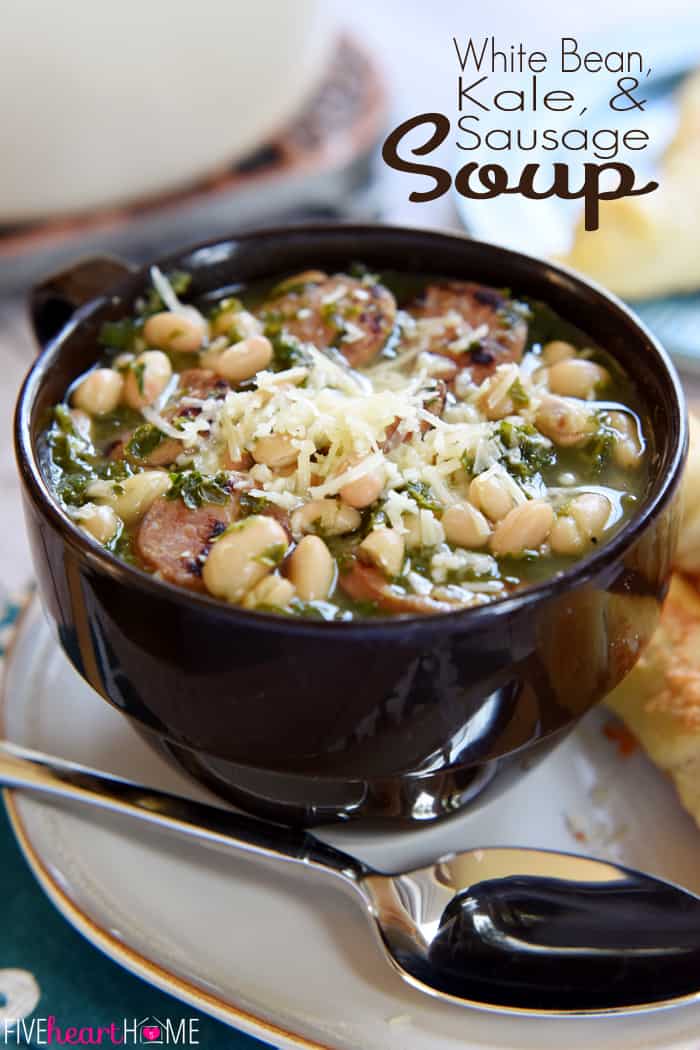 Hearty, healthy Sausage Kale White Bean Soup is full of flavor, loaded with vitamins, and comes together in under 30 minutes!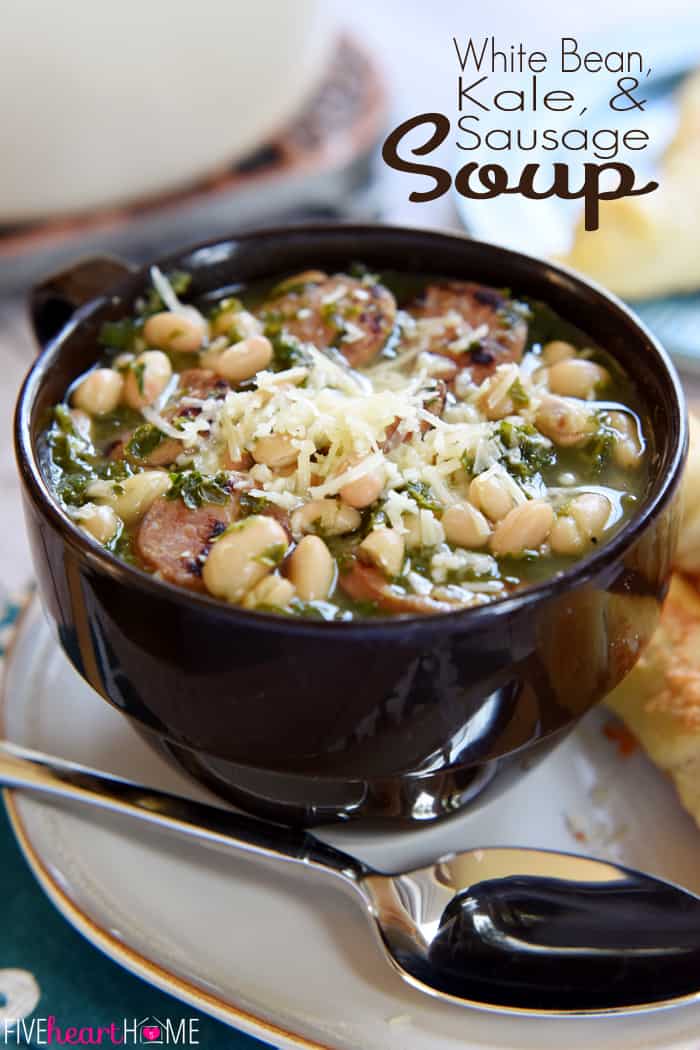 If you enjoy white beans in your soup, you'll also love Slow Cooker White Chili, Slow Cooker Ham and Bean Soup, and Slow Cooker Cajun White Bean Soup!
Well, friends, I've resisted for years, but I finally decided to jump on the kale bandwagon. Okay, perhaps "bandwagon" is too extreme. Rather, I created this Sausage Kale White Bean Soup...and I actually liked it!
I'll probably get my Southerner card revoked for such blasphemy, but as much as I love spinach, I've never really been a fan of the heartier greens. However, seeing as how kale recipes and ideas are everywhere you look, I decided it's probably time I give it a go.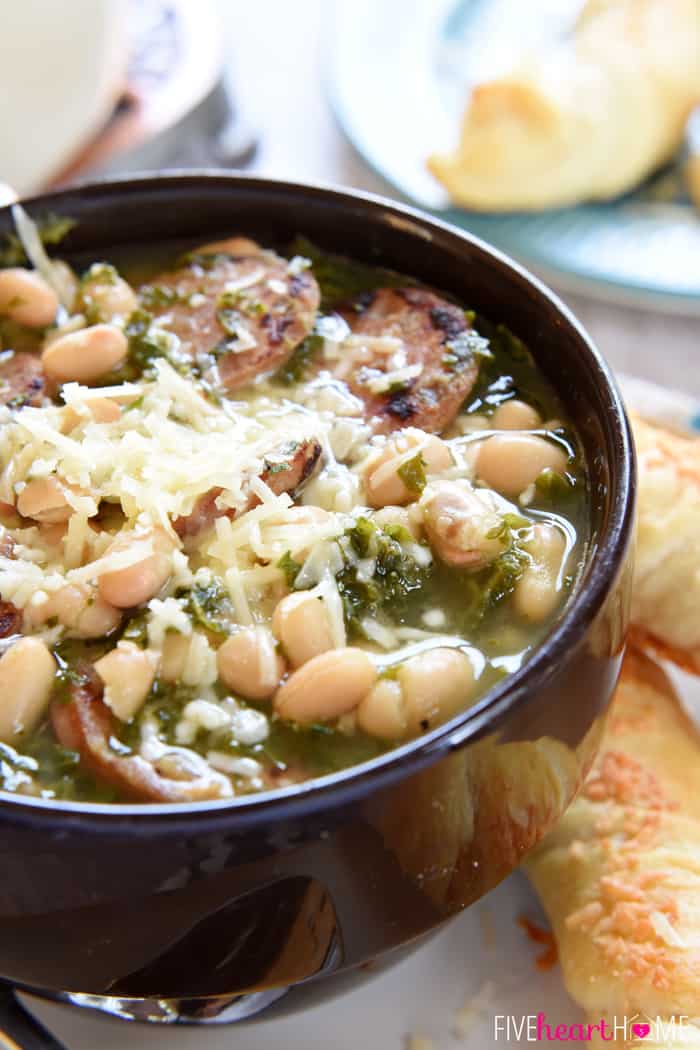 Quick and Easy
Soup seemed like an innocuous enough medium for my family's first foray into kale, and I have to admit that I was pleasantly surprised with how tasty this Sausage, Kale, and White Bean Soup turned out! I toyed with the idea of cooking a pot of dried white beans to act as the base of the soup, and you could certainly do so, but I ultimately decided to go with canned beans in order make this a quick and easy supper.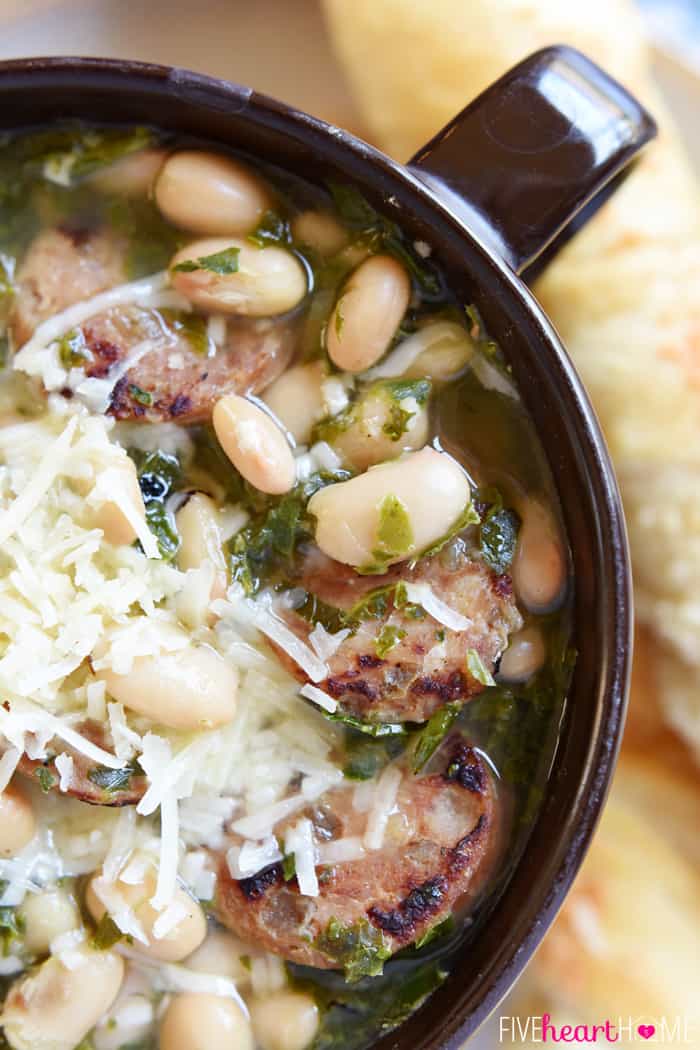 How to Make It
This soup is super simple to throw together.
Start by browning some smoked sausage slices -- such as kielbasa or even andouille, if you prefer a little spice -- and then stir in a bit of minced garlic.
Set aside the sausage and garlic and, in the same pot, simmer a bunch of kale in a few cups of chicken stock or broth.
In the meantime, puree some canned white beans (that have been drained and rinsed), while leaving the other portion of the beans whole.
After the kale has wilted, add the whole beans, bean puree, and sausage back to the pot.
Season with salt, pepper, and hot sauce, and then cook for a few more minutes until heated through. Serve with plenty of grated Parmesan (or feta) on top.
Warm, filling, healthy, and delicious!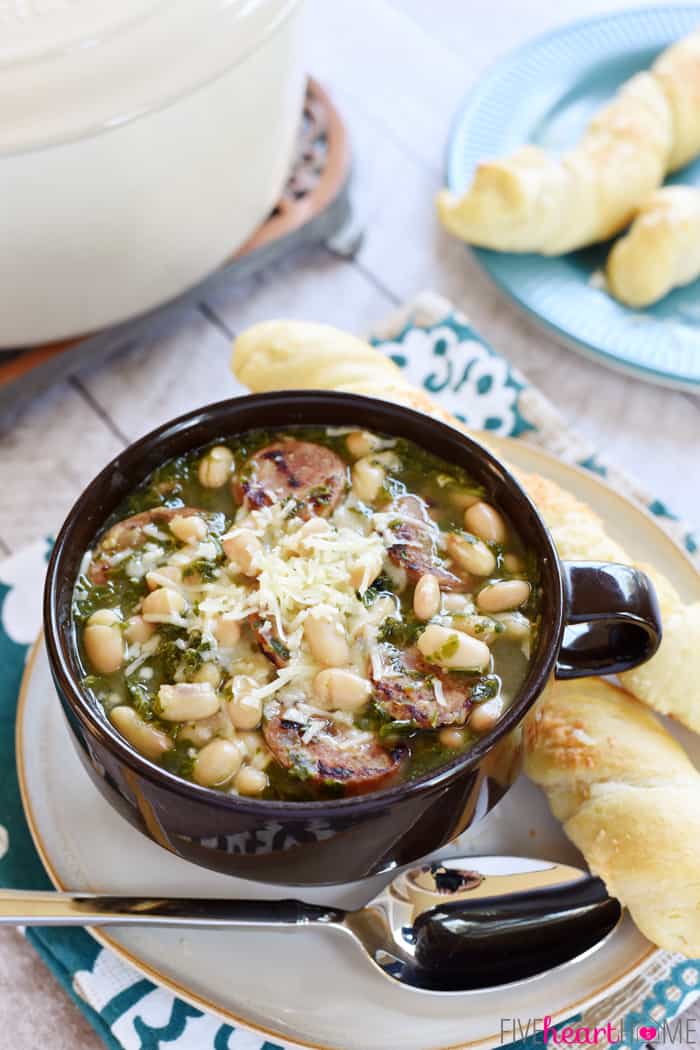 The Key to Kale in Soup
Now here's my secret to getting my kids (and my husband...and, okay, myself) to willingly eat the kale:
Instead of leaving the leaves in large pieces, I shredded them up in the food processor before adding them to the soup.
(To save on clean-up, I later used the same dirty food processor bowl to puree my beans...no need to wash it in between!)
Having soft, small bits of kale distributed throughout the soup proved to be palatable to those who might not otherwise enjoy chewing up large green leaves.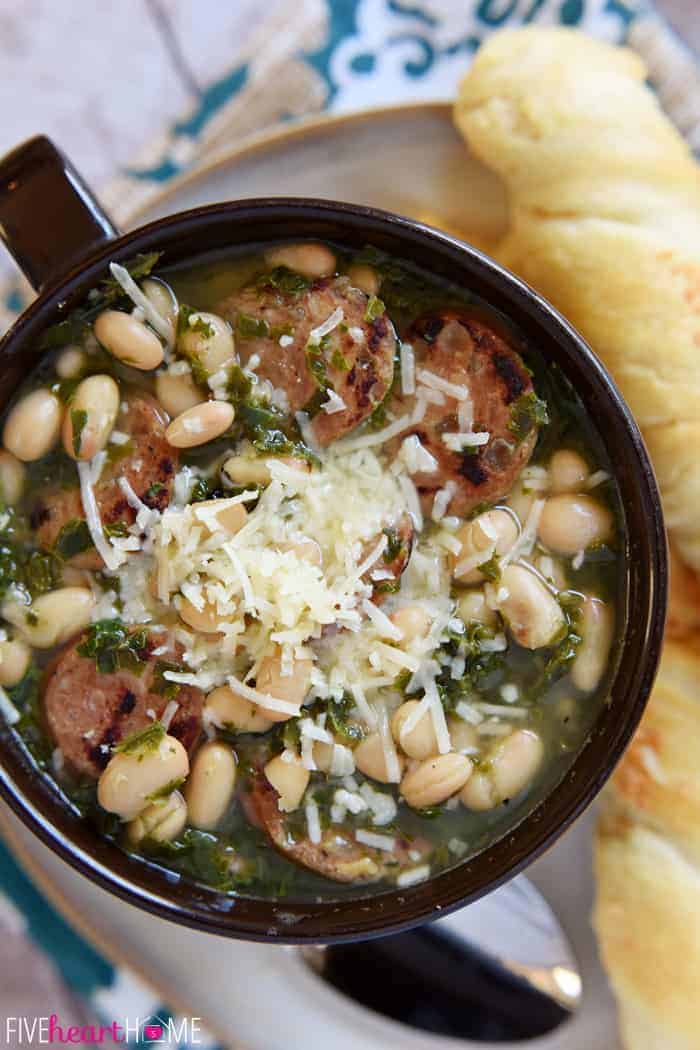 Of course, seeing all of those mysterious green pieces swimming around in their soup, my kids immediately asked me what it was...and I gave them a pseudo-truth.
It's called kale. You know...it's kind of like parsley.
For some reason, my children aren't offended by herbs, so they accepted my explanation and proceeded to scarf down their soup. They occasionally cast a suspicious eye in my direction, but they ate it. And really, kale and parsley have to be related somewhere down the line, right? I mean, they're both dark green, edible plants... 😉
Garnishing
One last thing to note is that I originally garnished this soup with shredded Parmesan, and that's how I planned on writing the recipe. But upon reheating the soup leftovers one night, I realized that I was out of Parmesan and only had a tub of crumbled feta in the fridge. So I decided to try that instead and boy am I glad I did! The feta somewhat melted into the hot soup, lending a creamy consistency that was pretty darn yummy.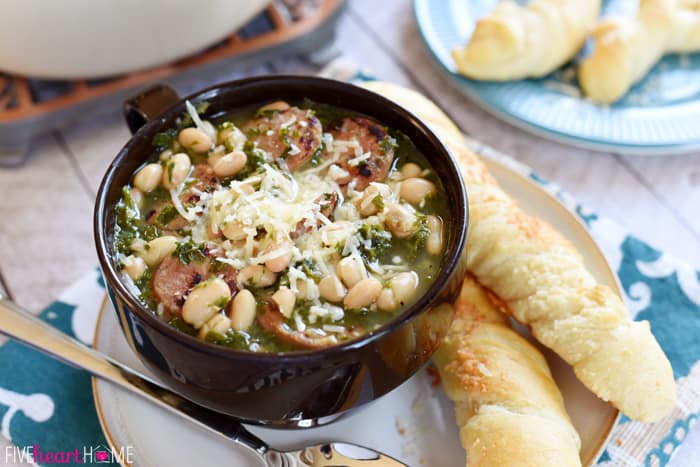 The next time you need a quick, wholesome, cozy dinner, I encourage you to give this Sausage Kale White Bean Soup a try!
If you're already a fan of kale, I think you'll love it.
And if you've spent all of your years thus far avoiding kale...well, join the cool kids and give it a go.
I think you'll be happy to learn that something so vitamin-packed can actually (surprisingly?) taste so good.
More Warm & Hearty Soups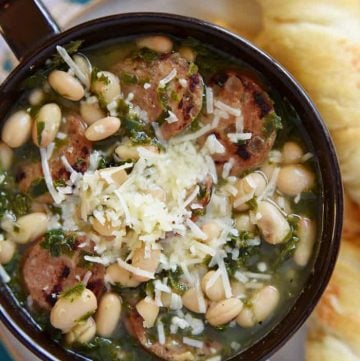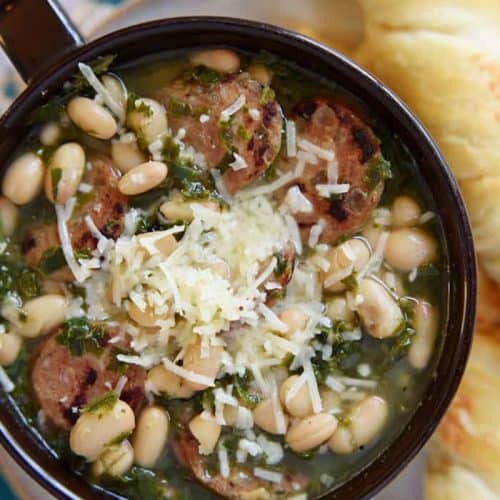 Sausage Kale White Bean Soup
Hearty, healthy Sausage, Kale, and White Bean Soup is full of flavor, loaded with vitamins, and comes together in under 30 minutes!
Print
Pin
Rate
Ingredients
1-2

tablespoons

extra-virgin olive oil

12

ounces

smoked sausage links

,

such as kielbasa or andouille, cut into ¼-inch slices

5

cloves

garlic

,

minced

5

cups

chicken broth OR stock

,

DIVIDED

8

ounces

kale

,

tough stems removed and finely chopped/shredded

1

small bay leaf

½

teaspoon

garlic powder

4

cans

(15-ounces, each) white beans (such as Cannellini, Great Northern, or Navy)

,

rinsed and drained

A few dashes hot pepper sauce

Salt & freshly ground black pepper

,

to taste

Shredded Parmesan cheese OR crumbled feta cheese

,

for garnish
Instructions
Place a large pot over medium heat. Heat 1 tablespoon of olive oil in pot, swirl to coat, and add sausage. Cook, stirring occasionally, for about 5 to 7 minutes or until the sausage is browned. Remove sausage to a paper towel-lined plate, pour a bit more oil in the center of the pot, and add minced garlic. Stir and cook for about 1 minute, or until garlic is fragrant and light golden brown.

Pour 4 cups chicken broth/stock into pot and stir in kale, bay leaf, and garlic powder. Increase heat to high and bring to a boil. Reduce to a simmer, cover, and cook for 5 minutes.

Place about ⅓ of the drained beans in a blender or food processor along with the remaining 1 cup chicken broth/stock. Puree until smooth.

Once kale is tender, add whole beans, pureed beans, and browned sausage to the pot. Season with dashes of hot pepper sauce, salt, and pepper, to taste. Stir and simmer for a few minutes until heated through. Remove bay leaf before serving.
Notes
I pulse the kale leaves (after removing tough stems) in my food processor (using the regular blade) until shredded (but not pureed). After adding the kale to the soup, I use the same food processor bowl (without cleaning it first) to puree the beans.
Calories:
445
kcal
|
Carbohydrates:
52
g
|
Protein:
26
g
|
Fat:
16
g
|
Saturated Fat:
5
g
|
Cholesterol:
30
mg
|
Sodium:
439
mg
|
Potassium:
1371
mg
|
Fiber:
11
g
|
Sugar:
1
g
|
Vitamin A:
2832
IU
|
Vitamin C:
35
mg
|
Calcium:
217
mg
|
Iron:
8
mg
Post originally published on September 21, 2014.