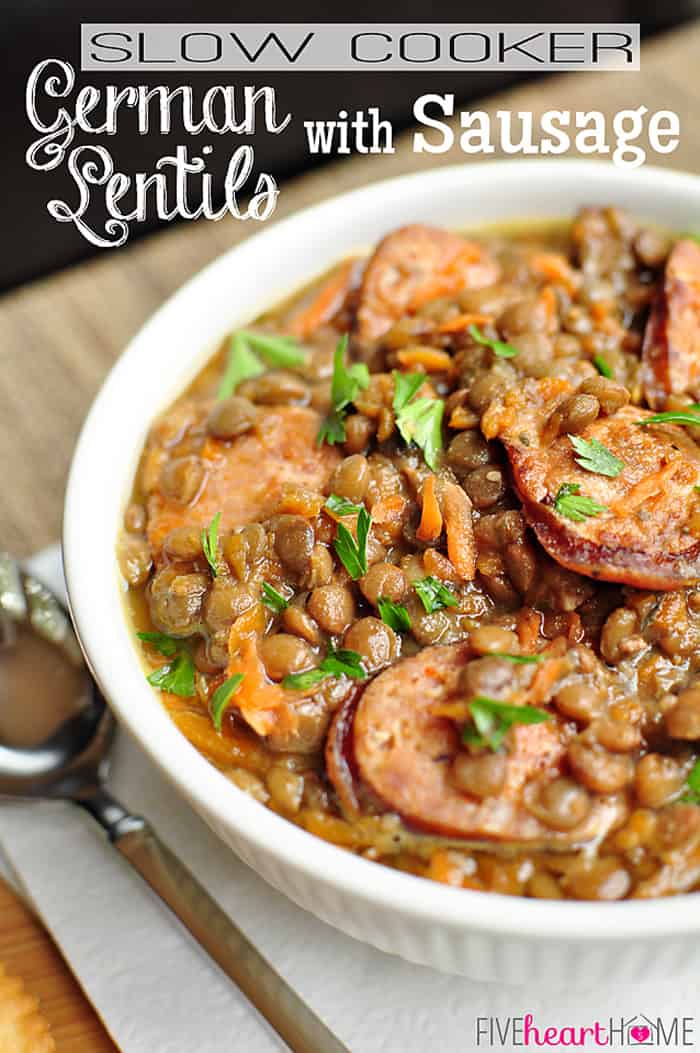 Slow Cooker German Lentil Soup is enhanced with sausage, carrots, and a flavorful broth that simmer the day away in a hearty, comforting, crockpot soup!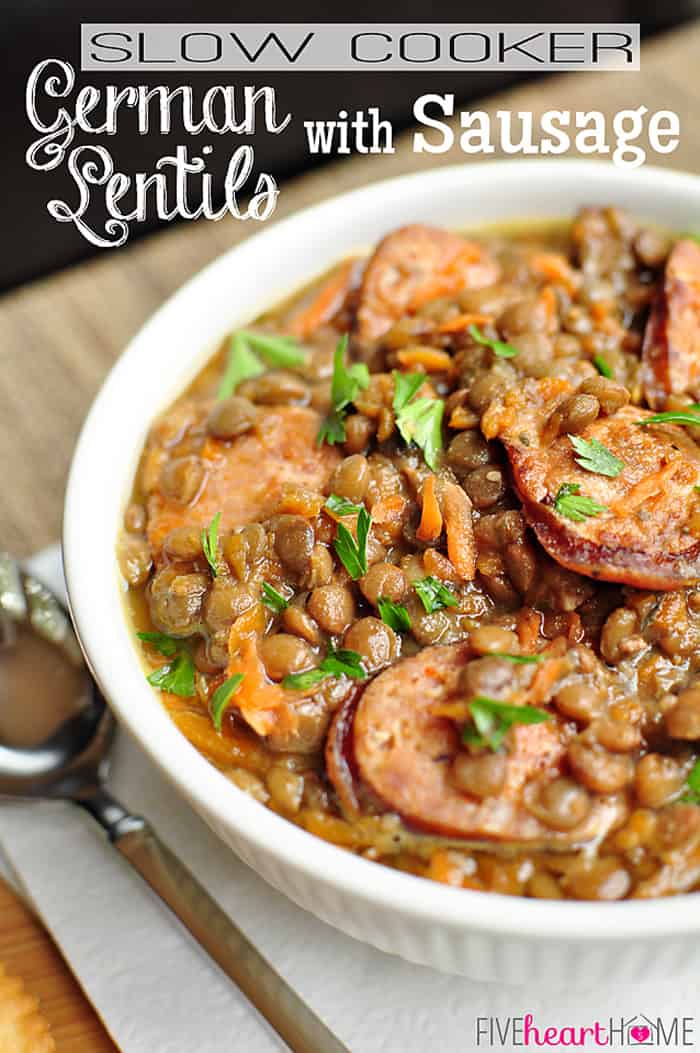 A few days ago on Facebook, I asked for reader input about what type of recipes you'd like to see on Five Heart Home in the upcoming months. While I got a variety of answers, there was one overwhelming consensus...crock pot fare! And you know what? That's just fabulous because, as a busy mom of three, I love and rely on my trusty slow cooker, too.
The recipe I'm sharing today is one if my family's all-time favorites. I lose count of how often we eat this during the cold-weather months, and even then, nobody ever gets tired of it. My boys cheer when it's on the menu and even my eats-like-a-bird middle child scarfs down a whole bowl.
So after all of those endorsements, you may be wondering why I've been holding out on posting this recipe. Well, I'm ashamed to admit it's because I was worried this soup wasn't "pretty" enough to photograph well. After all, lentils can look kind of brown and mushy. But I finally got over my qualms because, prepared like this, lentils are so tasty that you won't care a bit if they aren't magazine cover worthy.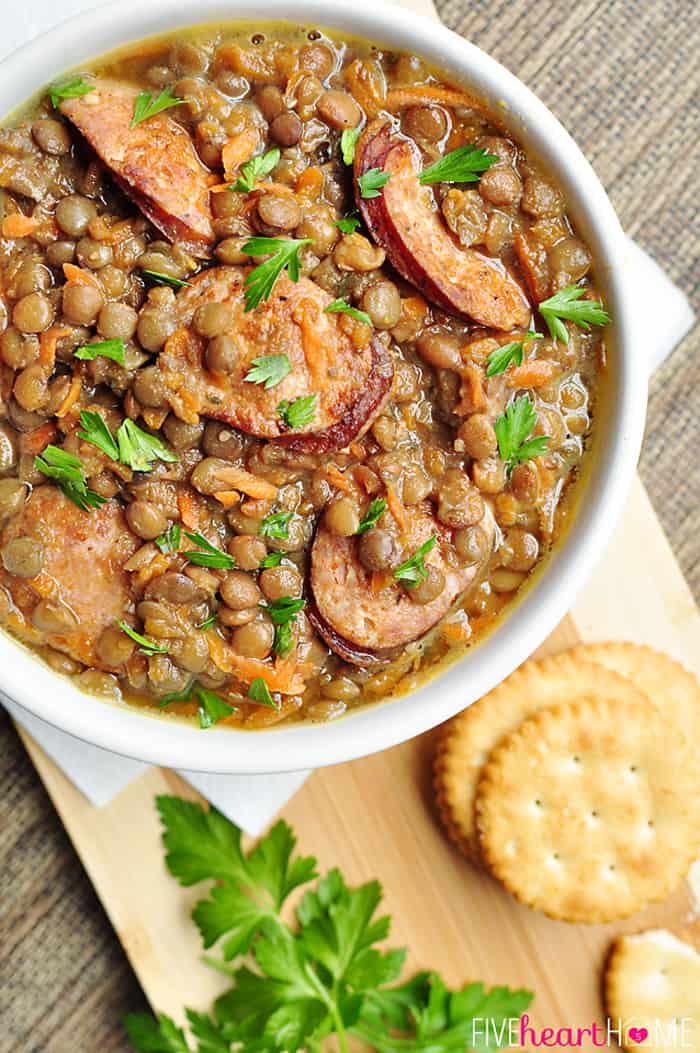 German Lentils
We love our beans and legumes around here, but lentils just might rank up there as the most popular of them all. Are you already a fan of lentils? If you're not, or if you've never tried them, I strongly encourage you to give this recipe a go. In fact, I have a little story for you that will act as a testament to how good these lentils truly are.
My mom is from Germany, where lentils and spaetzle (homemade noodle dumplings) are common fare. When I was growing up, she cooked lentils quite often. And you know what? I never liked them. I happily wolfed down my spaetzle, but I always thought the lentils tasted bland. Fast forward to my own adulthood. One day I came across a recipe for "German" lentil soup on a recipe sharing website. It got positive reviews, so I decided to adapt it to my liking and give it a go. Imagine my amazement when WOW. These lentils were awesome!
Not too long after that fateful day, my mom was at my house for dinner one evening and tasted my new and improved lentils. Well...guess who asked for the recipe and now uses it in lieu of her authentic, old-world recipe? Yup, this slow cooker lentil soup -- brimming with sausage, grated carrots, garlic, parsley, and a variety of herbs and spices -- is that good.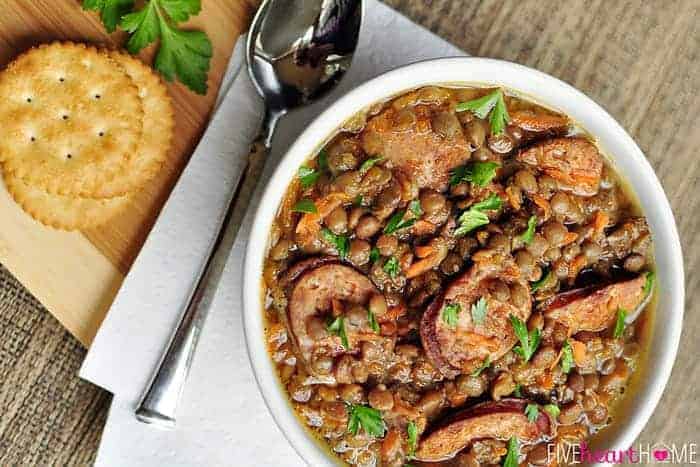 Optional: Browning the Sausage
I often use cubed ham instead of sausage in these lentils for equally delicious results. However, if you use sausage, it's up to you whether you want to brown it in a pan before adding it to the crock pot.
I have a personal philosophy related to slow cooker recipes and it goes something like this: if I'm cooking dinner in my crock pot, it's because I'm running short on time and/or won't be home most of the day. That means I want to be able to quickly throw my ingredients in the crock pot and go on my merry way. I tend to believe it defeats a crock pot's fundamental purpose if I have to dirty up another pan and take the time to brown meat before proceeding with the recipe. I know that many people swear by the browning step, particularly when preparing roasts and such, but I usually skip it and don't notice much of a difference in the end result. My only exception, of course, would be recipes calling for ground beef, since that won't exactly brown and drain itself in the slow cooker.
All of this is to say...if you toss your sausage into this recipe without pre-browning it in a pan, it's going to be fine. On the other hand, if browning it in a pan first is more your style, knock yourself out. If you really want to retain the almost crispy, browned sausage texture, don't add it to the soup until the end of the cooking time. And that is your friendly public service announcement for the day.
*** Disclaimer: I did brown a few slices of sausage for this post's photography purposes. Remember? Ugly lentils? I'll admit that browning does help with aesthetics. 😉 ***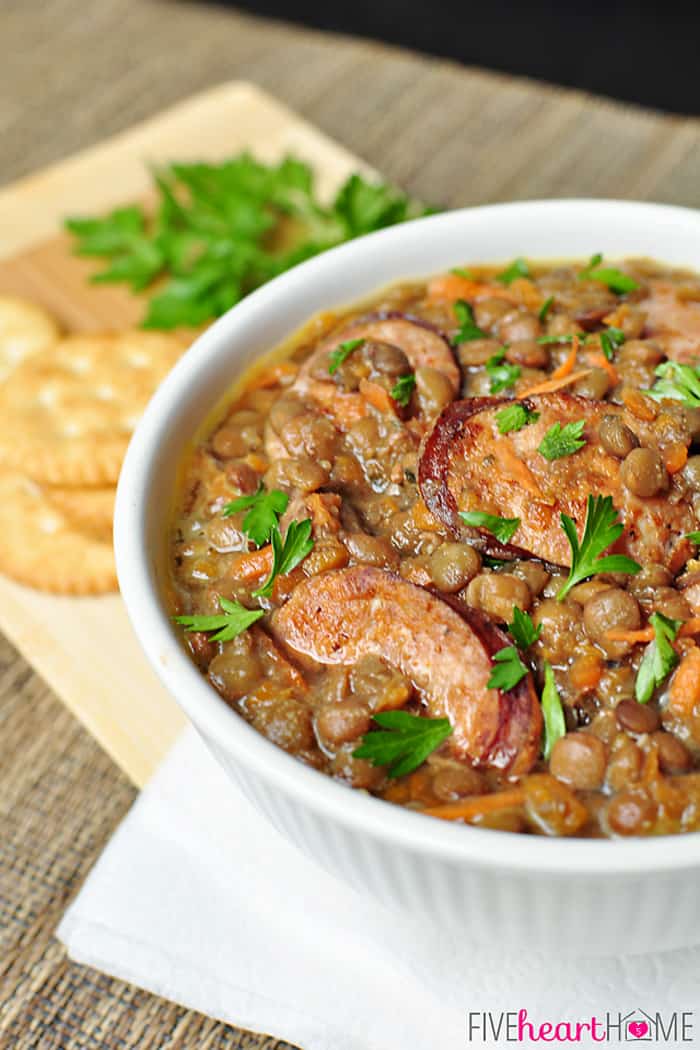 A Note About the Carrots
One final note about the carrots and I'll get on with the recipe. I like to shred my carrots (speedy quick in the food processor) because they end up almost melting into the soup and my kids eat them without drama. If you use the full pound of carrots, it's going to seem like a lot when you put them into the slow cooker, but they really do cook down when shredded/grated. If you prefer slicing your carrots instead, that will work just as well, but you may want to use a bit less since they're going to remain more noticeable in the final dish. And if you're really crunched for time, you can even buy a bag of matchstick carrots in the produce section.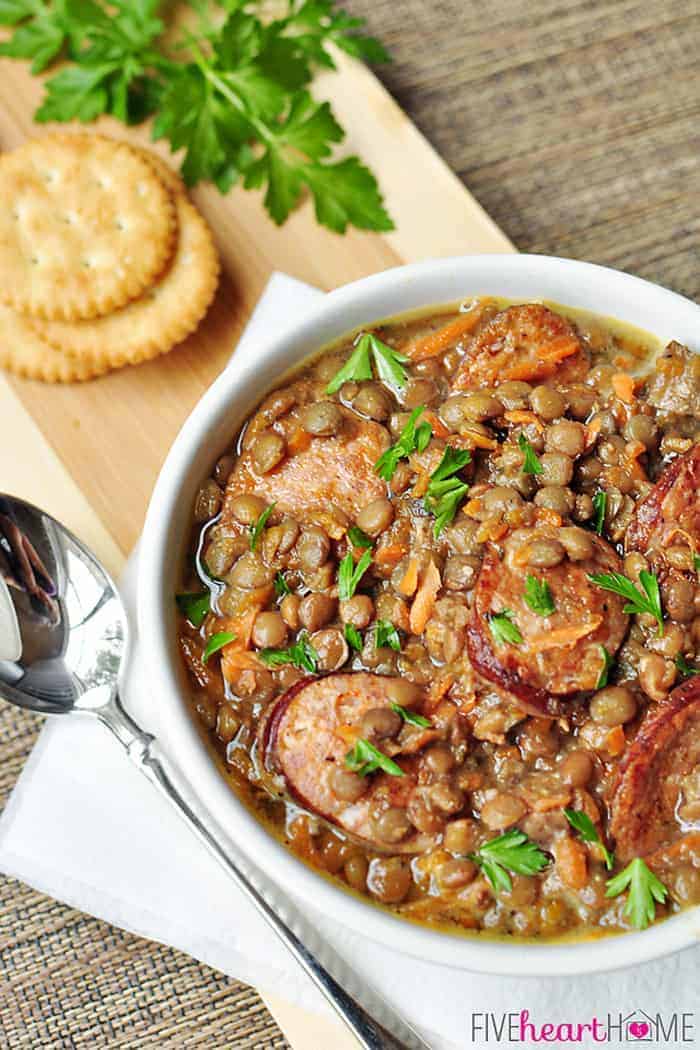 Creeping towards 1000 words, I'm going to stop now. Just promise me that you'll try this lentil soup, mmmkay? It's not fancy, but it's filling and comforting and even nutritious...absolutely perfect for the chilly weather we've been having.
Heck, who am I kidding? While I do cook it more frequently in the fall and winter, this soup is so darn tasty that my family requests it all year long. That's right, folks...if you find us eating this crock pot wonder come August, it's probably because my 4-year-old requested "wentils" for dinner. And who could say no to that?
More Warm & Hearty Soups
Slow Cooker German Lentils with Sausage
Lentils, sausage, carrots, and a flavorful broth simmer the day away in this hearty, comforting, slow cooker soup.
Print
Pin
Rate
Ingredients
1

pound

dried brown lentils

,

picked over, rinsed & drained

10

cups

chicken stock or broth

1

pound

grated carrots

,

or less, depending on your preference

2

tablespoons

minced garlic

1

teaspoon

Worcestershire sauce

¼

teaspoon

hot pepper sauce

1

bay leaf

2

tablespoon

dried parsley

,

OR ½ cup fresh chopped parsley

½

teaspoon

garlic powder

½

teaspoon

celery salt

½

teaspoon

freshly ground black pepper

¼

teaspoon

ground nutmeg

1 to 2

cups

diced kielbasa sausage

,

OR ham

Apple cider vinegar for serving

,

optional
Instructions
Place lentils in slow cooker. Add chicken stock, carrots, garlic, Worcestershire sauce, hot pepper sauce, parsley, garlic powder, celery salt, pepper and nutmeg. Stir in sausage.

Cover and cook on low for 8 to 10 hours or until lentils are tender.

Before serving, remove bay leaf and stir in 1 tablespoon of apple cider vinegar, if desired.
Notes
You may use green lentils if your grocery store doesn't carry brown, but I find that they take longer to cook before becoming tender.
Since the type of chicken broth that you use can dictate the saltiness of the dish, taste at the end of the cooking time and add more salt, if necessary.
I usually buy a 1 pound link of sausage, use half of it in this soup, and then freeze the other half to use the next time I make the recipe.
You may brown the sausage by sautéing it in a pan before adding it to the slow cooker, if desired.
The first time you make this recipe, watch the liquid level carefully and add more broth if necessary. If you're at home, give it a quick stir halfway through. About an hour before you're ready to eat, stir and check the doneness of the lentils and turn the crock pot up to high for the last hour of cooking time if they're still too firm.
It's normal for the top and sides of this soup to become darker in color. The flavor is not affected, so just stir and everything will blend together.
If you're not sure about using the apple cider vinegar, start with a few drops and taste before adding more. But I really do think it makes a difference (for the better)!
Calories:
434
kcal
|
Carbohydrates:
52
g
|
Protein:
27
g
|
Fat:
13
g
|
Saturated Fat:
4
g
|
Cholesterol:
30
mg
|
Sodium:
889
mg
|
Potassium:
1135
mg
|
Fiber:
19
g
|
Sugar:
9
g
|
Vitamin A:
9515
IU
|
Vitamin C:
8
mg
|
Calcium:
72
mg
|
Iron:
5.7
mg
Adapted from AllRecipes.com.