Snickerdoodle Pumpkin Bread is a sweet, moist pumpkin bread recipe, swirled and topped with a generous amount of cinnamon sugar for a delicious fall treat!

September is in full swing, it's been cool(ish) all week, and my house currently smells like fall thanks to the first pumpkin goodie I've baked this season…Snickerdoodle Pumpkin Bread!
Have I told y'all that we're building a house? I'm SO excited. It was a long process coming to this decision as a part of our move from Austin to Fort Worth, but I think (and hope) we made the right one.
First there was lots of researching neighborhoods and areas of town. Then there were months of house hunting…that never panned out. If there was a house for sale in Fort Worth during that time, I can guarantee that we looked at it! Then there was considering, and ultimately purchasing, a lot. And since then it's been planning, planning, planning.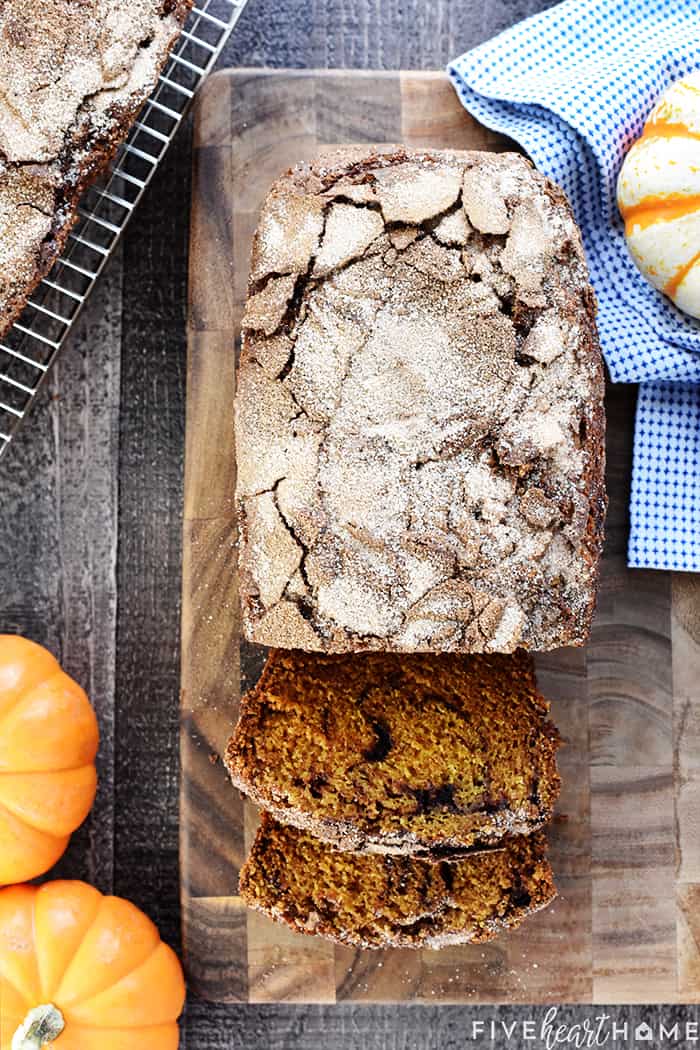 We finally have house plans and things are set to begin soon and have I mentioned that I'm SO EXCITED?!
So what does this have to do with Snickerdoodle Pumpkin Bread, you may be wondering? Good question. I bring this up because, ever since we moved into our year-long rental house this summer, I've been acutely aware that this time next year, we'll be in what we hope to be our "forever home" (or at least our "home until we retire and move to the country" — ha).
So next year on the first day of school, we'll be taking first day pics on our new front porch. And next year when Aggie football season kicks off, we'll be cozying up to watch the first game in our new family room. And next year when fall rolls around, I'll be baking my first loaf of Snickerdoodle Pumpkin Bread in my brand new kitchen! Woo-HOO!?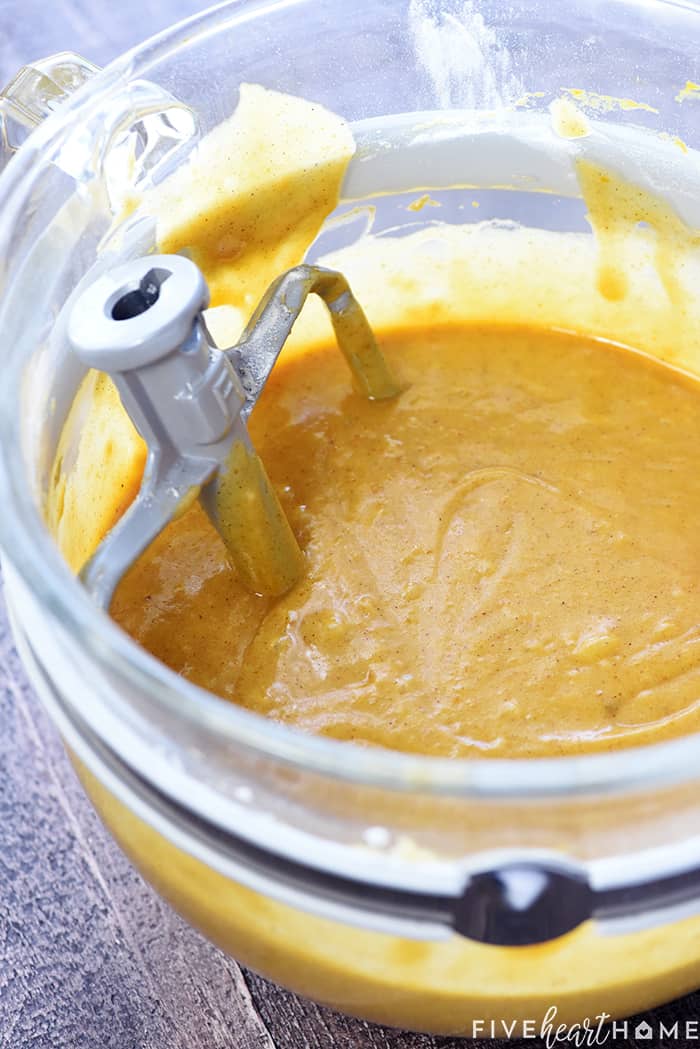 Until then, I'm baking it in this rental house kitchen. Even though I'm looking forward to the near future, I'm trying to embrace our time here, too, because home is truly wherever we happen to be together. And Snickerdoodle Pumpkin Bread tastes pretty darn amazing no matter where we eat it!?
This recipe is a spin on my all-time favorite pumpkin bread. It's the pumpkin bread I've been making for years and years with chocolate chips. But when I went to make it this year, I realized there was nary a chocolate chip to be found in my pantry. So what's a girl to do?
Best Pumpkin Bread Recipe
Well, a girl decides that while plain pumpkin bread would be just dandy, cinnamon sugary pumpkin bread would be even better.
Like a cinnamon sugar shower rained down on a pumpkin patch.
Like Cinnamon Bread and Pumpkin Bread had the most delectable of bread babies.
Or best yet…like Pumpkin Bread melded with a Snickerdoodle.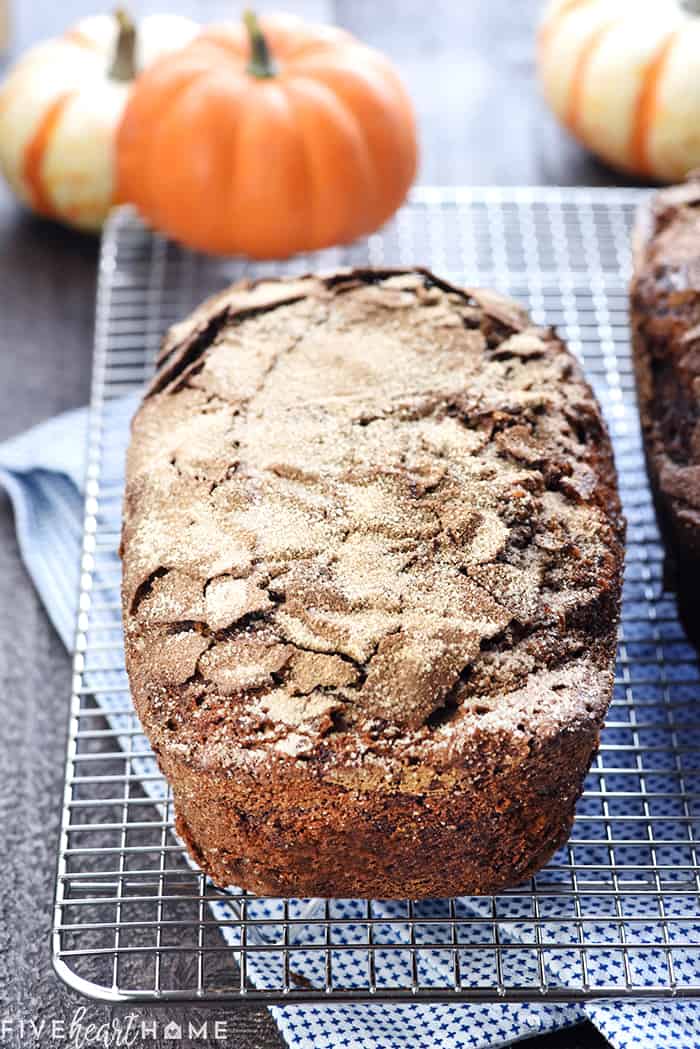 Swirled with a hefty dose of cinnamon sugar — and topped with even more — this Snickerdoodle Pumpkin Bread is pretty much all of those things! It's sweet…it's soft and moist on the inside…it's dark and crunchy on the outside…it's oh-so-decadent…it's delicious. And I can assure you that it will bring pure pumpkin-lovin' joy to anyone lucky enough to bite into a thick ol' slab of it.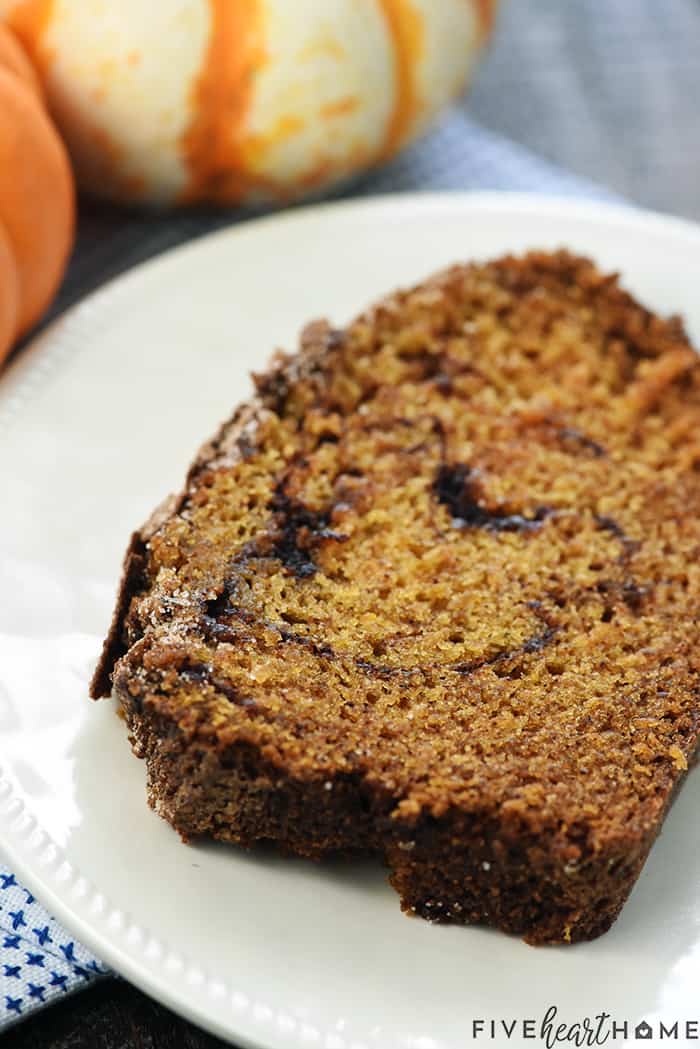 When I make pumpkin bread, I almost always make a double recipe of two full-sized loaves. In fact, the aforementioned Chocolate Chip Pumpkin Bread recipe already on my site is written as a double recipe. And I decided to make this recipe a double batch as well. The reason I do so is two-fold:
If I'm using store-bought pumpkin puree (as opposed to fresh homemade puree), a 15-ounce can contains about 2 cups of puree, which happens to be the perfect amount for two loaves of pumpkin bread. And…
Two loaves of pumpkin bread mean that the second one is perfect for freezing…or even better, sharing! Because sharing is caring, right? And what friend/neighbor/teacher/mailman/lawn maintenance crew wouldn't love you for gifting them a loaf of Snickerdoodle Pumpkin Bread?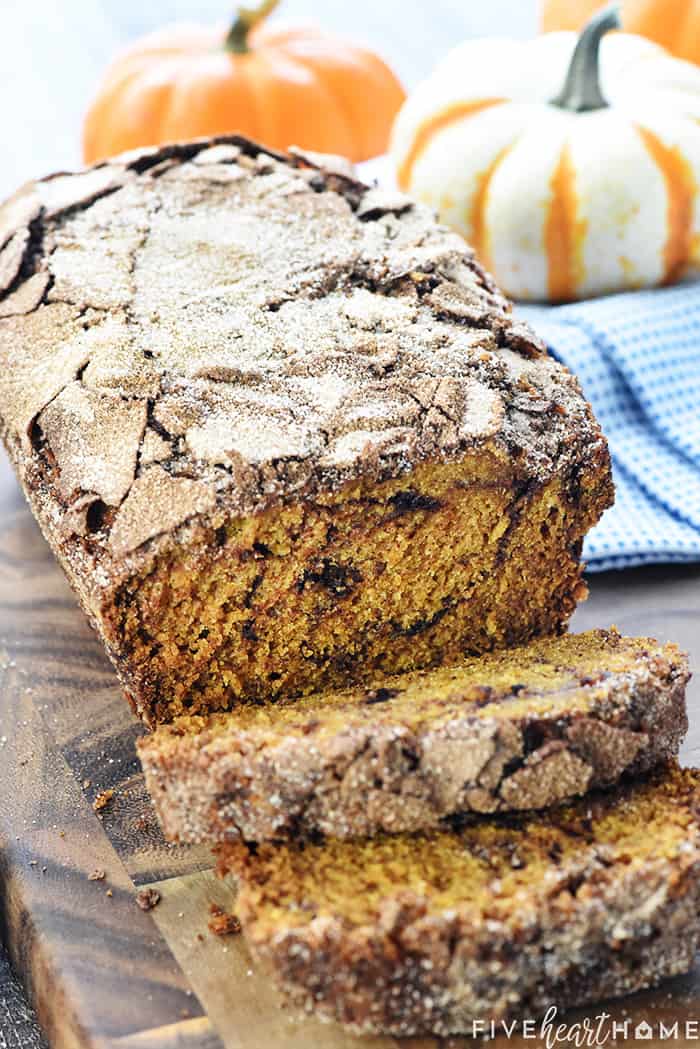 Furthermore, if full-sized loaves aren't your preference, this recipe is easily adapted to make smaller loaves or muffins. In addition, you can certainly cut the recipe in half if you only trust yourself with one loaf of pumpkin bread!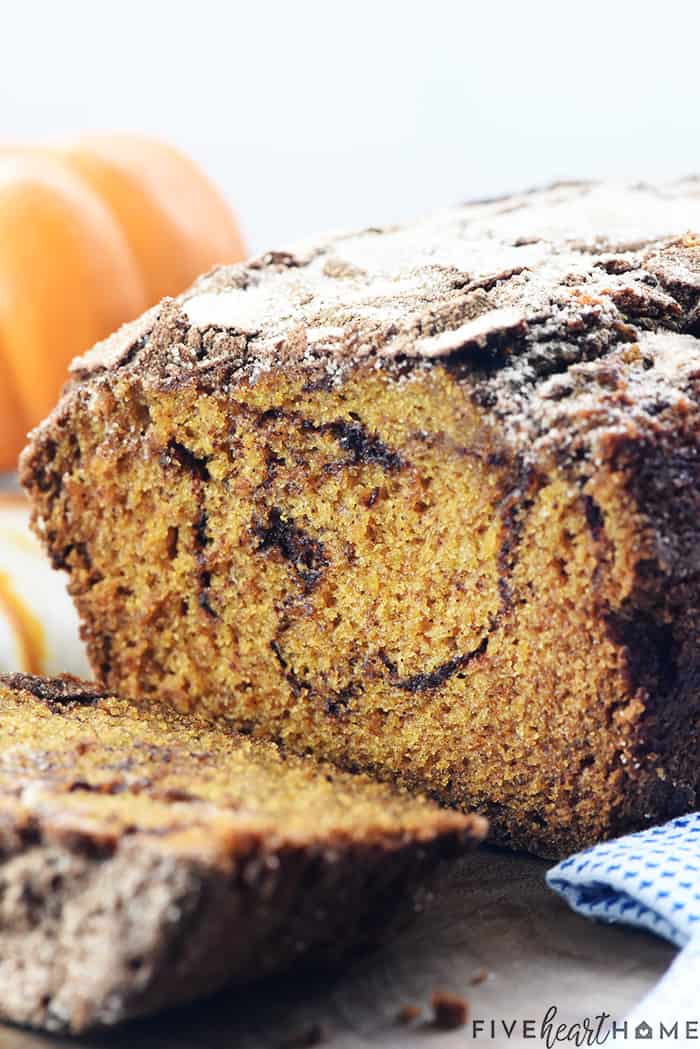 So are you a fan of pumpkin? What's your favorite thing to make with it? Have you already broken out the pumpkin this season?
Whatever your current pumpkin status may be, I hope this Snickerdoodle Pumpkin Bread inspires you to embrace the imminent arrival of fall (yay!) and get baking! I can promise you one thing…it'll make a (rental) house feel like a home.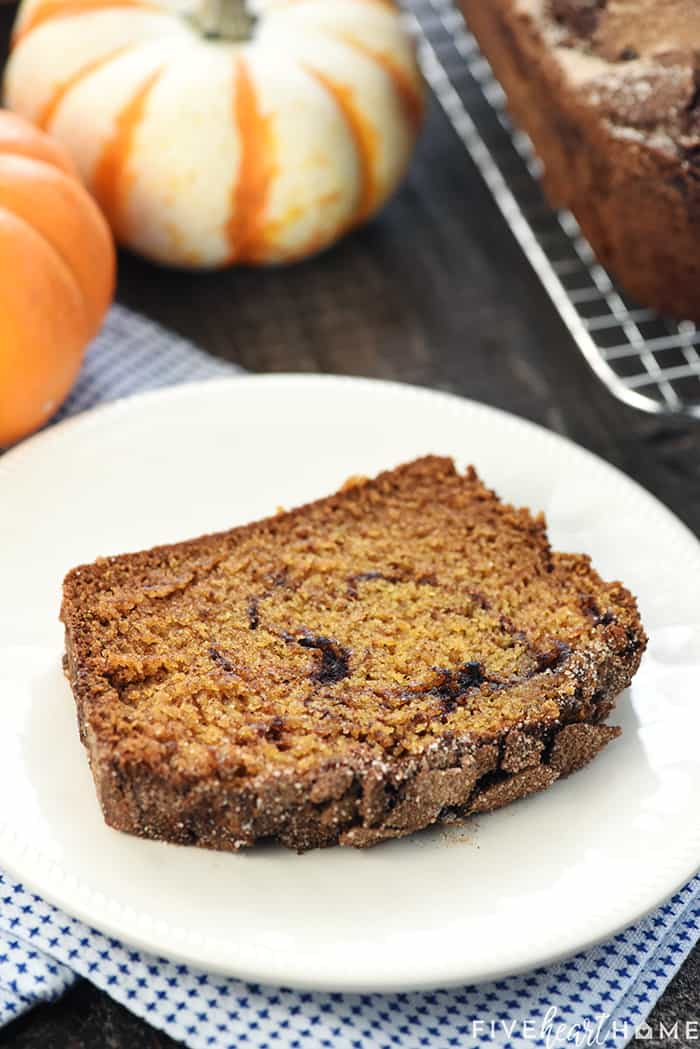 Helpful Tips, Tricks, & Equipment
This recipe requires a large bread pan, with measurements around 9″ X 5″ X 3″. I made this recipe in my Corningware 1 3/4-quart ceramic loaf dish that's no longer available, but it's similar in size to this pan.
I found that it's best to swirl most of the cinnamon sugar through the bread. If you put too much cinnamon sugar on top of the bread, it will solidify into a big, crackly sheet during baking (see pics in this post). And while that's not entirely a bad thing, it can get rather of messy flipping the bread out of the pans. Ask me how I know…
Right after my pans came out of the oven, I carefully ran a thin knife/spatula around the inside edge of each pan to loosen the bread and prevent big chunks from sticking. Then I let the bread cool in the pans for 5 to 10 minutes (as directed) before running the knife around the edges one more time and removing the bread from the pans. (This is part of the reason I like baking in ceramic bread dishes instead of nonstick pans…I don't have to worry about accidentally scratching my pans!)
It's okay if the outside of this pumpkin bread gets dark. The inside stays soft and moist.
Loaf pans and muffin pans come in a variety of sizes, so the size of your pans will dictate how many loaves/muffins you get. Below are approximate baking times for different dimensions of pans. A toothpick inserted in the center should come out just clean, but be careful not to overbake!

Two 9 by 5-inch loaf pans >>> 60 minutes
Three 7 by 3-inch loaf pans >>> 50 minutes
Six mini loaf pans >>> 40 minutes
Approximately 3 dozen regular muffins >>> 20 to 22 minutes
Approximately 100 mini muffins >>> 12 to 14 minutes

If you're just eyeballing the size of your bread pans, I recommend putting a baking sheet under your pans in the oven just in case there's overflow.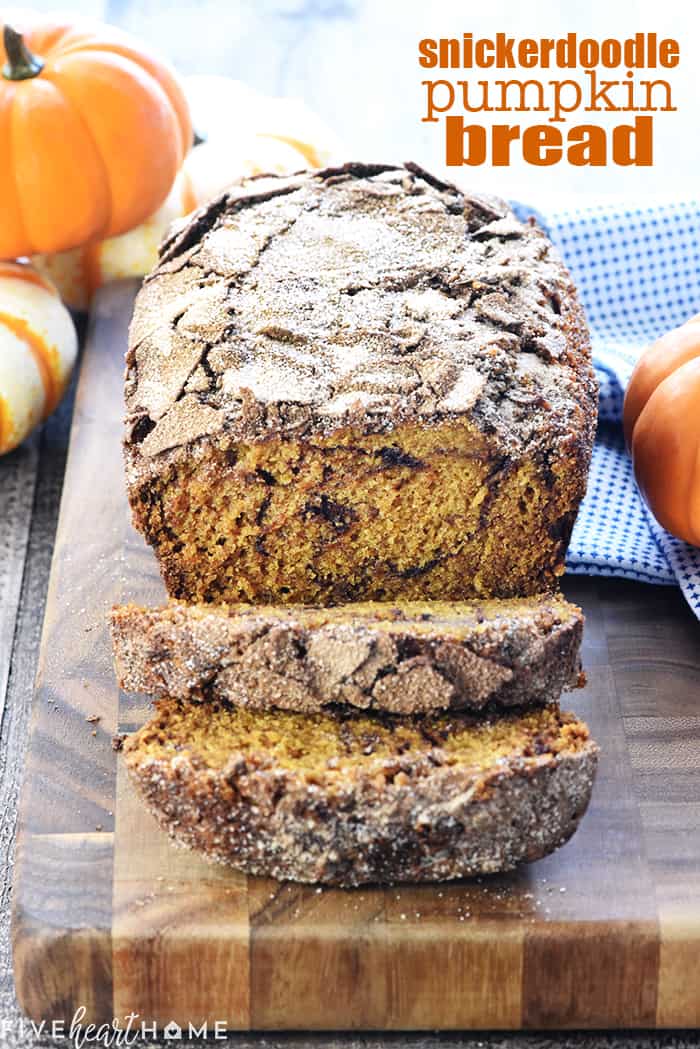 More Pumpkin Goodies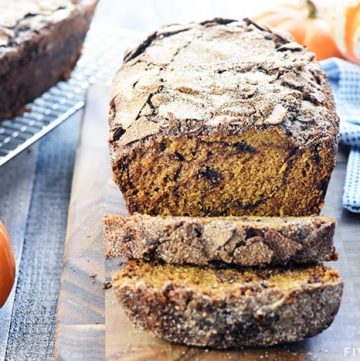 Snickerdoodle Pumpkin Bread
Snickerdoodle Pumpkin Bread is a sweet, moist pumpkin bread recipe, swirled and topped with a generous amount of cinnamon sugar for a delicious fall treat!
Print
Pin
Rate
Servings:
24
servings (2 large loaves or ~3 dozen muffins...see end of recipe for alternate size options)
Ingredients
3 1/2

cups

flour

1

tablespoon

baking soda

1 1/2

teaspoons

salt

4

teaspoons

pumpkin pie spice

3

cups

sugar

1

cup

vegetable oil

,

such as safflower or sunflower

2/3

cup

water

4

eggs

2

teaspoons

pure vanilla extract

_
For the Cinnamon Sugar:
1/2

cup

sugar

2

tablespoons

ground cinnamon
Instructions
Preheat oven to 350°F. Grease and flour two large (9 by 5-inch) loaf pans.

In a large bowl, whisk together the flour, baking soda, salt, and pumpkin pie spice. In another large bowl, use a mixer to blend together the pumpkin puree, sugar, oil, water, eggs, and vanilla until well incorporated. Slowly add in the flour mixture, stirring until just blended.

In a small bowl, stir together the sugar and cinnamon until well combined.

Divide three-quarters of the batter between the prepared pans. Sprinkle with about three-quarters of the cinnamon sugar, and use a butter knife to swirl through each loaf. Dividing the remaining batter between the pans, and sprinkle with the remaining cinnamon sugar mixture.

Bake for 60 to 65 minutes, or until a toothpick inserted in the center comes out clean. Cool bread in pans for 5 to 10 minutes and then carefully turn out onto a wire rack to cool completely.
Calories:
283
kcal
|
Carbohydrates:
45
g
|
Protein:
3
g
|
Fat:
10
g
|
Saturated Fat:
1
g
|
Cholesterol:
27
mg
|
Sodium:
294
mg
|
Potassium:
71
mg
|
Fiber:
1
g
|
Sugar:
29
g
|
Vitamin A:
2795
IU
|
Vitamin C:
0.8
mg
|
Calcium:
20
mg
|
Iron:
1.4
mg