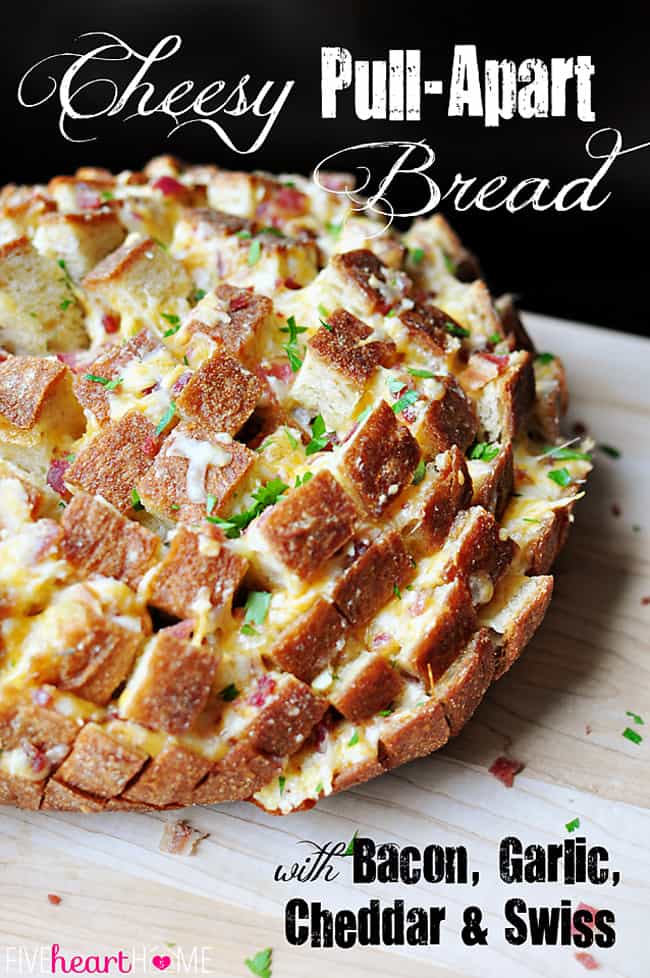 Drenched with garlic butter and stuffed with cheddar, Swiss, and bacon, this decadent and loaded Cheesy Pull-Apart Bread will be the star of your Super Bowl party or any gathering!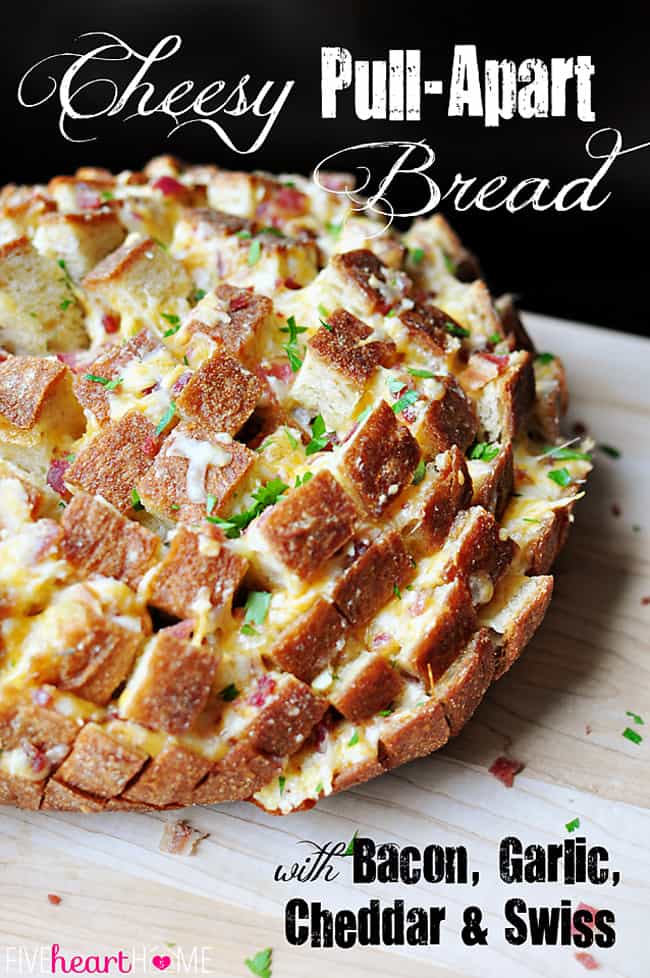 So...have you ever come across a recipe that you just couldn't stop thinking about? And that thinking eventually led to obsessing, until one day you found yourself on an impromptu trip to the grocery store to procure the necessary ingredients for finally bringing said recipe to fruition in your very own kitchen? That, my friends, is how this gooey, melty, Cheesy Pull-Apart Bread was born!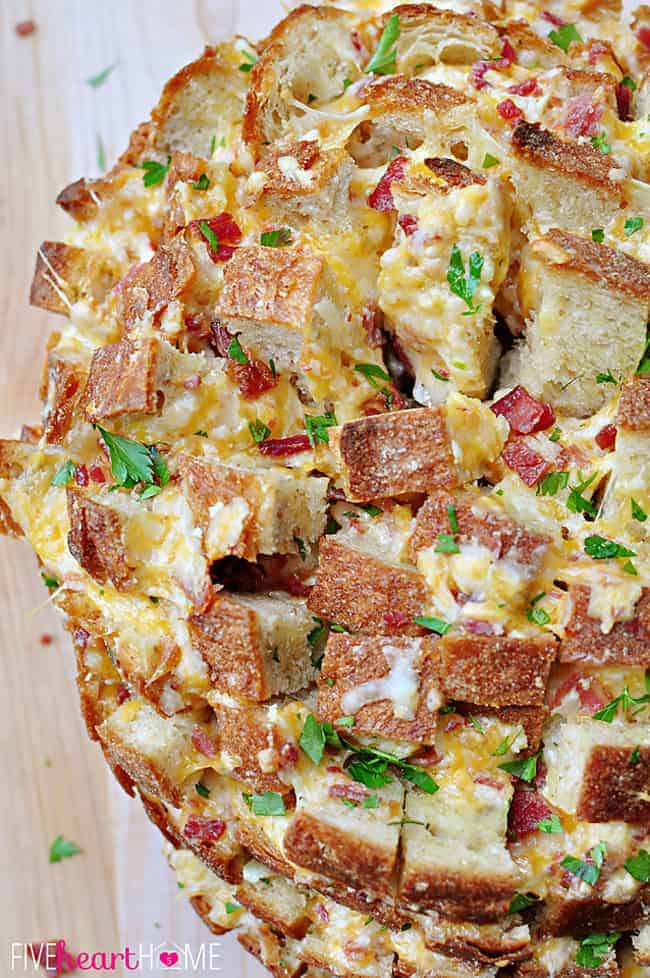 I never encountered a recipe for this particular variation, per se, but the concept of pull-apart bread is one that I first discovered around Super Bowl time last year. I kept seeing these cross-hatched, cheese-oozing loaves on Pinterest, and I knew that we (as in, the bread and I) were meant to be. So it's taken a whole year, but I finally decided that I could go on no longer without baking up my own hunk of pull-apart goodness.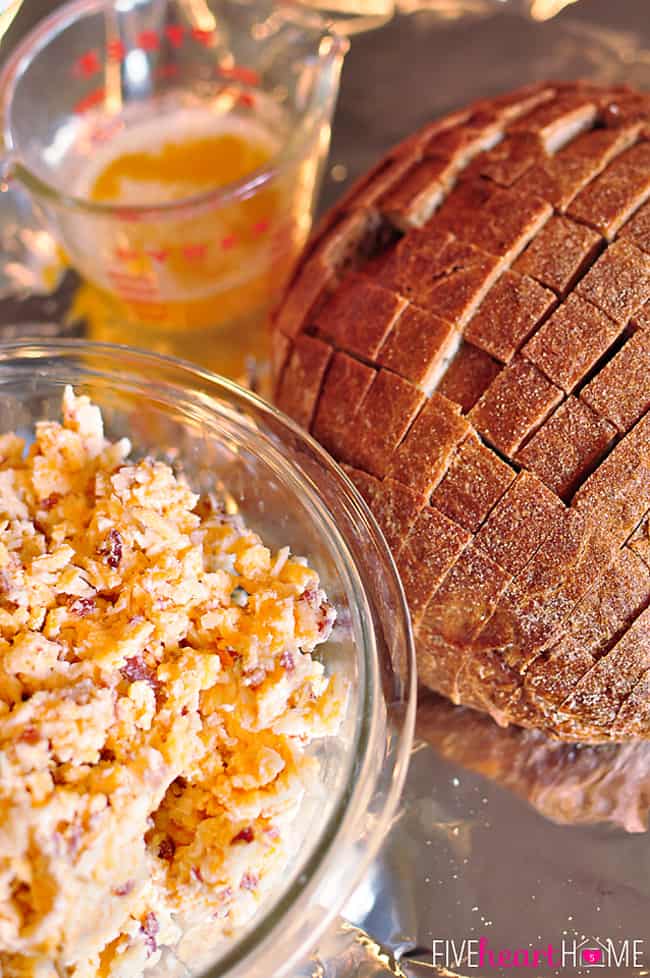 Ingredients
In creating this ultimate football-watching appetizer, I decided to incorporate some of my personal favorite flavors. And let me tell you...this bread indeed includes quite a few of my most favorite things to eat in general.
Let's examine the list:
bread
butter
bacon
garlic
cheese
Yup. This bread is heaven-sent...if heaven is a place where carbs, calories, and cholesterol don't exist. 😉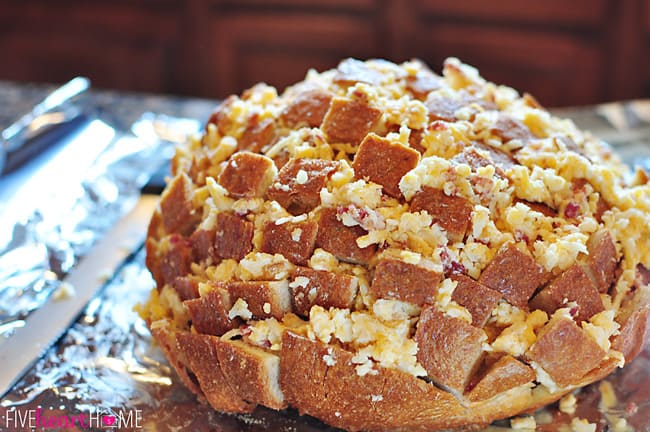 But let's not think about that too much. This butter-soaked, cheese-drenched bread is clearly not something one would eat every day. Of course, if one is a food blogger who bakes it for a post, one may find herself none-too-reluctantly eating it for lunch for several consecutive days. After all, it would be a travesty to let all of those fine ingredients to go to waste.
Yes, it's a tough job, but somebody's got to do it.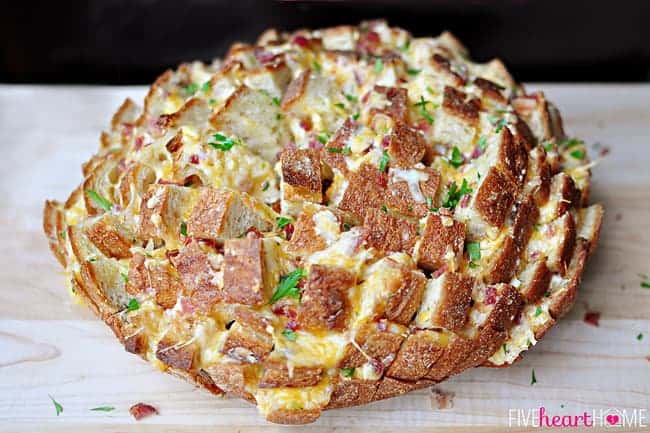 Adaptations
Feel free to customize the flavors by substituting your favorite cheeses.
I think Swiss cheese goes really well with bacon, but Swiss alone can be kind of overpowering, so I used an equal amount of cheddar to mellow it out a bit.
But I can think of lots of different cheese combos that would be delicious...I'm pretty sure I'm going to have to throw in some pepper jack next time.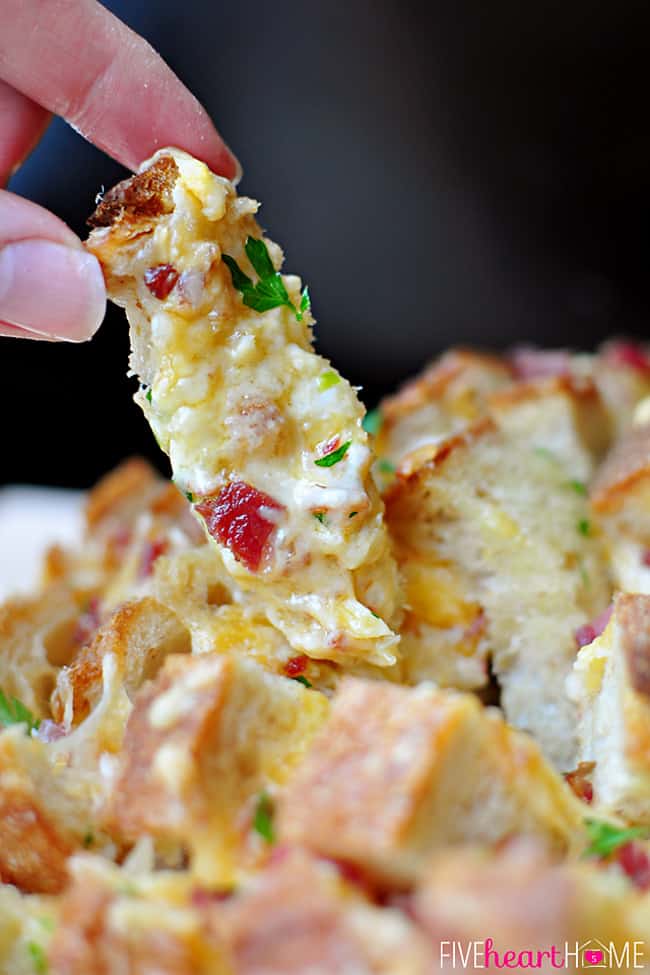 Also, you may want to tweak the amount of fresh garlic to your personal preference. We are big fans of garlic at my house, and 4 teaspoons of fresh minced garlic made for some pretty garlicky bread. If you prefer a more subtle garlic flavor, don't hesitate to cut that in half.
As for the bread itself, I bought a big loaf of rustic Italian bread, but French bread would work beautifully as well. My husband even thought this recipe would be really good with sourdough, and I think he may be onto something.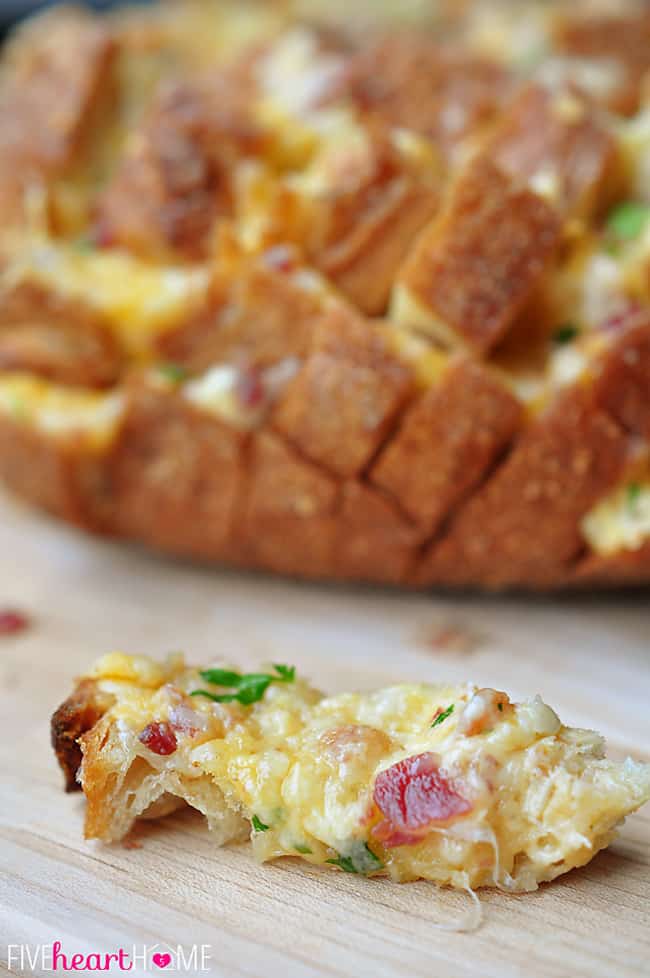 And there you have it! Make this Cheesy Pull-Apart Bread, and I promise that it will be the most popular appetizer at your Super Bowl party.
Just don't be like me and wait until next year's Super Bowl before you get around to trying it. Add it to your grocery list before Sunday and end football season with a bang! I promise...the salads and the quinoa and the whole wheat this or that will still be waiting for you tomorrow. 😉
More Super Bowl Grub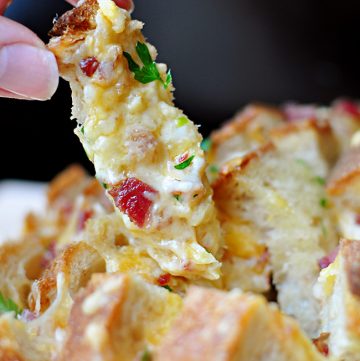 Cheesy Pull-Apart Bread
Drenched with garlic butter and stuffed with cheddar, Swiss, and bacon, this decadent Pull-Apart Bread will be the warm, cheesy star of your Super Bowl party or any gathering!
Print
Pin
Rate
Ingredients
1

large loaf of French

,

Italian or sourdough bread (I used a round loaf that weighed just under 2 pounds)

½

cup

(1 stick) butter

,

melted

1

teaspoon

garlic salt

4

ounces

cream cheese

,

softened

2 to 4

teaspoons

fresh minced garlic

8

ounces

sharp cheddar cheese

,

shredded

8

ounces

Swiss cheese

,

shredded

8

slices

bacon

,

cooked until crisp and diced into small pieces

Fresh parsley or chopped green onions for garnish

,

optional
Instructions
Place oven rack just below the center position. Preheat oven to 350°F.

Lay bread on a cutting board. Use a bread knife to make diagonal cuts down through the top of the bread, leaving the crust intact. Repeat across the entire surface of the bread, making the cuts approximately one inch apart. Turn the bread 90 degrees and make a set of perpendicular cuts. When you are finished, the surface of the bread should be cross-hatched into 1-inch squares.

Stir garlic salt into melted butter. With a basting brush, basting syringe, or spoon, drizzle the melted butter down into the bread between all of the cracks until all butter has been used.

In a large bowl, beat cream cheese until smooth. Use the side of a knife or the back of a spoon to mash minced garlic into somewhat of a paste. Mix garlic into cream cheese. Stir in cheddar, Swiss, and diced bacon and mix until well blended. Stuff clumps of cheese mixture down into all of the cracks of the bread.

Lay a long piece of foil on the counter horizontally, and then lay a second long piece of foil on top of it vertically. Center the stuffed loaf of bread on the foil and wrap. Bake for 20 minutes, then open up the top of the foil and bake for another 10 minutes or until cheese is entirely melted. Watch carefully once foil is open to ensure that the top of the bread is not browning too much. Serve hot.
Notes
If you use a smaller loaf of bread, you will obviously need to cut back on the amount of cheese/other ingredients that you use.
How much fresh garlic you use should be dictated by how much you like it! I used 4 teaspoons and the bread was pretty garlicky, but it was perfect for my family because we are all big fans of garlic.
I found that the cream cheese acts as a binder for the cheese and bacon and makes it easier to stuff everything into the grooves of the bread and have it actually stay in the right place.
Calories:
610
kcal
|
Carbohydrates:
31
g
|
Protein:
24
g
|
Fat:
43
g
|
Saturated Fat:
24
g
|
Cholesterol:
116
mg
|
Sodium:
1070
mg
|
Potassium:
177
mg
|
Fiber:
1
g
|
Sugar:
2
g
|
Vitamin A:
1070
IU
|
Vitamin C:
0.2
mg
|
Calcium:
469
mg
|
Iron:
2.2
mg