Creamy, Homemade One Pot Mac and Cheese is as easy as a handful of ingredients and ten minutes on the stove for the most DELICIOUS macaroni and cheese!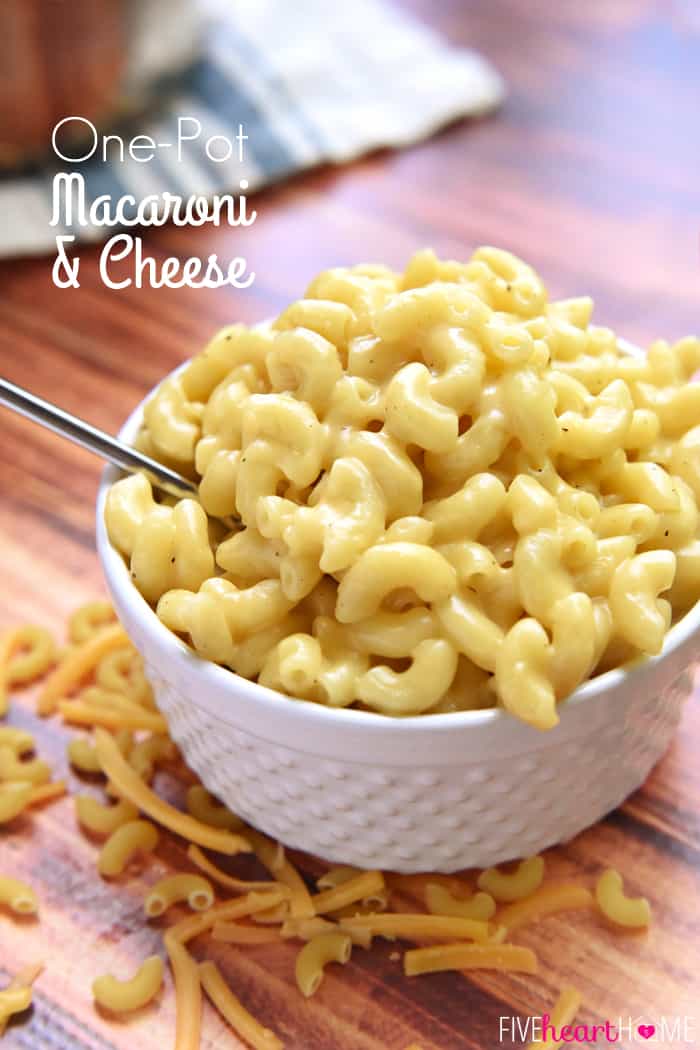 Okay, folks...today's recipe is one that just might revolutionize your life! Every kid loves plain, simple, stovetop macaroni and cheese from a box, right? And every adult enjoys creamy, cheesy, made-from-scratch mac & cheese, loaded with various cheeses and baked in the oven to decadent perfection. But what if I told you that you could have the best of both worlds???
Homemade One Pot Mac & Cheese is just that...a recipe quickly made on the stove using a single pot, just like the good ol' boxed stuff. Let's face it...the boxed variety of mac & cheese doesn't exactly seem "natural," with its neon orange packet of powdered cheese. Granted, you can splurge on the kind with the packet of gelatinous cheese "sauce," but that seems a little iffy as well.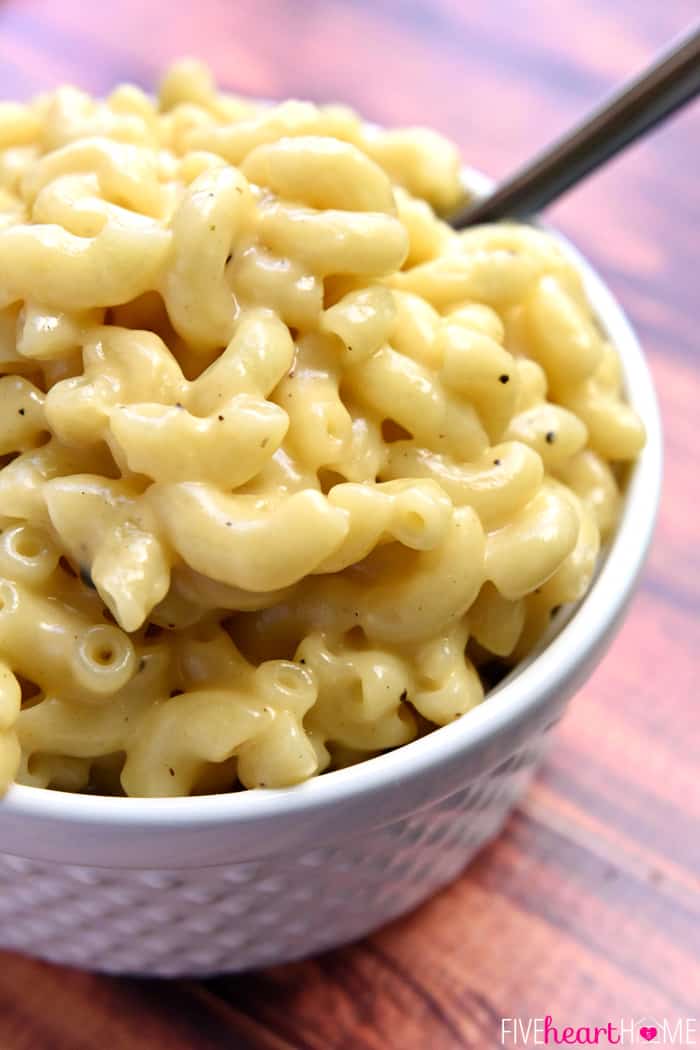 So what are you to do if your kids want macaroni and cheese...and you'd prefer to make it with actual, real cheese...but you don't particularly want to go to the effort of preparing a roux-based cheese sauce, dirtying multiple dishes, and waiting for it to finish baking in the oven? Well, THAT, my friends, is when you make this recipe.
The Secret to Success!
Homemade One Pot Mac and Cheese is seriously simple to throw together yet it turns out soooo creamy, cheesy, and delicious...just like homemade mac & cheese should! And the secret?
Cooking the pasta in milk. You read that right...milk!
As the little macaroni noodles cook, the milk naturally renders down into a creamy sauce, and all you have to do at the end is stir in shredded cheese.
That's it! So it's basically the same steps as the ubiquitous box, except using milk in place of water and real cheddar in place of orange powder. And the results are so much tastier.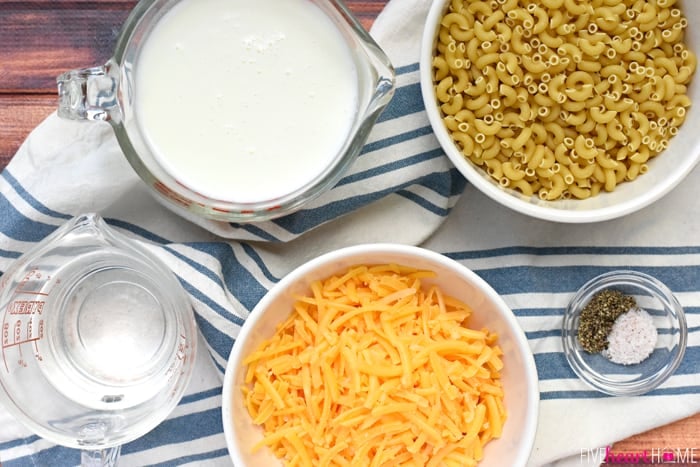 Troubleshooting
This recipe is pretty straightforward to make, but you do need to closely follow the directions because the ingredients can be a bit persnickety if you don't. I experimented with this recipe multiple times to get it just right, and I have to say...it ultimately turned out pretty darn perfect. 😉
So what did I do wrong before I got it right? Well initially, I started off cooking my pasta in all whole milk, which actually made the mac & cheese too creamy, if you can believe that's even possible. The sauce actually tasted like milk, even after adding the cheese.
I decided to rectify this problem by cooking my pasta in a combo of milk and water. And what do you know? It worked perfectly! Creamy pasta that complemented -- rather than overshadowed -- the flavor of the cheese.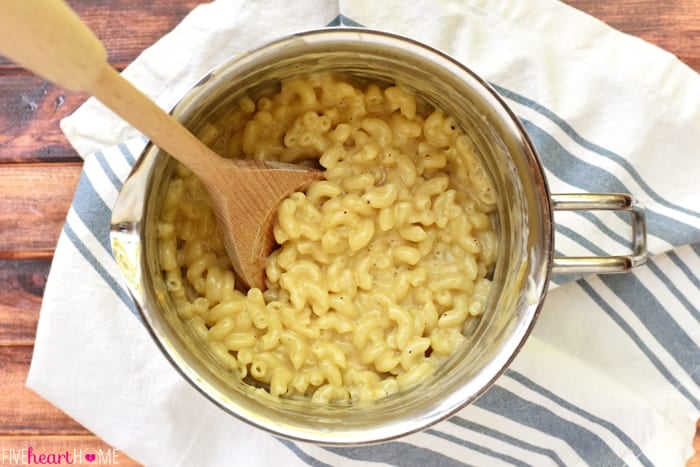 A Note About the Milk
As I just mentioned, I always have whole milk on hand, so that's what I used to develop this recipe. However, if you buy skim milk or 1% milk, you probably won't need to thin out your milk with water before boiling the pasta...just use all milk and it shouldn't turn out overly creamy. For 2% milk, I'd still use some water, but not quite as much as is recommended when using whole milk. No matter what combo of milk/water you end up using, just be sure that total amount of liquid stays consistent with the recipe.
Recommended Pasta
The next facet of this recipe that initially gave me problems was the type of pasta that I used. I first attempted making this macaroni & cheese with corkscrew pasta (fusilli). But because you have to stir the pot pretty continuously while the pasta cooks, this fragile variety ended up breaking down a bit. Also, the edges turned out a bit too soft while the center was a bit too firm.
Next, I went with the obvious pasta choice for mac & cheese...elbow macaroni! And sure enough, it worked beautifully, maintaining its shape and cooking quickly and evenly. I used small macaroni noodles (to give you a point of reference, the cooking directions on the box indicated cooking it for 5 to 7 minutes...also, 8 ounces of this size of elbow macaroni measured out to about 1 ¾ cups in a dry measuring cup), so I would recommend you do the same, just to be sure this recipe works consistently for everyone. 🙂
A few final notes (I'm apparently feeling all America's Test Kitchen today) and I'll let you get on with your mac & cheese making.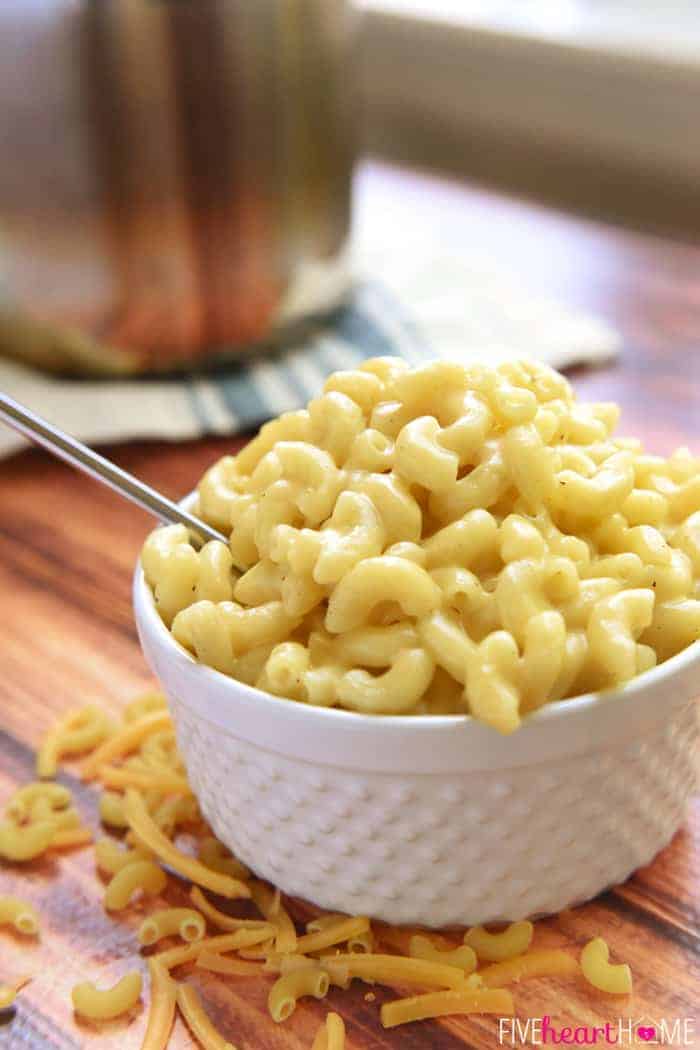 Tips & Tricks
Please use freshly grated, extra-sharp cheddar. Pre-shredded cheese has an additive to prevent it from clumping in the package, and I'm afraid it may hinder your cheese from melting smoothly. And while extra-sharp cheese can be rather strong to eat straight-up, it's mellows out when melted into sauces. By comparison, mild cheddar would be almost bland in a recipe like this. Of course, that being said, this is your one-pot wonder, not mine, so feel free to use your favorite type of cheese or combo of cheeses.
As far as other flavorings, in addition to the basic ingredients of pasta, milk, cheese, salt, and pepper, you may also add garlic powder and/or dry mustard powder for a little extra zip.
And finally finally, remember that your macaroni & cheese will continue to thicken as it cools. For this reason, I prefer for the consistency to be on the slightly runny side (as opposed to overly thick) when the pasta is done cooking. The pasta will continue to absorb the sauce as you pull it off the stove and serve it.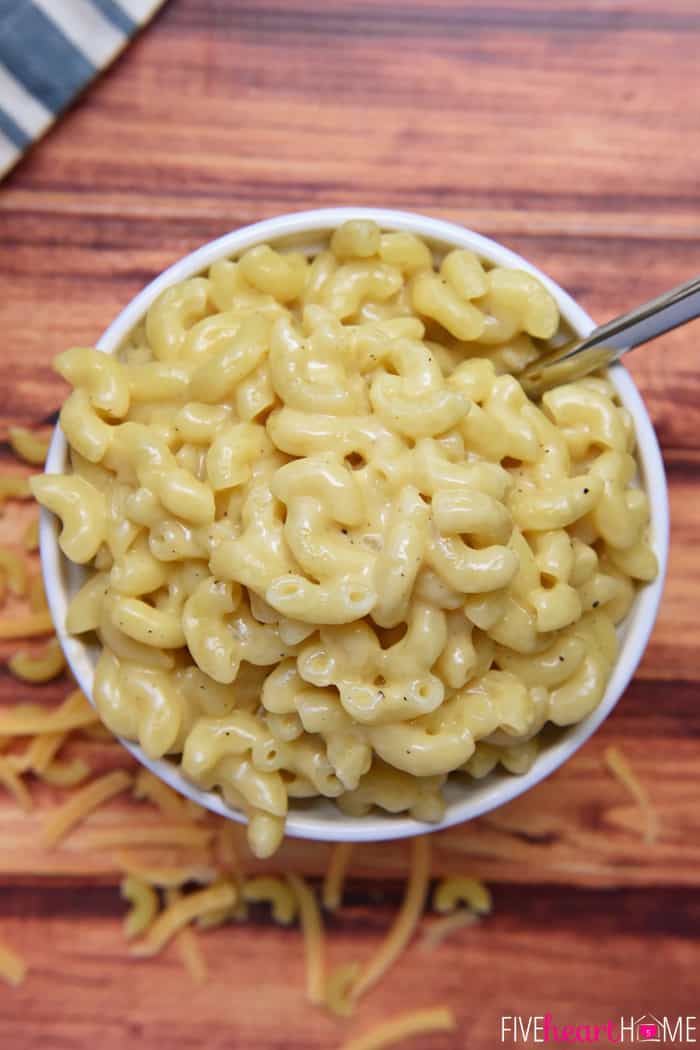 Wow, I feel like that's a lot of explanation for such an easy recipe! But I really want this one to turn out well for y'all, because it's super easy when executed correctly and it's such a great way to churn out a quick pot of homemade macaroni & cheese. I have to admit that I've still been buying boxed mac & cheese (albeit organic) for my kids, because they like it and the homemade stuff has always been too much effort for a quick weeknight side dish. But now? I can make this homemade, stovetop, One Pot Mac and Cheese in the same amount of time it takes to make a box, with real milk and cheese! Mind. Blown. Hope this recipe blows your mind, too... 😉
More Kid-Friendly Fare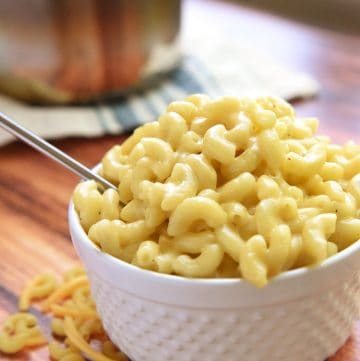 Homemade One-Pot Macaroni & Cheese
Creamy, from-scratch, Homemade Macaroni & Cheese is as easy as one pot, a handful of ingredients, and ten minutes on the stove!
Print
Pin
Rate
Servings:
6
regular servings (or 4 generous servings)
Ingredients
1 ½

cups

whole milk

1 to 1 ¾

cups

water

8

ounces

small elbow macaroni

½

teaspoon

salt

Freshly ground black pepper

,

to taste

4

ounces

extra-sharp cheddar

,

grated (about 1 cup, packed)

Optional: ½ teaspoon garlic powder and/or ½ teaspoon dry mustard powder
Instructions
In a medium pot set over medium heat, combine milk, 1 cup water, macaroni, salt, and pepper. Bring to a low simmer, stirring frequently to prevent the macaroni from clumping and the milk from boiling over. Once the mixture simmers, reduce heat to low (it should continue simmering) and stir continuously until pasta is done to your liking, about 8 to 10 minutes. The macaroni will absorb the liquid while cooking, so stir in additional water as needed, ¼ cup at a time.

Once pasta is done and the sauce is creamy, remove the pot from the heat and gradually stir in the grated cheddar, ⅓ cup at a time, until smooth and melted. Taste and add more salt and/or pepper, if necessary. You may also stir in garlic powder and/or dry mustard at this point for extra flavor, if desired. Serve immediately.
Notes
If using low-fat or skim milk instead of whole milk, you will probably want to adjust the proportions of this recipe to use more milk and less water (see post for a more detailed explanation).
Using small elbow macaroni is recommended for this recipe. Another shape or size of pasta may require you to adjust the cooking time, which may also affect how much liquid you need to use by the time the pasta is cooked.
Extra-sharp cheddar will give this mac & cheese more flavor than mild cheddar, but feel free to use your favorite cheese(s). Freshly grated cheese is recommended for smooth melting.
To prevent your cheese from clumping up, be sure to add it after the pot has been removed from the heat. Also, do not dump in all of the cheese at once...stir it in gradually, making sure each batch is fully melted before adding more.
Calories:
253
kcal
|
Carbohydrates:
31
g
|
Protein:
11
g
|
Fat:
8
g
|
Saturated Fat:
5
g
|
Cholesterol:
25
mg
|
Sodium:
339
mg
|
Potassium:
183
mg
|
Fiber:
1
g
|
Sugar:
4
g
|
Vitamin A:
290
IU
|
Calcium:
213
mg
|
Iron:
0.6
mg
Adapted from LifeHacker