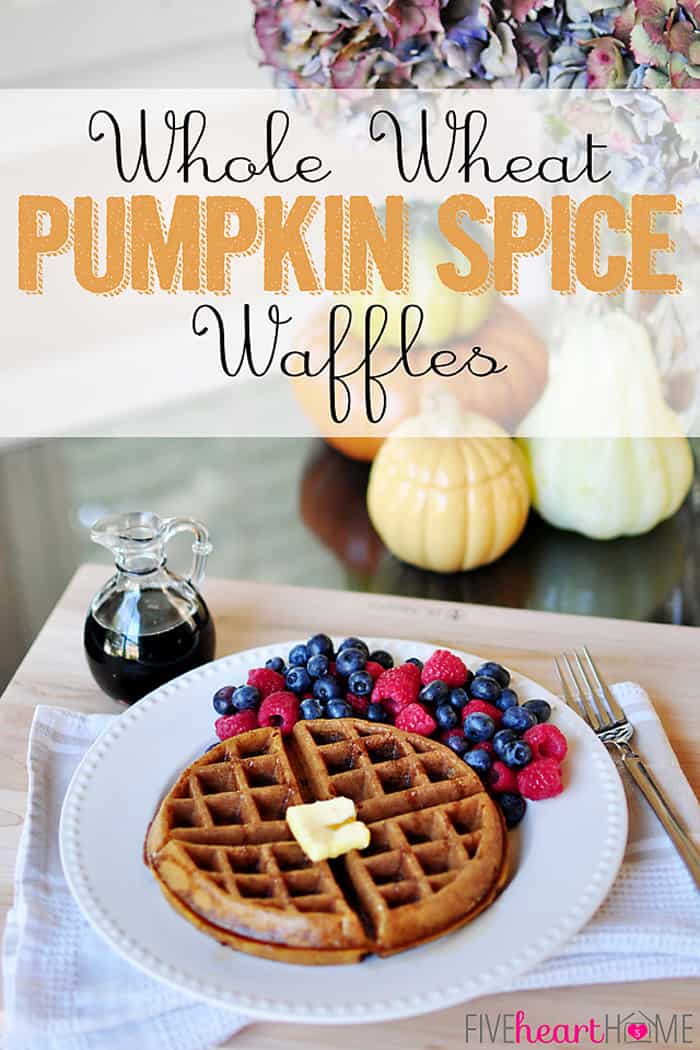 These Whole Wheat Pumpkin Spice Waffles are loaded with cinnamon, ginger, and nutmeg, boasting crispy exteriors with light and airy interiors. You would never guess that they're 100% whole wheat, and as an added bonus, they can easily be made dairy-free!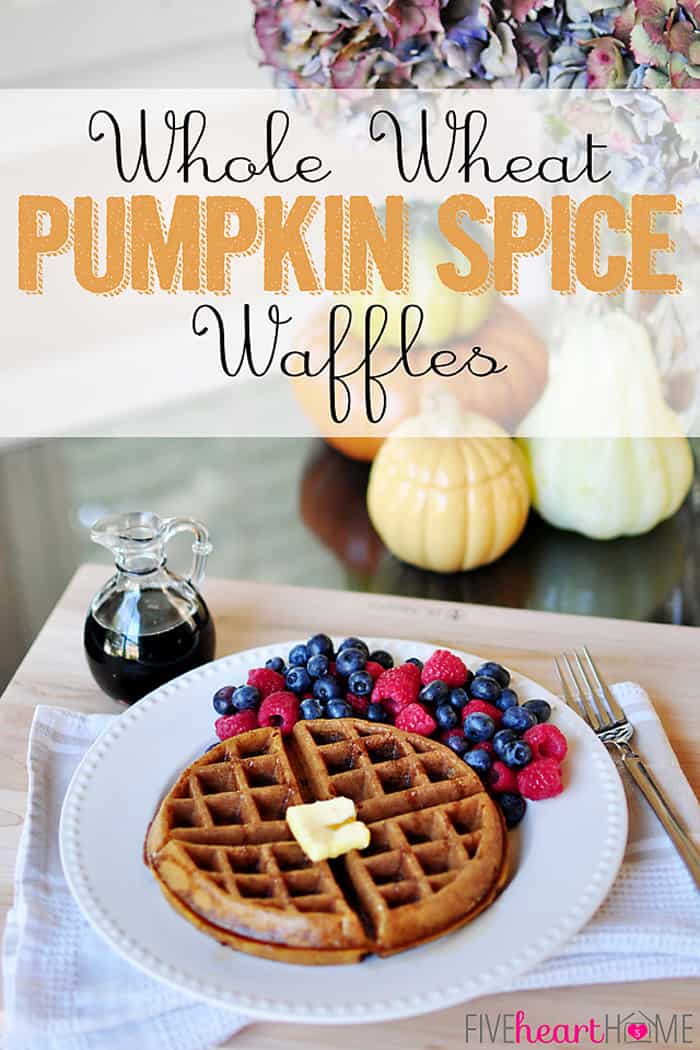 Am I the only one who can't believe it's already September?! But rather than mourn the end of summer, I'm going to focus on the facets of fall that make me oh-so-happy…football, cooler weather (ha! maybe in another two months here in Texas), and baking with pumpkin! I seriously love me some pumpkin-packed baked goods, y'all. As soon as autumn hits, I stock up on cans of pumpkin and get to baking. Pumpkin bread? Duh. Pumpkin pie? Of course. Pumpkin cookies? Why not? Pumpkin cupcakes? Yum. But last year marked the fall I discovered pumpkin waffles. And I made up for lost time by making them pretty much once a week.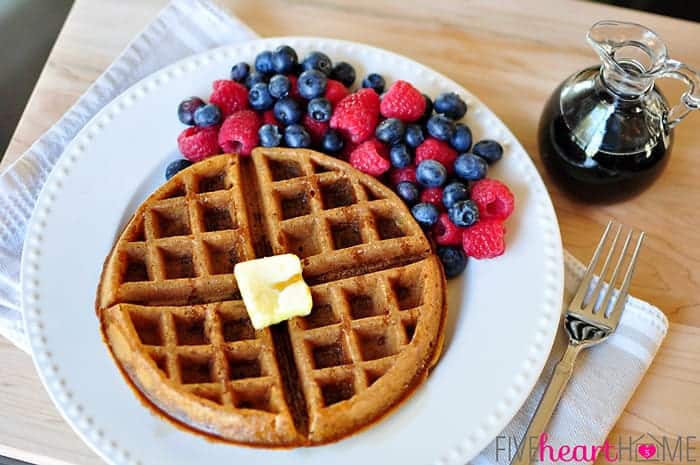 The thing about these waffles (aside from their pumpkin-y goodness, of course) is that I had to figure out how to make them dairy-free. Because around the same time that I discovered pumpkin waffles, I also learned that my sweet new baby girl had a milk protein intolerance, and that meant no dairy for mama. Zip, zero, zilch. So long milk, cheese, ice cream…it was a difficult adjustment to say the least. But despite the fact that I had to completely eliminate a variety of foods from my diet, I was determined to make substitutions to recipes when possible so that I could still enjoy some semblance of normal eating with my family.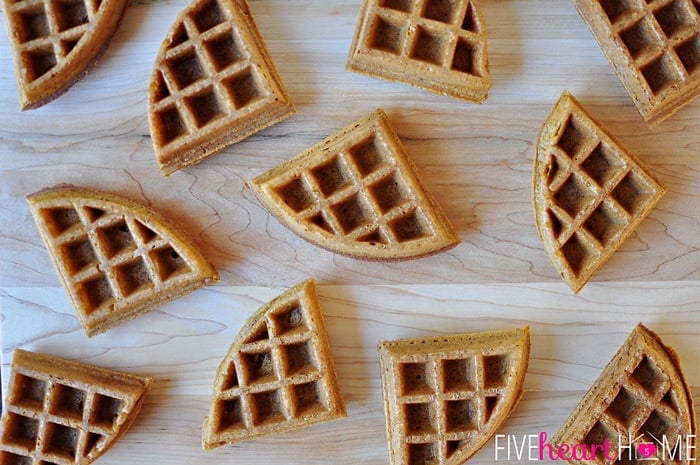 I figured that a recipe for pumpkin waffles originally calling for milk should work with coconut milk, right? And instead of butter, I continued the theme by subbing coconut oil. Typically I would have worried that all of those coconut derivatives would have given my waffles a coconut undertone, but I hoped that the pumpkin and spices used in these waffles would be enough to mask any coconut flavor. And they were! You would never guess that these waffles are made with coconut milk (I use the refrigerated kind that comes in a carton) and coconut oil, because all you can taste is pumpkin, cinnamon, ginger, and nutmeg. For that reason, I think that you could use any type of non-dairy milk in this recipe — soy, almond, or rice milk — and have successful results. And of course, you could certainly make these waffles with regular milk and butter if dairy isn't an issue for you. (P.S. The pat of "butter" in these photos is actually a non-dairy butter substitute, but by all means go for the real deal if dairy is your friend!)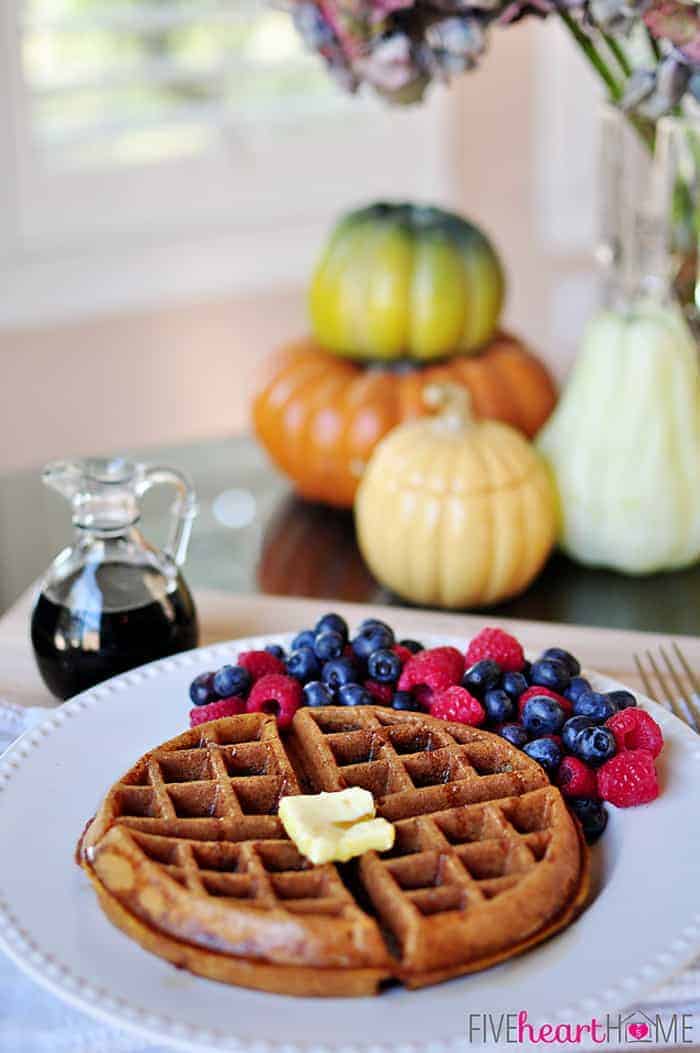 As for the type of flour I recommend in this recipe, I prefer whole wheat pastry flour as a healthier alternative to white flour. The reason I like whole wheat pastry flour is that it gives baked goods a lighter texture than regular whole wheat flour, yet it has the exact same nutritional benefits. And I'm telling you…these waffles come out light and airy with crispy exteriors and melt-in-your-mouth interiors. It goes without saying that they would be delicious made with straight white flour, or if you don't have whole wheat pastry flour but still want some whole wheat in there, you could use half white flour and half regular whole wheat flour and they'd still turn out mighty tasty.
One last note is that this recipe, as written, makes a ton of waffles. See that big round waffle on the plate below? Well, multiply that by about 10. But I don't mind having excess pumpkin waffles on hand. We eat quite a few on the morning that I make them, and then I like to keep leftovers in the refrigerator or freezer for quick breakfasts all week long. I also like making a full recipe because it uses up the whole can of pumpkin in one fell swoop. But if you prefer making fewer waffles at once, feel free to cut the recipe in half and reserve the remaining half can of pumpkin for another use.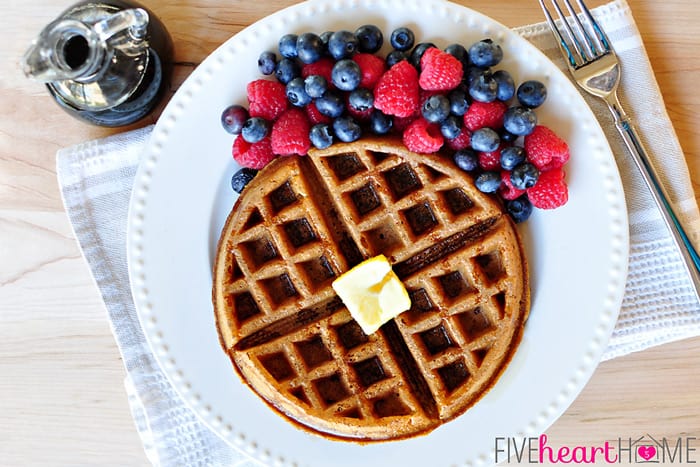 So how do you feel about the fact that September is already upon us? Is it already blessedly cool where you live? Are you excited or indifferent about the beginning of football season? And, most importantly, are you a lover of baking with pumpkin, like me? If you answered yes to that last one, these waffles are a must-try.
Heck, even if you didn't answer yes, you need to try these waffles. My husband, a self-proclaimed non-pumpkin lover, told me this weekend as he inhaled ate a plate of these waffles, "You know, I don't really like pumpkin. But these are really good." So it sounds like I'll have to share my pumpkin waffles with him this fall, but maybe I'll be lucky enough to hoard the pumpkin bread all to myself. Or maybe not…if only it wasn't for those darn kids. 😉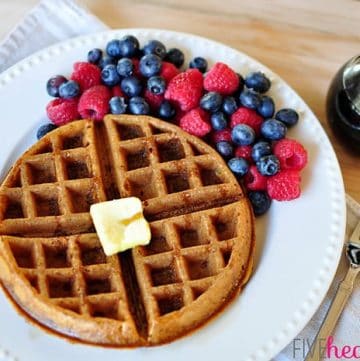 Whole Wheat Pumpkin Spice Waffles (Dairy-Free)
These pumpkin waffles are spiced with cinnamon, ginger, and nutmeg, boasting crispy exteriors with light and airy interiors. You would never guess that they're 100% whole wheat, and as an added bonus, they can easily be made dairy-free.
Print
Pin
Rate
Ingredients
3

cups

whole wheat pastry flour

2

tablespoons

baking powder

1

teaspoon

baking soda

1/4

teaspoon

salt

2

teaspoons

cinnamon

1 1/2

teaspoons

ground ginger

1

teaspoon

nutmeg

4

eggs

2 1/2

cups

coconut milk

,

at room temperature

15

ounces

canned

,

or fresh pumpkin puree

1/2

cup

brown sugar

1/2

cup

coconut oil

,

melted and cooled

1

teaspoon

pure vanilla extract

Pure maple syrup
Instructions
In a large bowl, whisk together whole wheat pastry flour, baking powder, baking soda, salt, cinnamon, ginger, and nutmeg.

In another bowl, gently beat eggs. Then blend in coconut milk, pumpkin, brown sugar, coconut oil, and vanilla.

Mix milk mixture into dry ingredients until incorporated. Cook waffles in a waffle iron, according to manufacturer directions. Serve hot with warm maple syrup. Cool any uneaten waffles on a wire rack and store in the refrigerator or freezer.
Notes
Having your milk at room temperature (as opposed to cold) prevents the coconut oil from solidifying into little lumps when the two are mixed together.
If your waffle batter is a little too thick, you may add a bit more milk, as needed.
To keep waffles warm until you're ready to serve them, put them on a wire cooling rack that's been placed on top of a cookie sheet and stick the whole shebang in the oven set at 200°F.
Serving:
10
g
|
Calories:
360.52
kcal
|
Carbohydrates:
38.14
g
|
Protein:
7.59
g
|
Fat:
21.86
g
|
Saturated Fat:
17.48
g
|
Cholesterol:
54.56
mg
|
Sodium:
229.48
mg
|
Potassium:
491.32
mg
|
Fiber:
3.5
g
|
Sugar:
9.18
g
|
Vitamin A:
79.2
IU
|
Vitamin C:
1.07
mg
|
Calcium:
124.48
mg
|
Iron:
3.27
mg
Adapted from Food.com
More Pumpkin Goodies