Sheet Pan Pesto Chicken & Vegetables is a flavorful, quick and easy, complete dinner recipe that bakes up on just one pan!

Sheet pan dinners are all the rage lately, and for good reason. Because who wouldn't love a full meal -- protein plus veggies -- made at the same time...on the same pan?! This Sheet Pan Pesto Chicken & Vegetables is the perfect recipe for a family dinner on a busy weeknight, but it's also tasty (and impressive) enough to serve to company!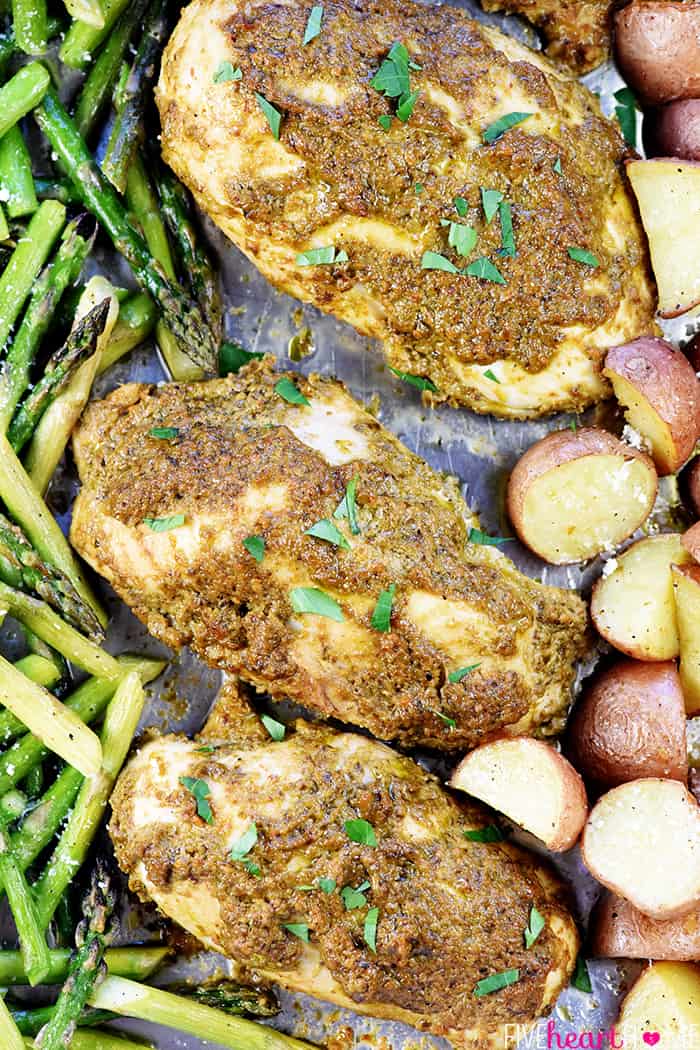 Before I get to the nitty gritty details, I wanted to take a minute to apologize the lack of new recipes 'round here last month. March ended up being rather crazytown between Spring Break, a blogging conference, and several trips out of town, all capped off by Easter weekend. But I'm ba-aack! And I'm ready to get into a regular routine on a regular schedule. Join me?
At my house, this means (in part) menu planning effortless dinners to be squeezed in the small gaps between two boys' baseball schedules. Luckily, Sheet Pan Pesto Chicken & Vegetables is just such a recipe. And it really is so easy!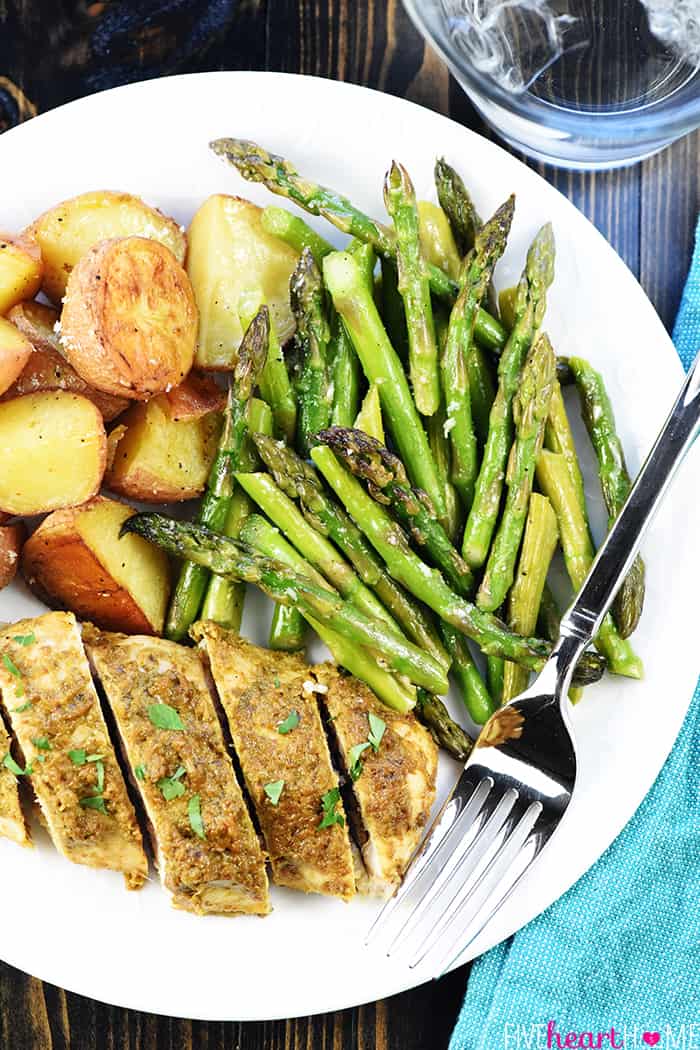 In the morning, simply slather some chicken breasts with pesto and pop 'em in the fridge to marinate all day. You can use a jar of store-bought pesto or -- if your herb garden happens to be going basil-crazy -- you can whip up a batch of homemade pesto. For the chicken in these photos, I actually used a jarred pesto that was heavy on Romano, which is why the marinade is more yellowish than it is dark green. But feel free to use your favorite.
Then come dinner time, preheat the oven and get ready to bake! The key to sheet pan dinners is to add your ingredients to the pan in phases based on how long they need to cook. In other words, since the potatoes require the longest cooking time, those go into the oven first.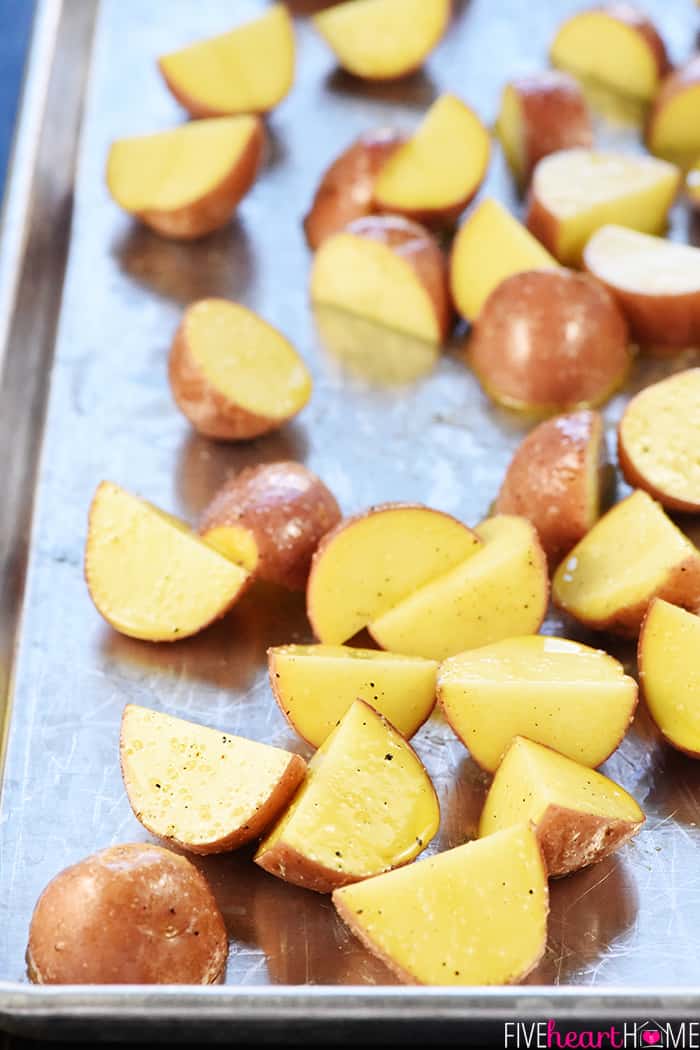 Once the taters have gotten a head start, it's time to add the chicken.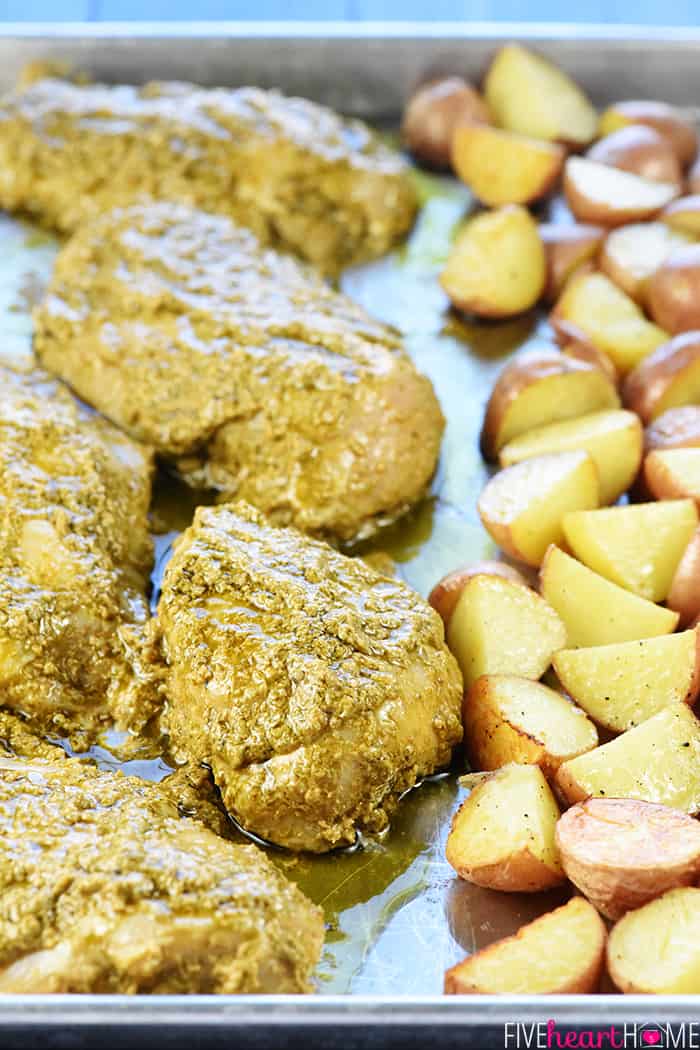 And then finally, when the chicken is almost done, the asparagus gets added to the pan for the last 15 minutes or so.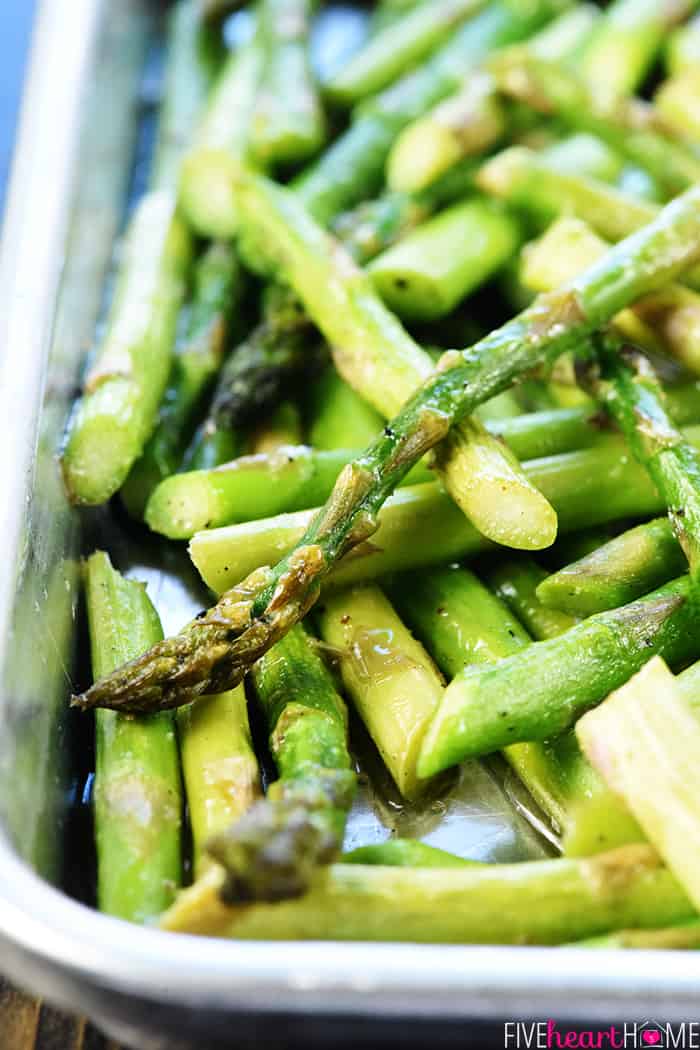 The end result is a flavorful, perfectly cooked sheet pan dinner made on just one pan, with juicy chicken, fluffy potatoes, and tender asparagus. This recipe is not only well-rounded, but it's healthy and delicious, too! And have I mentioned it's super simple to make?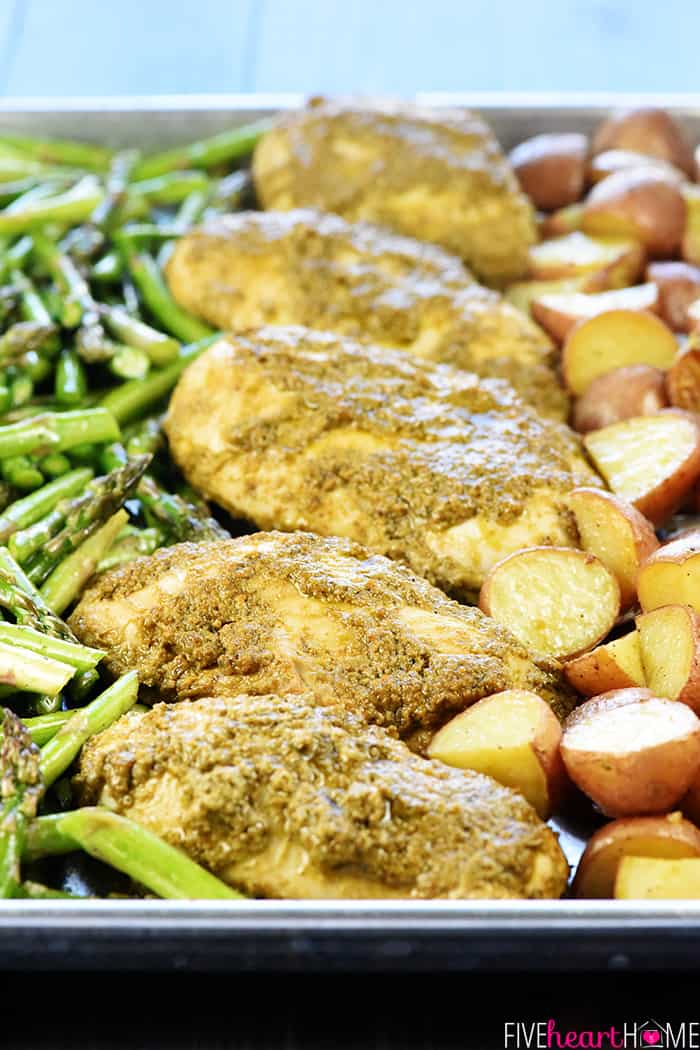 If you haven't yet given sheet pan dinners a whirl, I encourage you to do so! Sheet Pan Pesto Chicken & Vegetables can be enjoyed exactly as it is, or you can round it out further with a crisp salad and some warm dinner rolls. In other words? A homemade, wholesome, yummy dinner ideal for filling up hungry tummies...you know, between back-to-back baseball games. 😉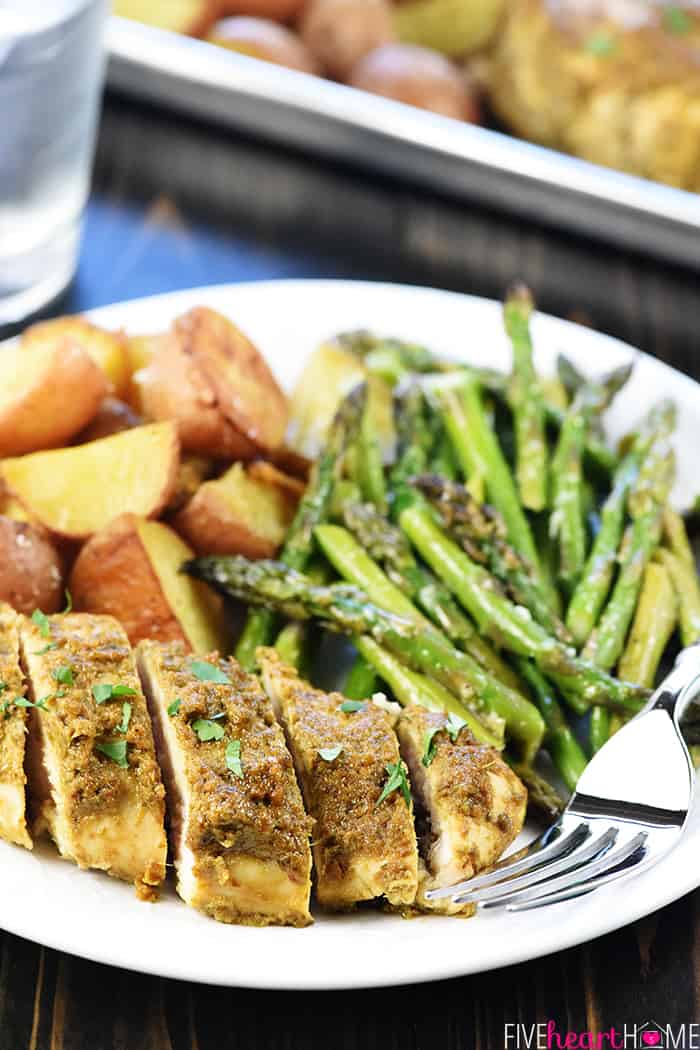 Helpful Tips, Tricks, & Equipment
You can marinate your chicken in a dish or in a gallon-sized, zip-top, plastic bag. I prefer using the latter because I can turn the bag over once or twice throughout the day to make sure the chicken is getting evenly marinated, and then I can just throw away the icky bag when I'm done. Any time I marinate meat in a bag, however, I still place that bag in a dish to prevent contamination of my fridge in case of leakage.
The sheet pan used for this recipe measures 18- by 13- inches with a 1-inch rim, commonly referred to a "half sheet pan" (link available in recipe card).
It's important that the ingredients on the pan are consistently sized. Buy a bunch of asparagus in which all of the spears have a similar diameter. Try to chop your potatoes into equal, bite-sized pieces. And aim for chicken breasts that are close in size to one another.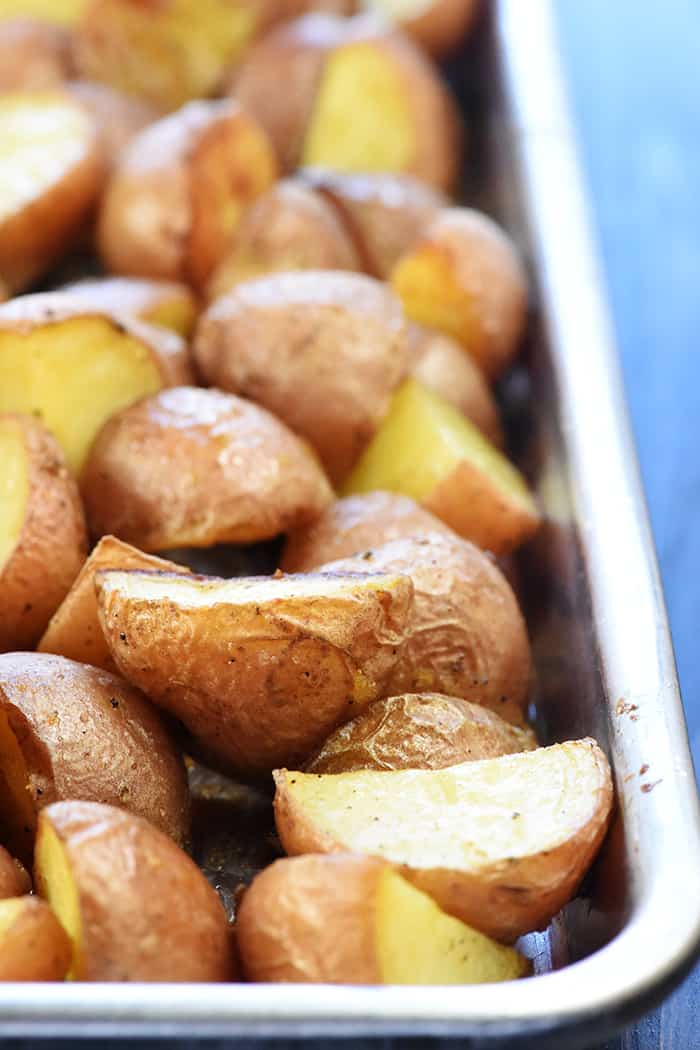 The cooking times may require slight tweaking depending on the overall size of your ingredients. For example, larger chunks of potato will require a longer overall cooking time to become tender. Huge chicken breasts will require a few extra minutes to cook through. And thin spears of asparagus will cook faster than thicker ones. So keep in mind that, if necessary, you can always cook each phase of ingredients for longer or shorter than dictated in the recipe.
For example, you could add extra-large chicken breasts to the pan after the potatoes have been cooking for just 15 minutes (instead of 20), which will give the chicken an extra 5 minutes of cooking time.
Also, if some of the ingredients are done at the end of the cooking time but others need a few extra minutes -- for example, the chicken and the asparagus are done but the potatoes aren't quite tender -- remove the fully cooked ingredients to a plate and pop the sheet pan of potatoes back in the oven for a few more minutes of roasting (you can also crank up the heat to speed things up, but watch closely to avoid burning).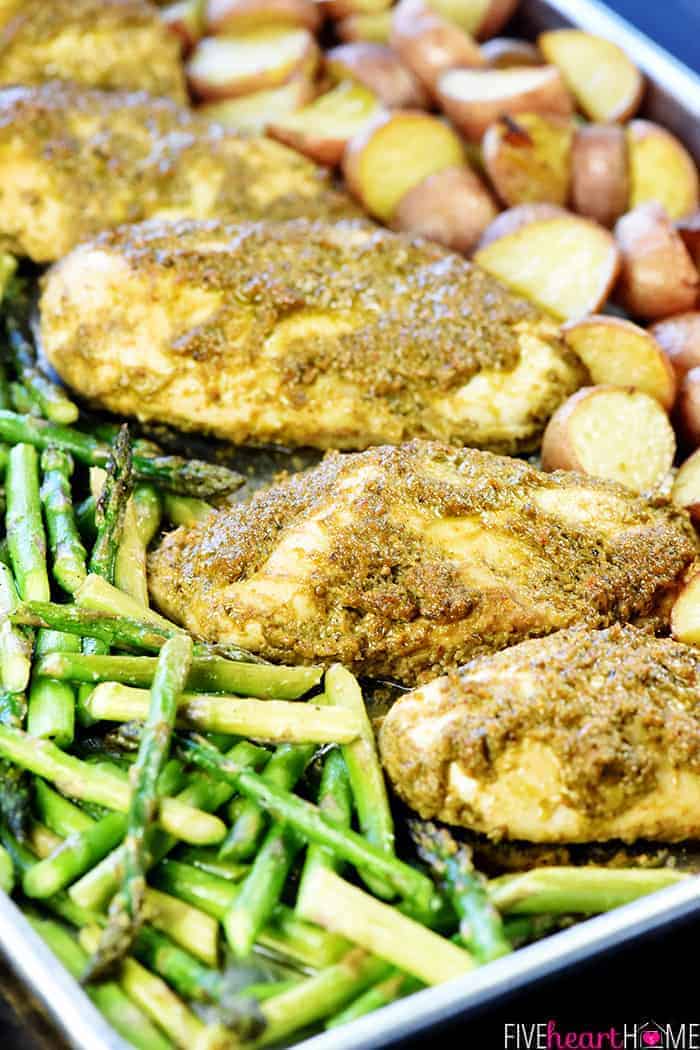 Chicken breasts should always be cooked to a safe internal temperature (165°F), but overcooking them can cause them to dry out quickly. Therefore, I almost always use a digital food thermometer while my chicken is cooking so that I know exactly when it's done (link available in recipe card).
If desired, once the sheet pan dinner is done, sprinkle the veggies with freshly grated parmesan and return to the oven for another minute or two until melted.
If you'd like to try this recipe using different veggies (carrots and Brussels sprouts would be yummy!), simply switch the order in which you add the ingredients to the pan and/or adjust the cooking time for each vegetable accordingly.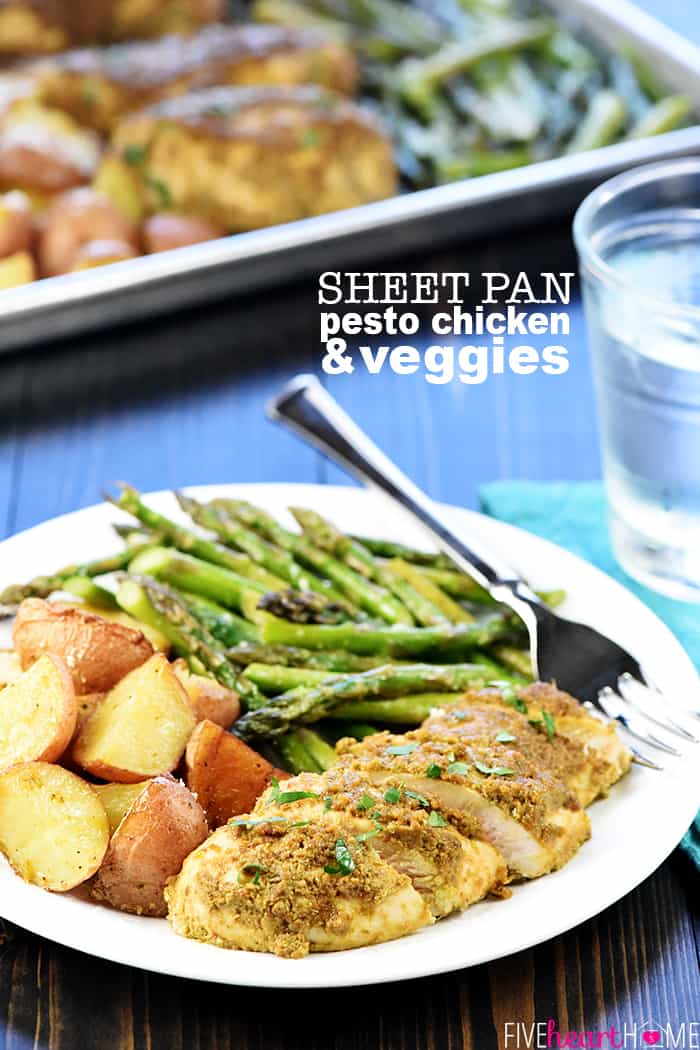 More Easy Chicken Dinners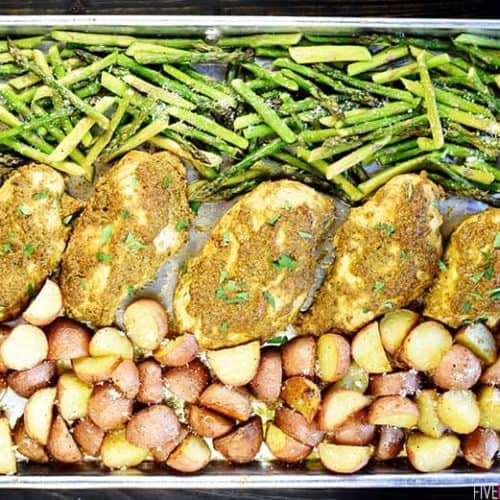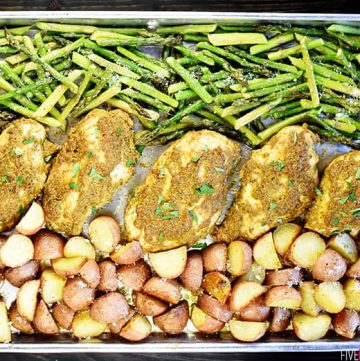 Sheet Pan Pesto Chicken & Vegetables
Sheet Pan Pesto Chicken & Vegetables is a flavorful, quick and easy, complete dinner recipe that bakes up on just one pan!
Print
Pin
Rate
Ingredients
For the Chicken:
4

boneless

,

skinless chicken breasts (2 to 2 1/2 pounds total)

1

cup

pesto

3

tablespoons

white wine vinegar

1

teaspoon

salt

Freshly ground black pepper
For the Vegetables:
1

pound

baby red potatoes

,

halved or quartered into equal pieces

5

tablespoons

extra-virgin olive oil

,

DIVIDED

1 1/2

teaspoons

garlic salt

,

DIVIDED

1

pound

asparagus

,

trimmed & cut into 2-inch pieces
Instructions
Place the chicken breasts in a gallon-sized, zip-top, plastic bag. Add the pesto, white wine vinegar, salt, and pepper. Seal the bag and squeeze to combine the ingredients and coat the chicken. Place the bag in a dish and marinate in the refrigerator for at least 6, and up to 12, hours. You may squeeze and turn the bag halfway through the marinating time, if desired.

Adjust the oven rack to the center position and preheat the oven to 400°F. Remove the marinated chicken from the fridge to start coming to room temperature.

Add the cut potatoes to a large bowl (or another gallon-sized plastic bag). Drizzle with 3 tablespoons extra-virgin olive oil, and sprinkle with 3/4 teaspoon garlic salt and pepper. Toss (or shake) until the potatoes are evenly coated with the oil and seasonings. Dump the potatoes onto a sheet pan and spread into an even layer. Bake for 20 minutes.

Add the asparagus pieces to the same bowl (or bag) used for the potatoes. Drizzle with remaining 2 tablespoons extra-virgin olive oil, and sprinkle with 3/4 teaspoon garlic salt and pepper. Toss (or shake) to coat the asparagus and set aside.

After the potatoes have cooked for 20 minutes, remove the sheet pan from the oven. With a metal spatula, scrape the potatoes from the pan, turn them over, and scoot them to one side. Thoroughly drain the pesto from the marinated chicken (you don't want excess oil on your pan but you can leave some pesto slathered on top of the chicken). Add the chicken to the other side of the sheet pan, next to the potatoes. Return the pan to the oven and cook for 15 minutes.

After 15 minutes, scoot the chicken to the center of the pan and add the asparagus on the other side. Cook for an additional 10 to 15 minutes or until the chicken reaches an internal temperature 165°F and the asparagus and potatoes are tender. Serve immediately.
Calories:
756
kcal
|
Carbohydrates:
27
g
|
Protein:
55
g
|
Fat:
46
g
|
Saturated Fat:
7
g
|
Cholesterol:
149
mg
|
Sodium:
1592
mg
|
Potassium:
1581
mg
|
Fiber:
5
g
|
Sugar:
5
g
|
Vitamin A:
2175
IU
|
Vitamin C:
18.8
mg
|
Calcium:
150
mg
|
Iron:
4.6
mg