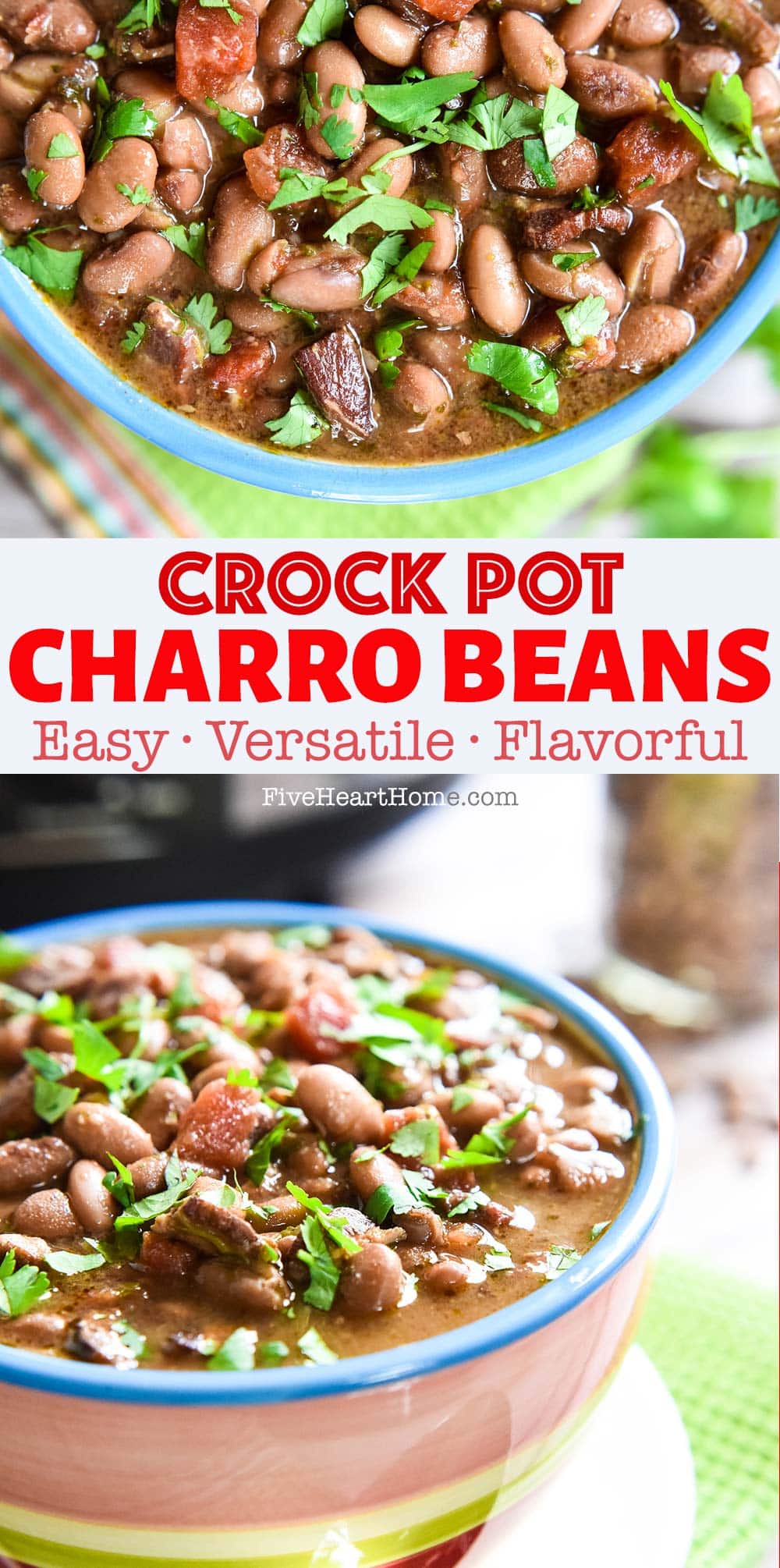 Charro Beans are flavored with bacon, garlic, tomatoes, green chiles, jalapeños, cilantro, and spices and cooked in the slow cooker to make them hands-off and truly effortless…the perfect side dish for Mexican food!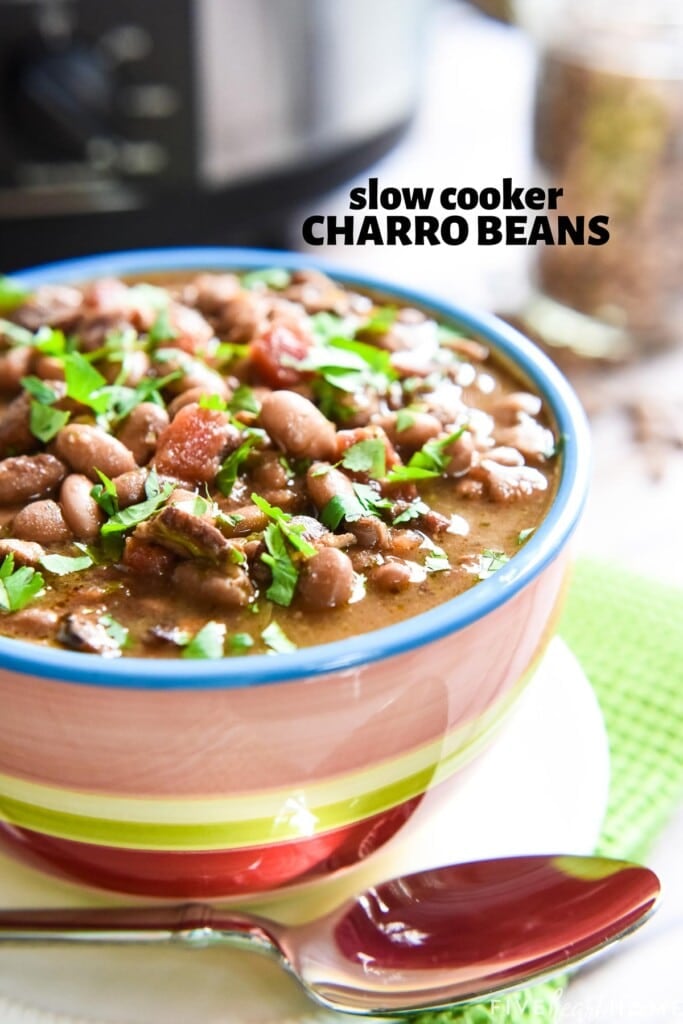 If you've been hanging around the site for a while, you may already be familiar with my recipe for King Ranch Chicken Casserole, which just so happens to be one of my family's very favorite comfort food classics. And if you've seen that post, you may have noticed a side of tasty-looking Charro Beans adorning the plate o' casserole.
Well, those beans weren't merely a photo prop, folks. They were the real, actual side dish that I make when I serve King Ranch Chicken Casserole...or Creamy Dreamy Chicken Enchiladas...or Slow Cooker Carnitas Tacos. In fact, I whip up delicious Charro Beans to accompany just about every Mexican food entree in my recipe files!
I love effortlessly cooking pinto beans in the crock pot, whether I keep them simple and straightforward for serving with barbecue or cornbread, like Ranch Beans...
...or whether I gussy them up with extra layers of flavor, herbs, and spices, like today's recipe for Slow Cooker Charro Beans!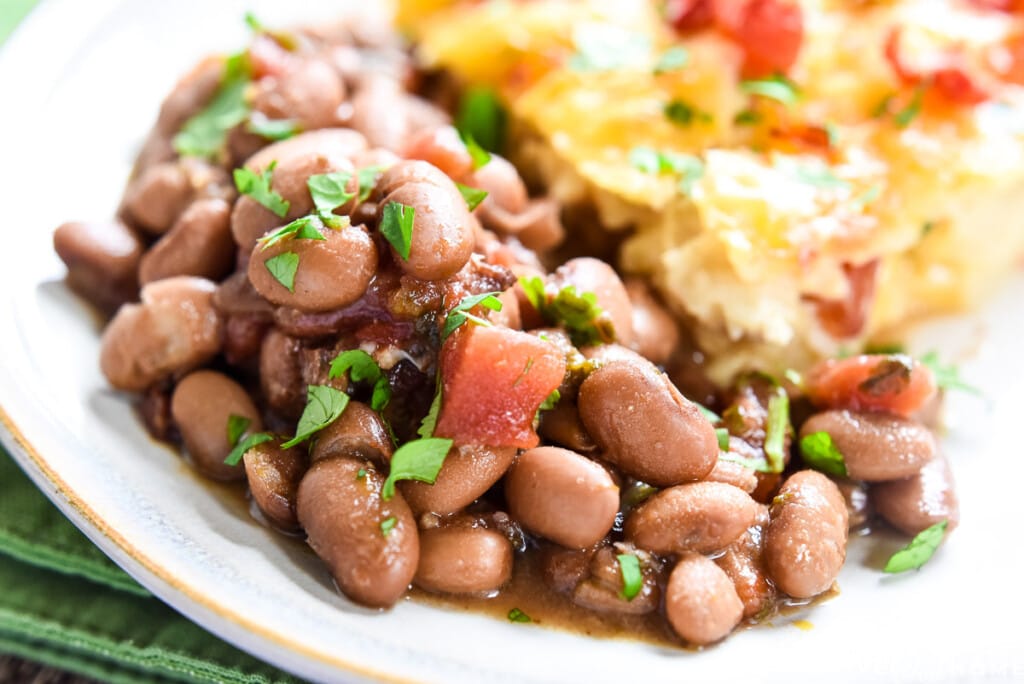 What Are Charro Beans?
"Frijoles Charros" (or Cowboy Beans) are basically a Mexican version of pork and beans...except bacon is the pork and pintos are the beans, simmered in a savory, as-spicy-as-you-like broth. If you want to turn them into "Borracho (Drunken) Beans," you can include a little Mexican beer with the broth for added depth of flavor.
At any rate, Charro Beans are tasty and zesty. They can be spicy or mild. And they are the perfect complement to your Tex-Mex or Mexican food of choice!
Ingredients
So what do you need to make this bursting-with-flavor Charro Beans recipe?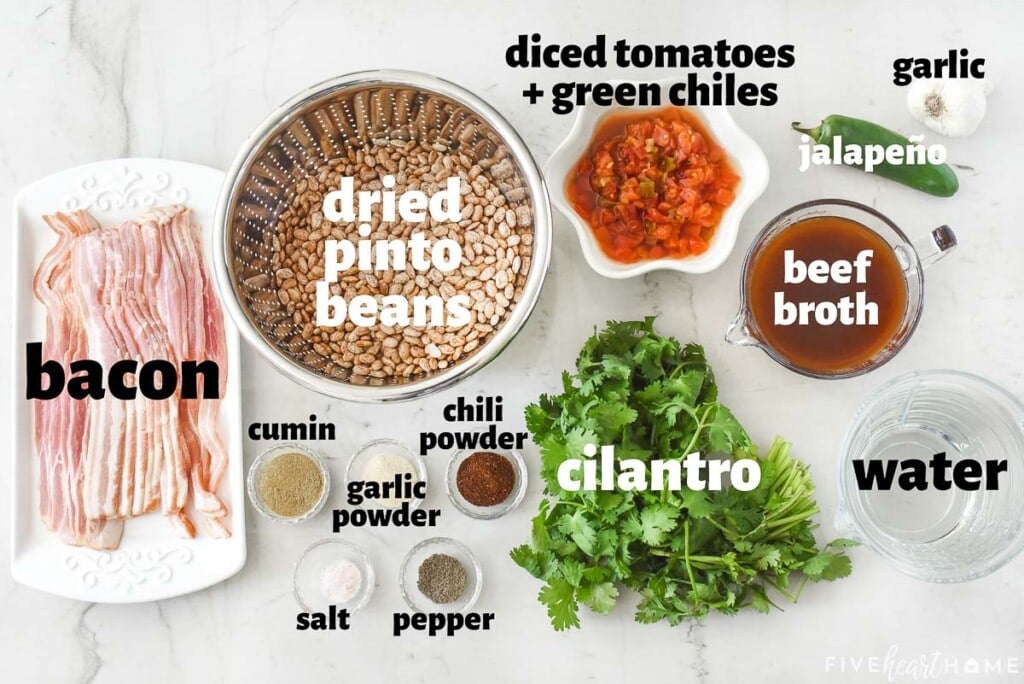 Bacon. Cooked until crispy, drained, and chopped.
Dried pinto beans. Rinsed, drained, and picked over.
Water + beef broth. Or using a spoonful of Organic Beef Better Than Bouillon is an alternative to opening a carton or can of beef broth.
Garlic. Minced. You can mince cloves of fresh garlic or the jarred refrigerated kind to save time.
Jalapeño. Diced. Optional but recommended. The long cooking time will neutralize the heat, so for spicy Charro Beans, feel free to add additional jalapeños (and leave the seeds and membranes intact!) or, alternatively, you could stir in a spoonful of chipotle chile pepper powder.
Spices. Namely, cumin, garlic powder, and chili powder (which is not spicy).
Diced tomatoes & green chiles. Otherwise known as Rotel.
Cilantro leaves. Chopped. Leave it out if you're a cilantro hater.
Salt + freshly ground black pepper. To taste.
How to Make Charro Beans
(The below photos are intended to be helpful, but please refer to the recipe card at the bottom of this post for FULL DIRECTIONS.)
Believe it or not, the most labor-intensive part of cooking this Charro Beans recipe is frying the bacon! And since I actually prefer baking it in the oven for the least effort and mess, it's really not labor-intensive at all. 😉
To bake bacon, simply arrange slices in a single layer on a foil-lined 9- by 13-inch (or larger) pan. Cook at 400°F for 15 to 20 minutes or until crispy. (Or if you have an alternate favorite method for cooking bacon, feel free to do it that way instead!)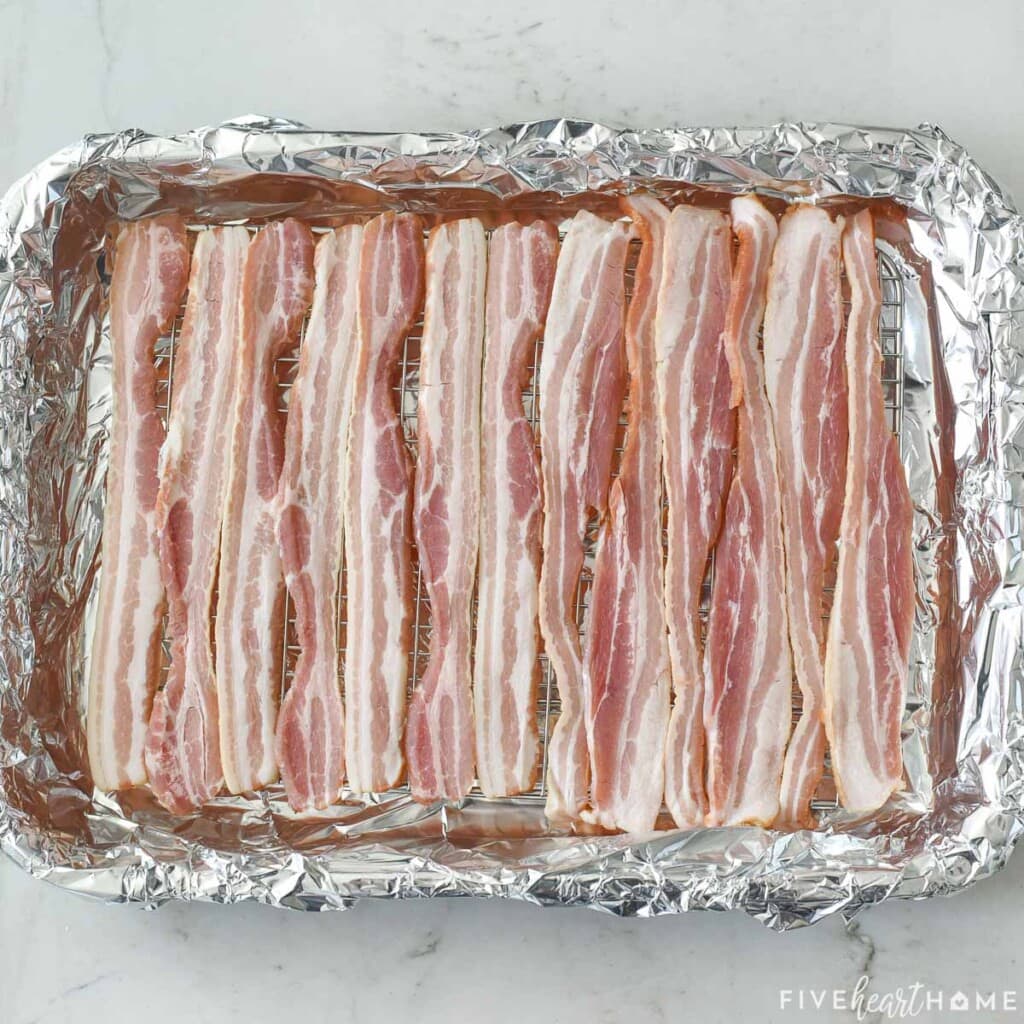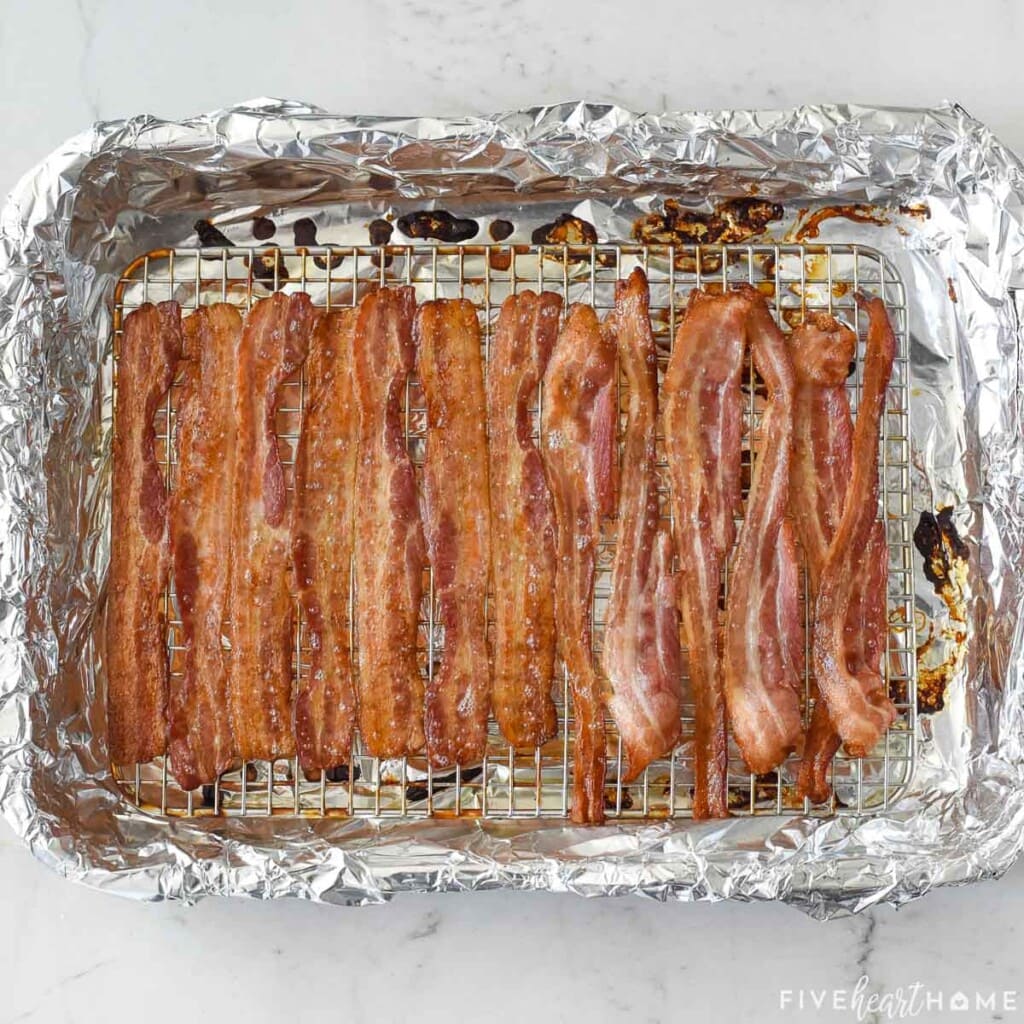 After the bacon has gotten nice and crispy, you'll need to drain it and chop it.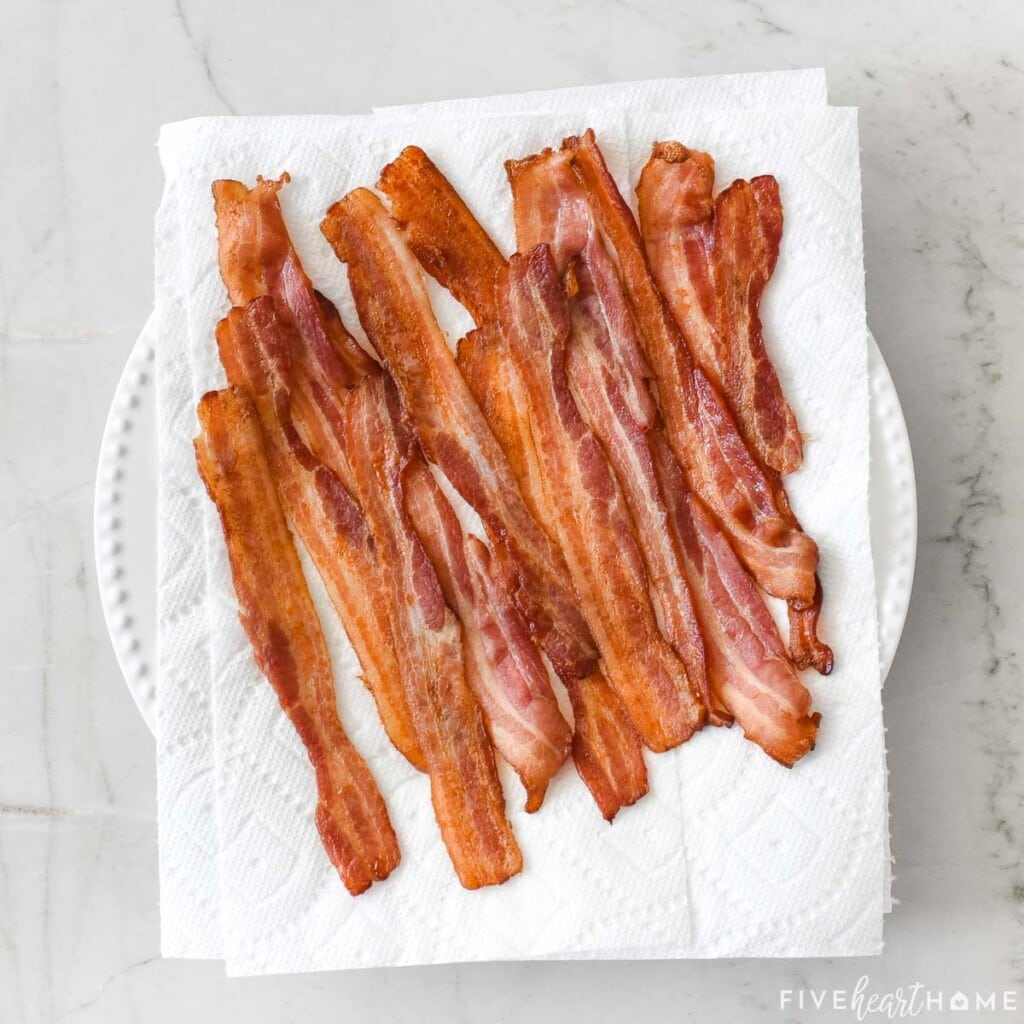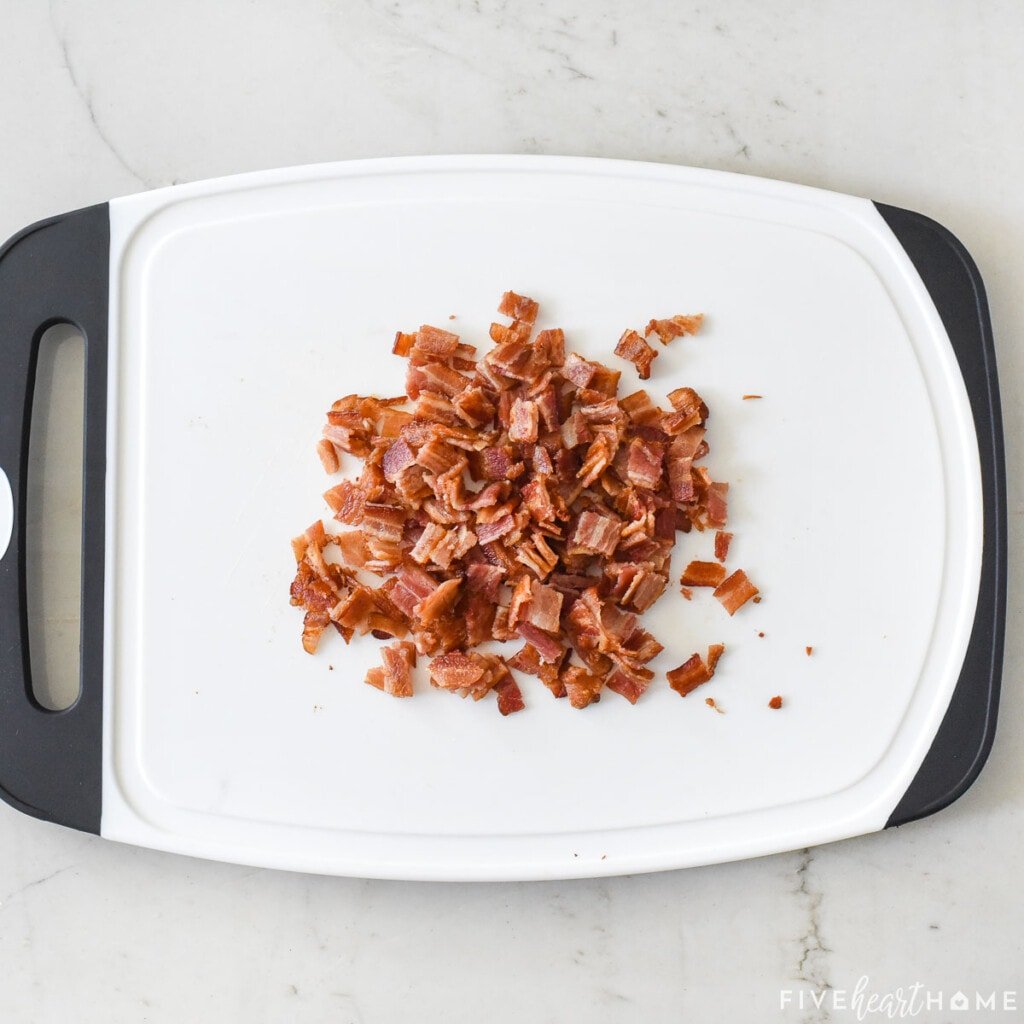 Rinse and drain your dried pinto beans, making sure you pick out any stones or undesirable shriveled-up beans. Transfer to a large slow cooker.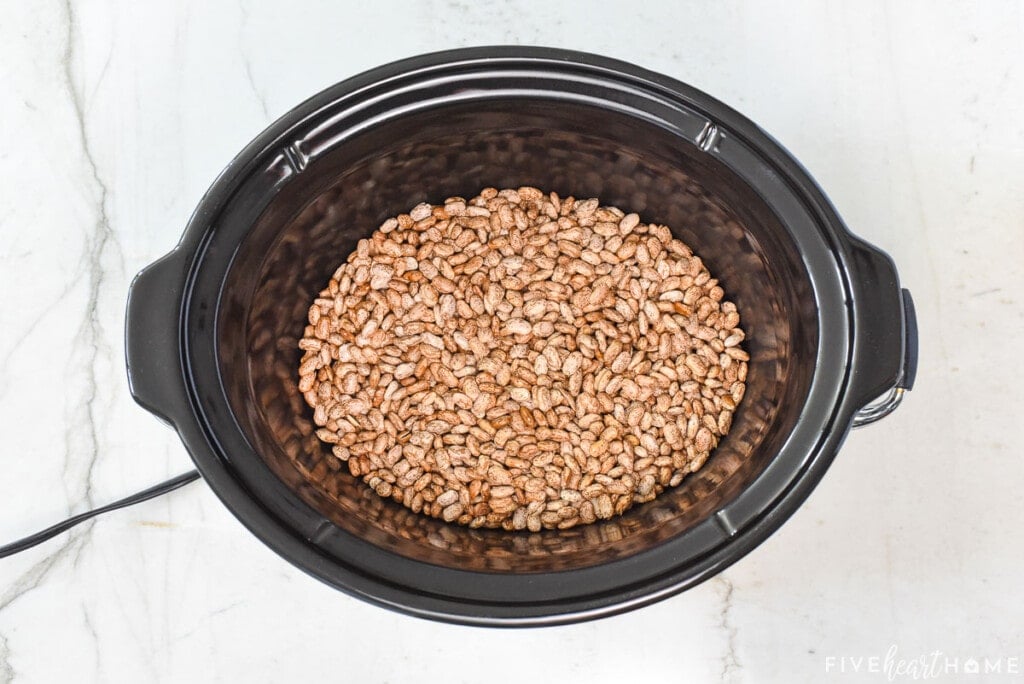 Cover the beans with water and beef broth. Then add all of those ingredients so essential to this recipe's amazing flavor: fresh garlic and jalapeño, cumin, garlic powder, chili powder, black pepper, and -- of course -- that wondrous aforementioned bacon.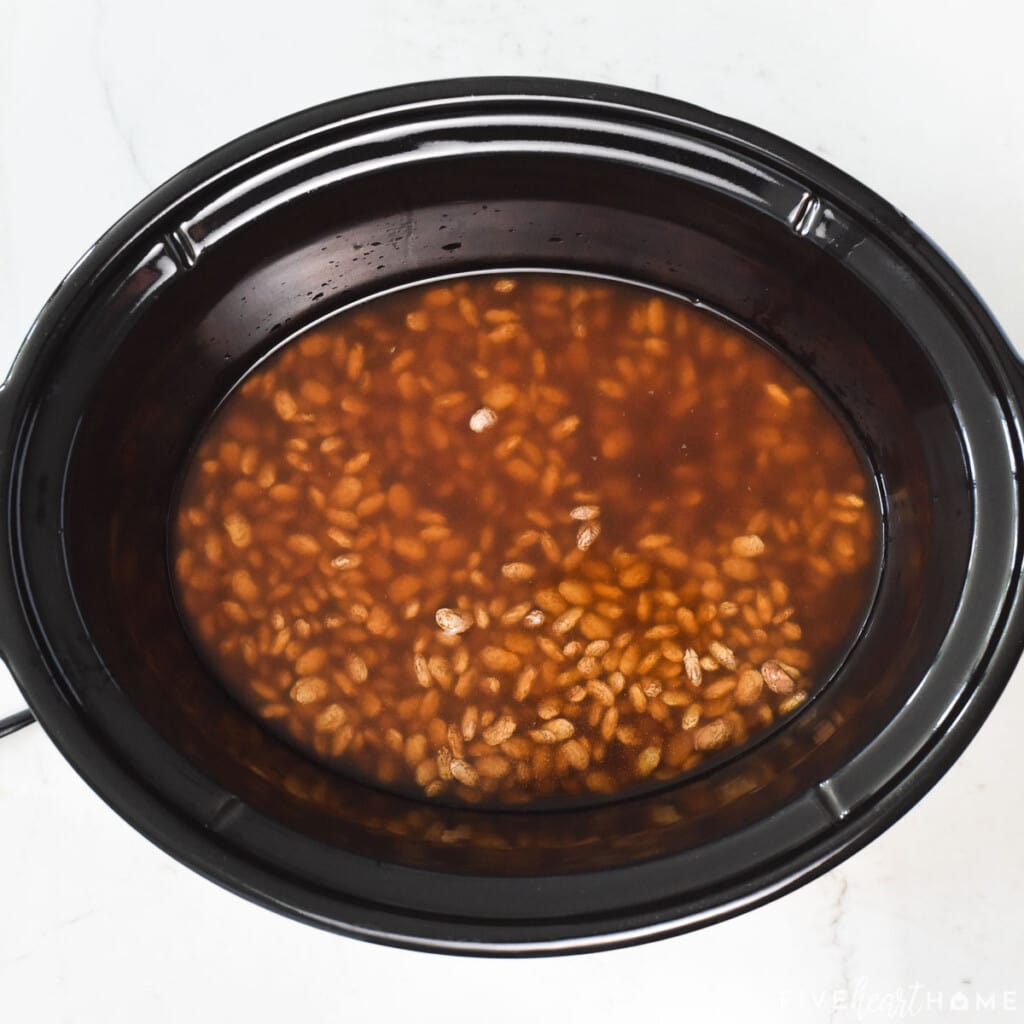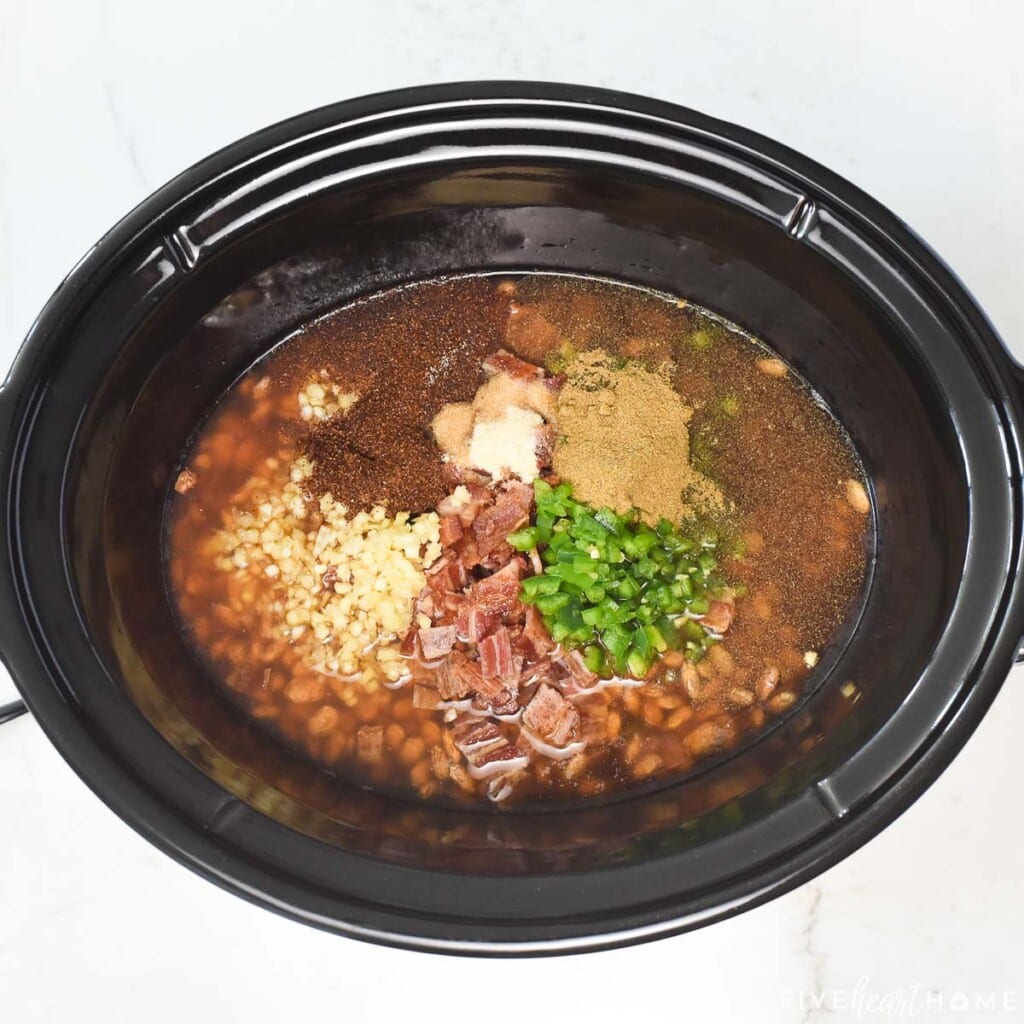 Stir the ingredients to combine and then cover and cook on LOW for 7 to 9 hours until the beans are almost done. Remove the lid to add the final two ingredients: diced tomatoes with green chiles (AKA, Rotel) and fresh chopped cilantro.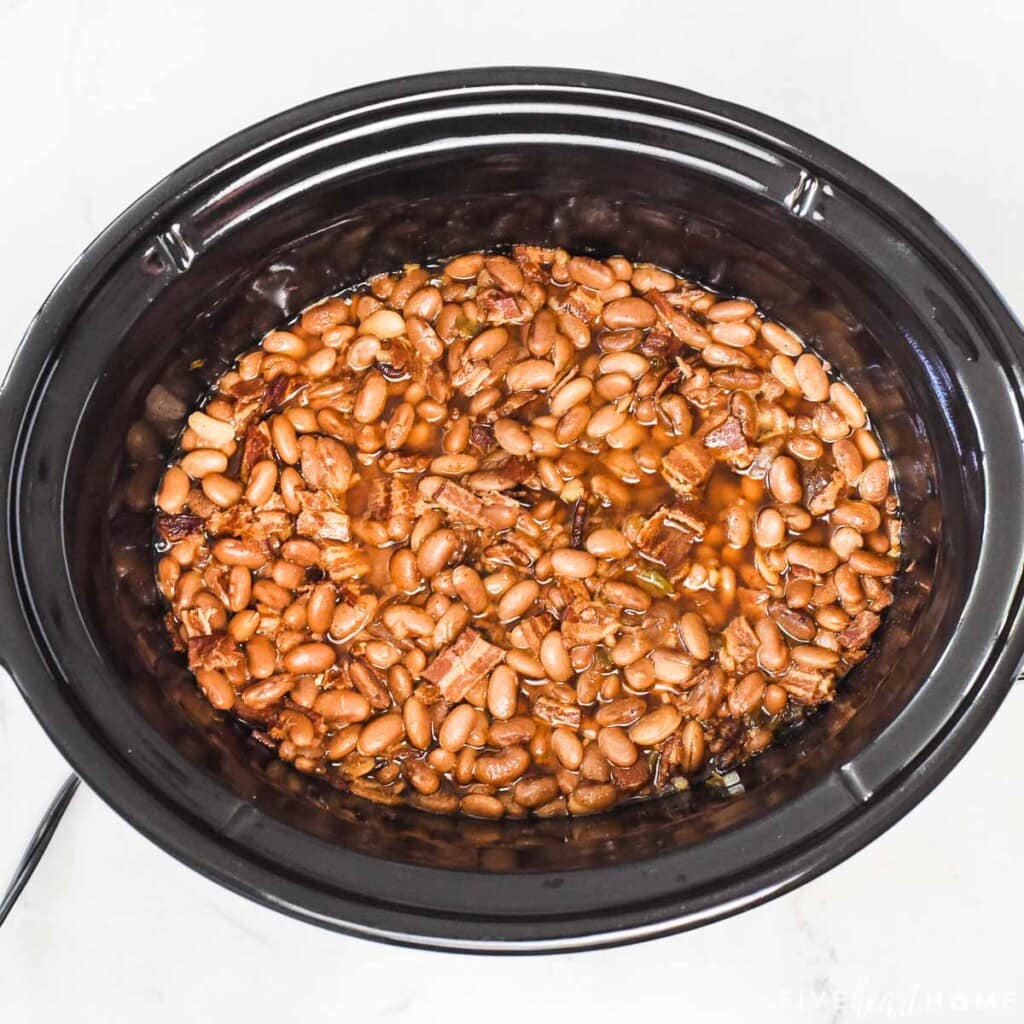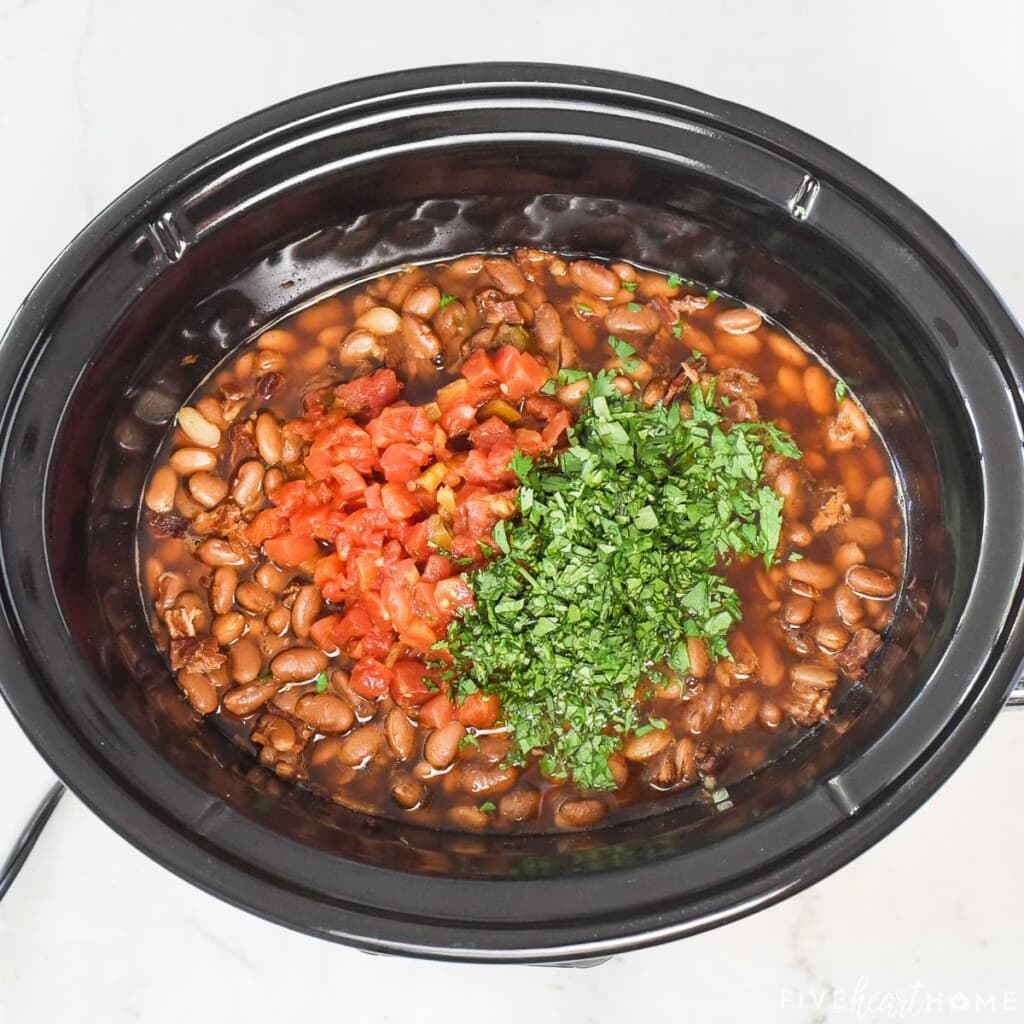 Stir, cover, and cook for an additional hour or until the beans are nice and tender.
Adjust the seasonings at the end by adding extra salt and pepper, if necessary. And at long last…enjoy!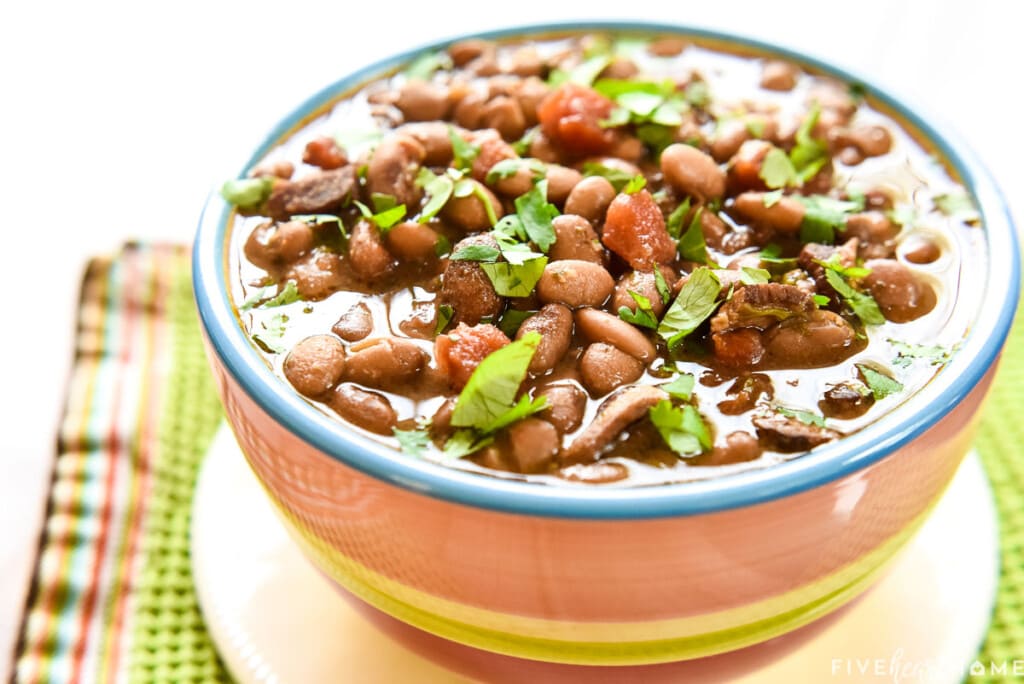 How Long to Cook Charro Beans?
So here's the thing that I've learned about cooking beans in the slow cooker over the years...cooking times can vary considerably depending on a number of factors. Some crock pots just run hotter/cook faster than others. Altitude can affect cooking time, which makes sense. But so can the hardness of your water, as beans have a more difficult time softening in hard water.
Also, if beans have been stored for over a year, they may take longer to cook or they may never soften! Even if you know that you haven't had a bag of dry beans in your pantry for that long, you never know how long they were at the grocery store before you bought them. There have been a couple of times that I've cooked a pot of beans and was surprised to find them still crunchy at the end of the allotted cooking time. The problem? Geriatric beans! So when possible, always use fresh dry beans.
And finally, don't add acidic ingredients to a recipe until the beans have already softened. Otherwise, you may end up with tough beans.
On the other hand, the commonly-held belief that beans should not be salted until they are completely finished cooking is up for debate. That being said, I typically still wait until the end to add salt...out of habit as much as fear -- ha.
That's a bunch of things to worry about, huh? Not really. Despite all of those warnings, beans are really easy to make in the slow cooker! Just get to know how hot your particular crock pot tends to run. Use fresh beans. And arm yourself with the above knowledge! Everything will turn out just fine.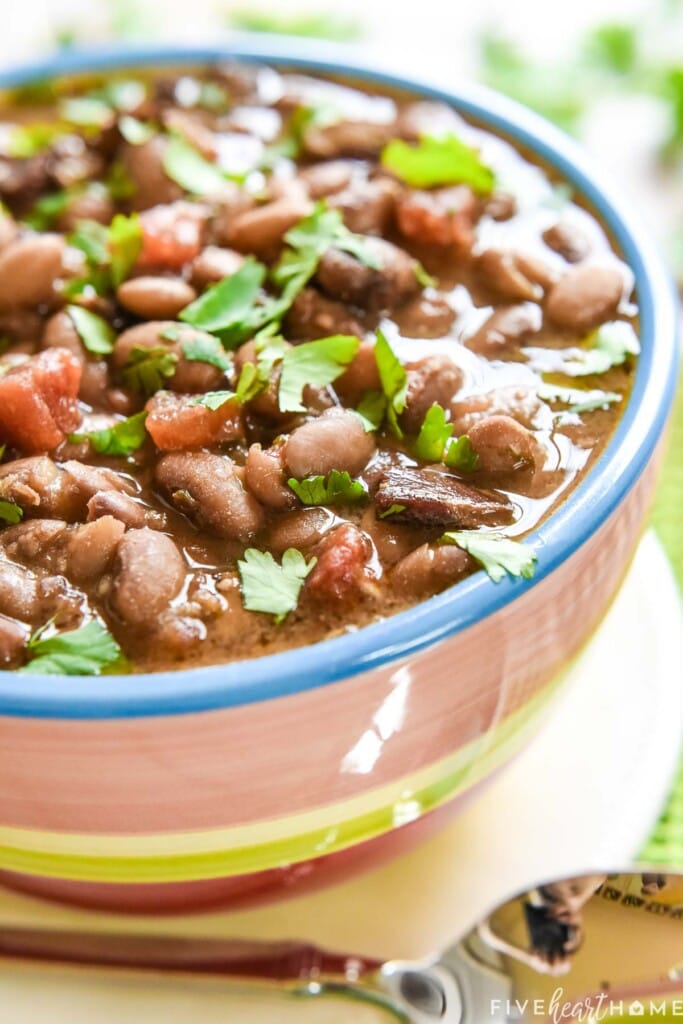 To Soak or Not to Soak?
Now for the biggest bean-related query...to soak or not to soak? To be perfectly honest, I pretty much never soak my beans, primarily because I'm lazy I never remember to do so the night before. If you are a planner-aheader, however, and would like to consume your Slow Cooker Charro Beans a bit sooner than later, you can always soak them before cooking them.
Simply rinse and drain your beans, picking them over for any shriveled up beans, stones, or random particles.
Dump the beans into a pot and cover with a couple inches of water.
Soak for at least 12 hours before discarding any floating beans.
Finally, drain off the soaking water and proceed with the recipe.
Soaked beans will probably only need 5 to 7 hours in the crock pot to cook as opposed to 8 to 10, but again, keep all of those aforementioned cooking time variables in mind! Many people also argue that soaking and draining beans results in less bloating and, er, related digestive issues, but I'll leave that research up to you. 😉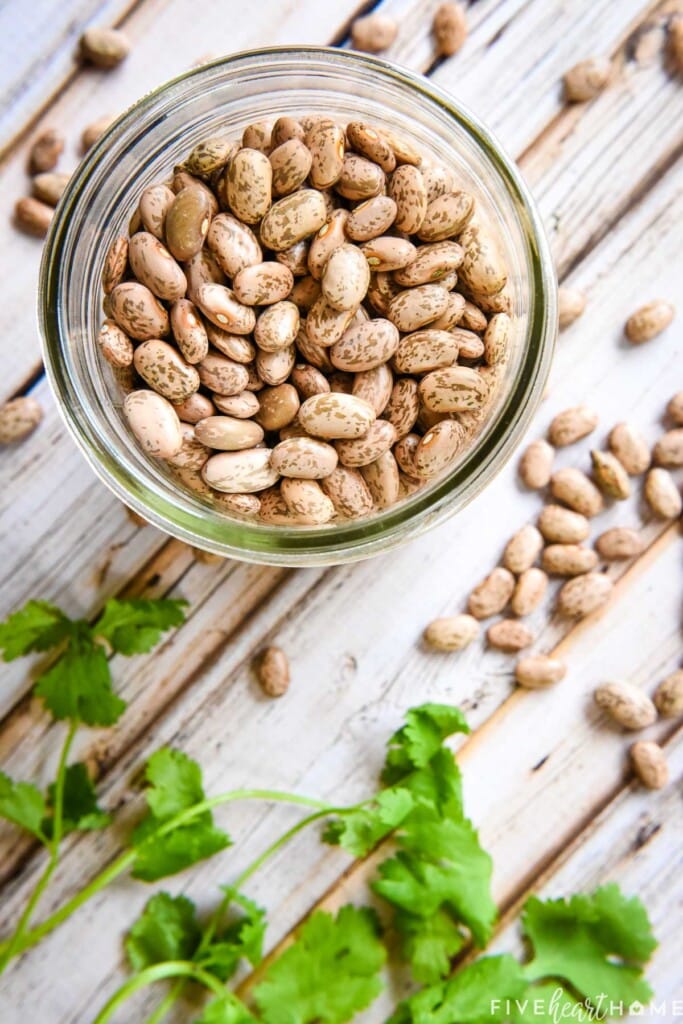 Crock Pot Temp: High or Low?
I prefer slow cooking my Charro Beans on LOW, but if you're running short on time, you can cook them on HIGH for around 5 to 6 hours.
When the time I have available is somewhere between long and short, I'll often start my crock pot on HIGH and then switch it to LOW after a couple of hours. (And when I use this tactic, I estimate that every hour on HIGH is roughly equivalent to two hours on LOW.)
Beans, Beans...
A quick anecdote regarding the potential after-affects of consuming beans, and then I'll get on with the recipe. 😉
When my boys were young, it was only a matter of time before the notorious "Beans, Beans" verse came up at dinnertime while we were enjoying our Charro Beans. My 7-year-old apparently learned it at school one day, but I'm telling you, he had it all wrong.
So after listening to him butcher the verse half a dozen times, I could handle it no longer. Despite my better judgement, I finally had to set him straight and teach him the correct words. If any child of mine is going to recite a rhyme riddled with potty words...well, by golly, he's at least going to do his mother proud and get it right! 😉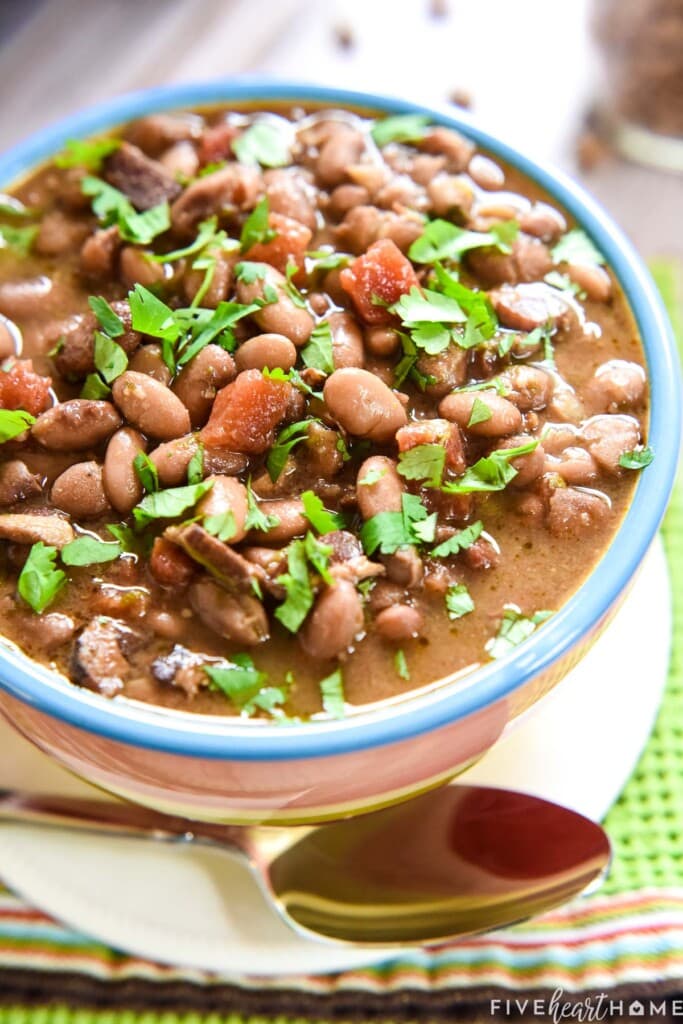 Alrighty then! With all of that rambling 'bout beans behind us, let's get to slow cooking some Charro Beans, shall we? These pintos are tasty, they're zesty, they're warm and filling...and did I mention that they include bacon???
Yep, I'm pretty sure this'll be your new go-to side dish any time Mexican food is on the menu. 🙂
More Tasty Bean Recipes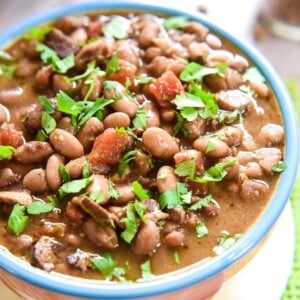 Easy + AMAZING Slow Cooker Charro Beans
Charro Beans are flavored with bacon, garlic, tomatoes, green chiles, jalapeños, cilantro, and spices and cooked in the slow cooker to make them hands-off and truly effortless...the perfect side dish for Mexican food!
Print
Pin
Rate
Servings:
8
to 10 servings
Ingredients
½

pound

bacon

1

pound

dried pinto beans

4

cups

water

2

cups

beef broth

6

cloves

garlic

,

minced

Fresh jalapeno

,

diced (optional)

1

tablespoon

cumin

1

teaspoon

garlic powder

1

teaspoon

chili powder

1

(10-ounce) can diced tomatoes & green chiles

,

such as Rotel

1

cup

fresh cilantro leaves

,

chopped

Salt & freshly ground black pepper
Instructions
Cook the bacon until crispy. Drain, chop, and set aside.

Place the beans in a colander, rinse well, and remove any stones or shriveled beans.

Pour the beans into a large slow cooker. Cover with water and beef broth. Add chopped bacon, garlic, jalapeño (if using), cumin, garlic powder, and chili powder; stir to combine. Cover and cook on LOW for 8 to 10 hours (or on HIGH for 4 to 6 hours) or until almost done.

Stir in the Rotel and chopped cilantro; cover and cook for an additional hour or until tender (the total cooking time on LOW will likely be between 9 to 11 hours, depending on how hot your particular slow cooker runs). When the beans are done, season with salt and freshly ground pepper, to taste (stir in ½ teaspoon of salt at a time, tasting before adding more).
Notes
My favorite way to cook bacon is to lay it in a deep, foil-lined baking pan and bake it on the center rack at 400°F for 15 to 20 minutes or until done to your liking.
The first time you cook beans in your slow cooker, periodically check that they remain covered with liquid. Add additional hot water during the cooking process, if necessary.
One jalapeño cooked for that many hours should add flavor rather than spice. If you prefer mild beans, scrape out and discard the seeds and membranes before dicing the jalapeño, and use mild Rotel. On the other hand, if you prefer spicy beans, feel free to add more jalapeños (leaving the seeds/membranes intact), regular or hot Rotel. You can also add chipotle chile pepper powder to taste for smoky heat.
For Borracho Beans, swap out 6 ounces of the beef broth with Mexican beer.
If you prefer to soak your beans, simply rinse, drain, and pick over your beans. Place them in a pot, cover with 2 inches of water, and soak overnight. Drain off the soaking water before proceeding with the recipe. If beans are soaked, cooking time will probably be shortened by a couple of hours.
Always use fresh dried beans, as old beans can take much longer to become tender (and may possibly never soften!) There are details in the post explaining why beans sometimes don't adequately soften.
Calories:
289
kcal
|
Carbohydrates:
39
g
|
Protein:
16
g
|
Fat:
8
g
|
Saturated Fat:
2
g
|
Polyunsaturated Fat:
1
g
|
Monounsaturated Fat:
3
g
|
Trans Fat:
0.02
g
|
Cholesterol:
11
mg
|
Sodium:
247
mg
|
Potassium:
1087
mg
|
Fiber:
10
g
|
Sugar:
3
g
|
Vitamin A:
304
IU
|
Vitamin C:
12
mg
|
Calcium:
98
mg
|
Iron:
4
mg
Post originally published on October 2, 2014, and updated on May 27, 2019, December 31, 2020, and August 28, 2023.