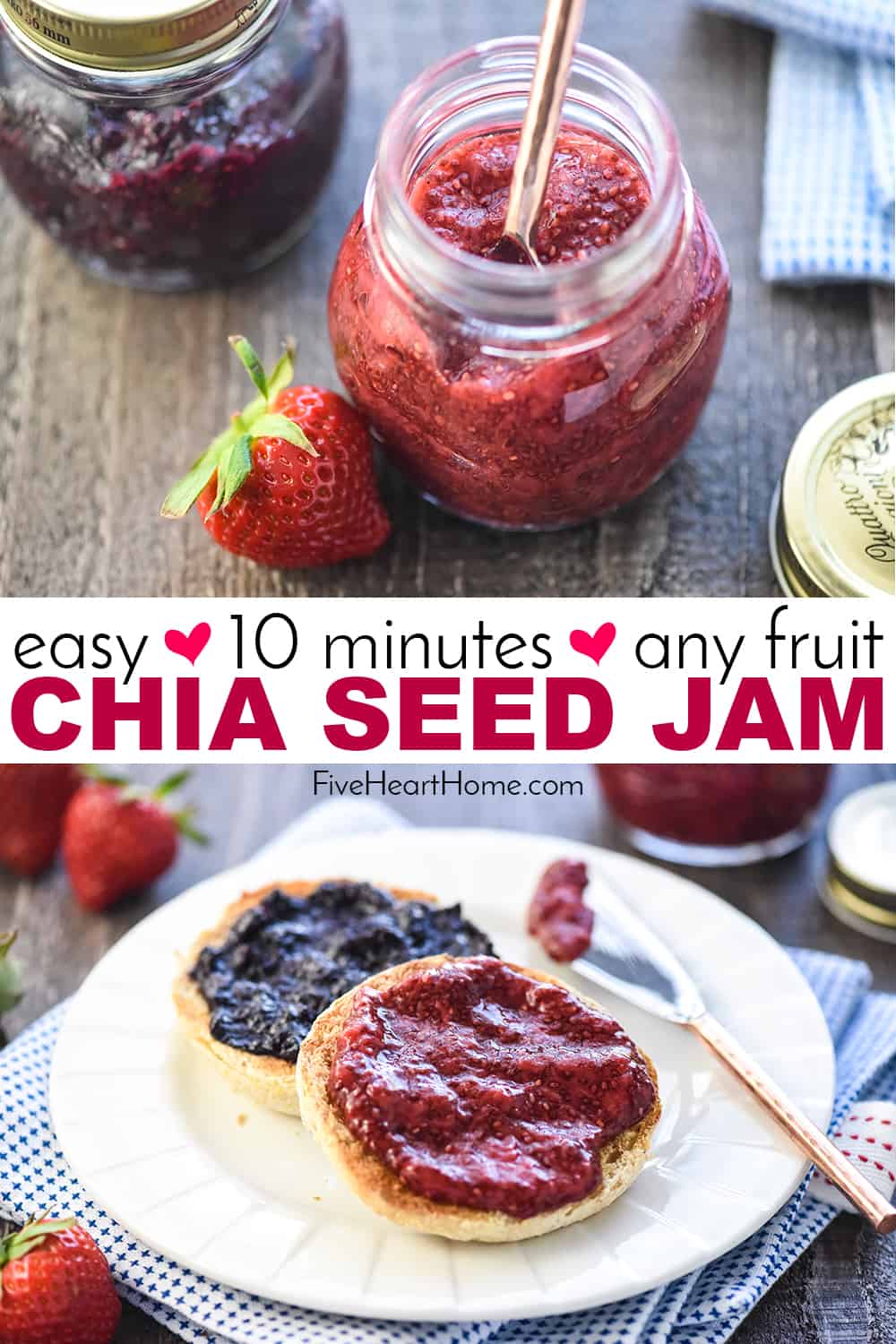 Chia Seed Jam is a quick, easy, delicious, and nutritious way to make jam -- without pectin or extra sugar -- using any fresh or frozen fruit you have on hand!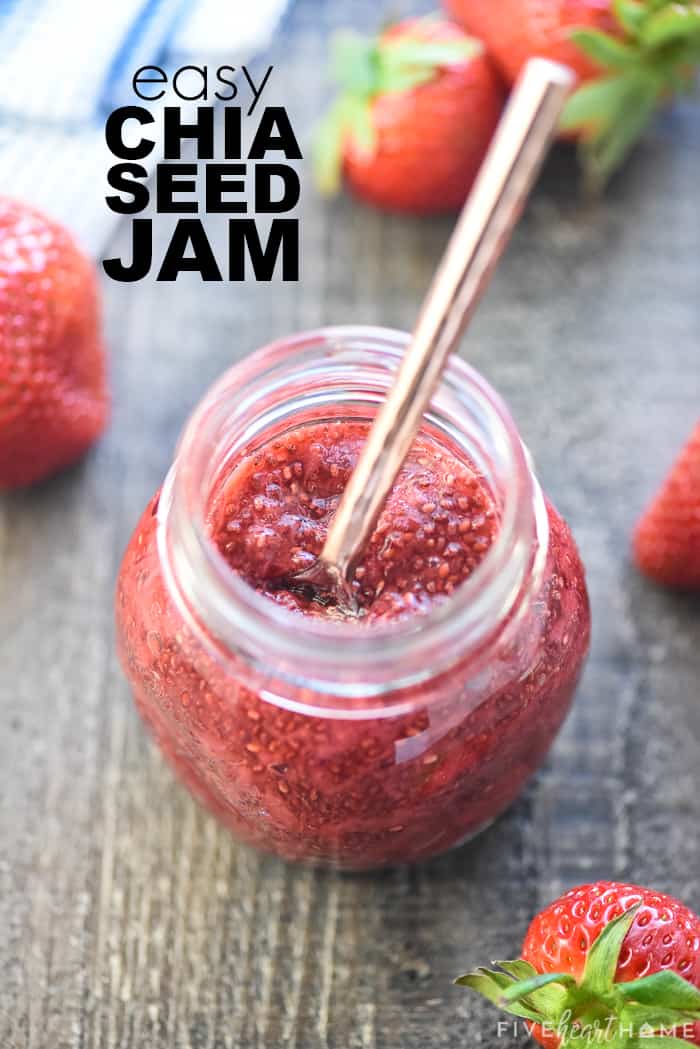 If you love making your own dips and spreads, then you'll also enjoy this Caramel Apple Cheesecake Dip, this Homemade Pumpkin Butter, or this Fluffy Chocolate Fruit Dip.
Move over grape jelly — there's a new jam in town...Chia Seed Jam! No longer relegated to growing the "hair" in those novelty pets of our youth, chia seeds are not only good for you, but they help to thicken up all sorts of fruit jams without requiring pectin or refined white sugar.
I admit that when I first heard about Chia Seed Jam, I was rather skeptical. I wondered how exactly those crunchy little seeds would taste in a jam? I imagined grittiness or crunchiness. But after trying it for myself, I happily determined that my preconceived notions were wrong! The flavor and texture of Chia Seed Jam is perfectly delightful.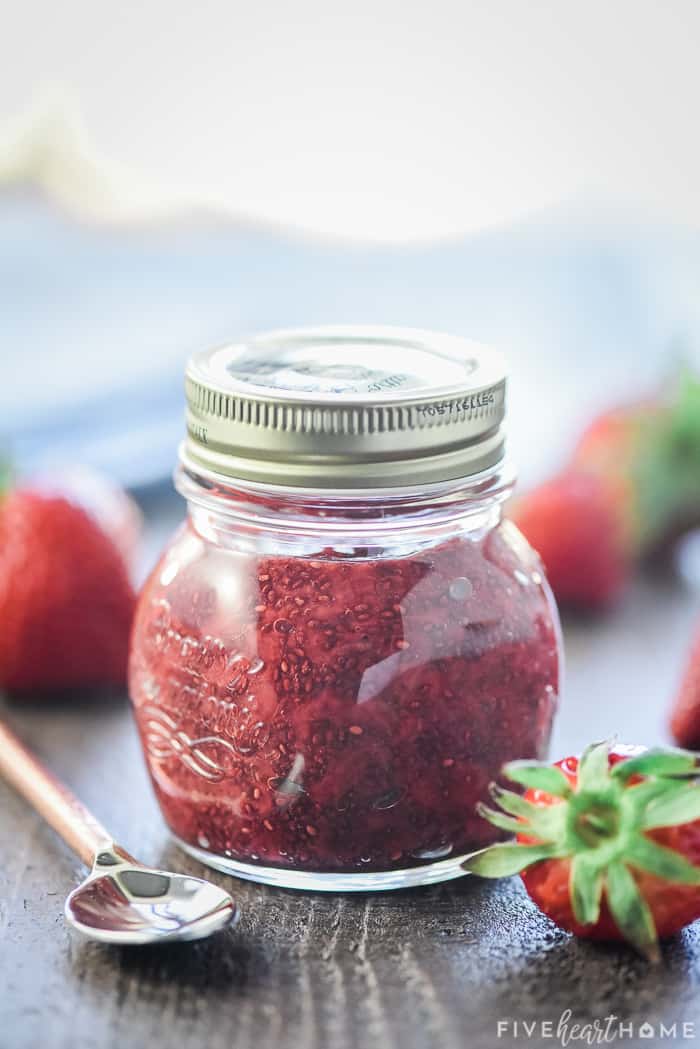 What Are Chia Seeds?
In case you're not already familiar with chia seeds, allow me to introduce you to this little wonder. Like most little "trendy" ingredients that undergo a resurgence, the chia seed has been around for thousands of years. It was, in fact, first discovered by the Mayans and Aztecs. Rumor has it these ancient civilizations used the seeds to fuel themselves for all their warrior needs, from epic battles to religious ceremonies.
Now chia seeds join the ranks of flax, hemp, wheat germ, and other teensy little seeds deemed "superfoods" in recent years. They're a great source of Omega-3s, fiber, protein, iron, antioxidants, and tons of other good stuff. I love being able to sneak these little superfoods into our smoothies, oatmeals, and other baked goods. Because what my kids don't know won't hurt them, right?
You can find chia seeds in bulk or prepackaged at pretty much any local grocery store. And they come in black or white varieties.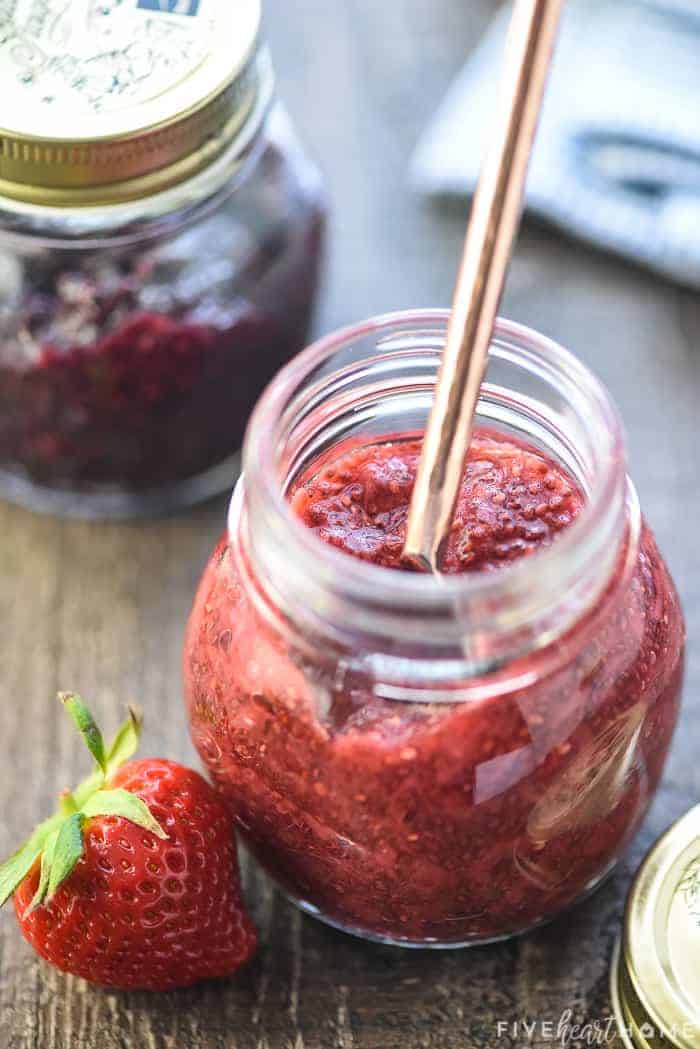 How to Make Chia Seed Jam
Making this Chia Seed Jam recipe could not be any simpler. In fact, it's a great cheater beginner jam recipe for newbies. So if this is your first time making jam, welcome. It's not even scary, I promise!
You can use whatever fruit you have on hand, but since I always keep bags of frozen fruit in the freezer for smoothies, that's what I typically use. The first thing you'll do is mix together your fruit and lemon juice in a medium pot over medium heat. You may need to add a tiny bit of water to ensure that the fruit wouldn't burn or stick to the bottom as it's heating up.

Once the fruit is soft and starts to break down, mash it up with a fork or the back of a spoon.

Bring the mixture to a simmer and let the liquid reduce.
Finally, stir in the magic ingredient -- chia seeds -- plus a little honey for added sweetness, if you like.

Cook and stir for a couple more minutes and then remove from the heat to allow the jam to thicken up off the burner. Voilà! Thick, glossy Chia Seed Jam!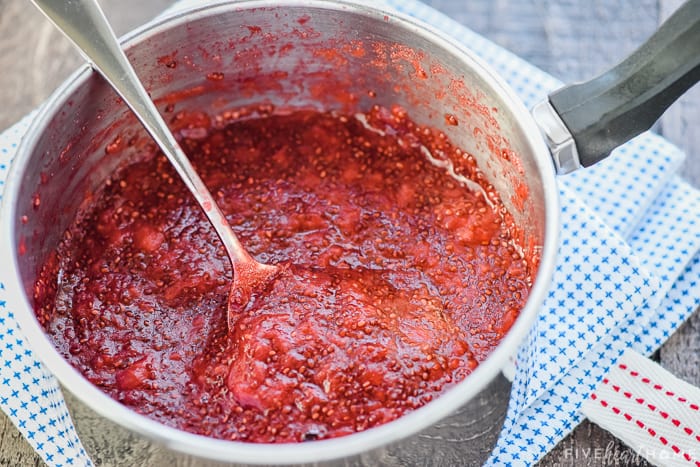 Can You Use Ground Chia Seeds?
I actually tried this very same recipe using ground chia seeds and felt that the texture was kind of gritty.
I also thought that using ground seeds, the chia taste really came through versus melding into the background.
Because of this, I do prefer using whole chia seeds in my jam.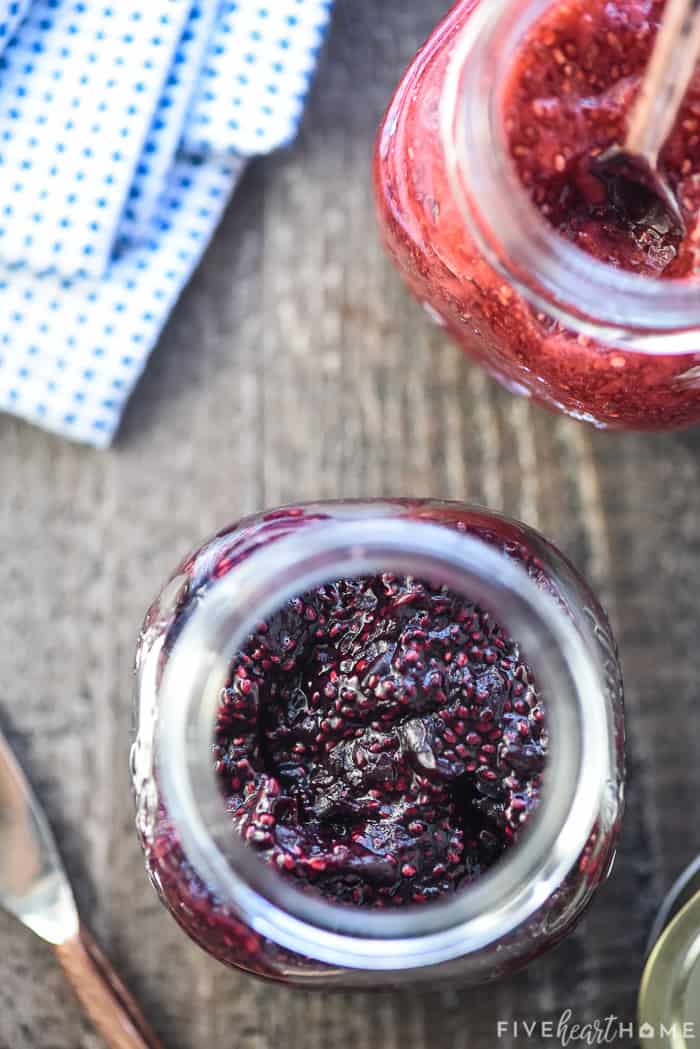 Fruits to Try
I made the Chia Seed Jams pictured in this post using strawberries and blueberries. I've also made Chia Seed Jam using cherries and peaches...and I intend to try it with lots of other varieties of fruits. Here are some ideas to get you started:
Berries. Berries make a great jam because they aren't super liquidy and they break down and cook up quickly. Try making this Chia Seed Jam recipe using strawberries, blueberries, blackberries, or raspberries. In fact, if you're worried about the "seedy" texture of chia seeds (ha), it will actually be mostly hidden in a jam that already contains berry seeds. Although it should be noted that the chia seeds soften so much you'll hardly notice them in your jam anyway.
Stone Fruits. Peaches, apricots, nectarines, and cherries are all stone fruits that make great jams and go quite nicely with the addition of chia seeds. These fruits might need slightly longer cooking times, however, to account for evaporating a bit of extra liquid.
Citrus. Citrus fruits like oranges, lemons, limes, mandarins, and grapefruit take a little more time to turn into jam (or "marmalade"). They require the use of some zest as well as additional cooking time to reduce extra liquid. But the taste is worth the effort!
Seasonal. While you won't find rhubarb year-round, it does make for a delicious jam when it can be found. The same can be said for mangoes, persimmons, pears, figs, or any other in-season fruits you care to experiment with!
Ways to Enjoy Chia Seed Jam
How do I eat Chia Seed Jam? Let me count the ways...
It's excellent spread on toast, bagels, English muffins, and regular muffins...especially if you slather 'em first with butter. 😉
A spoonful over the top of overnight oats is a welcome mix-in.
Whiz a tablespoon or two of jam into your favorite breakfast smoothies.
Chia Seed Jam is also a yummy way to jazz up baked oatmeal!
This nutritious jam is a healthy choice over pancakes and waffles.
Stir some into plain yogurt to add flavor, sweetness, and color. Bonus points if you sprinkle granola on top!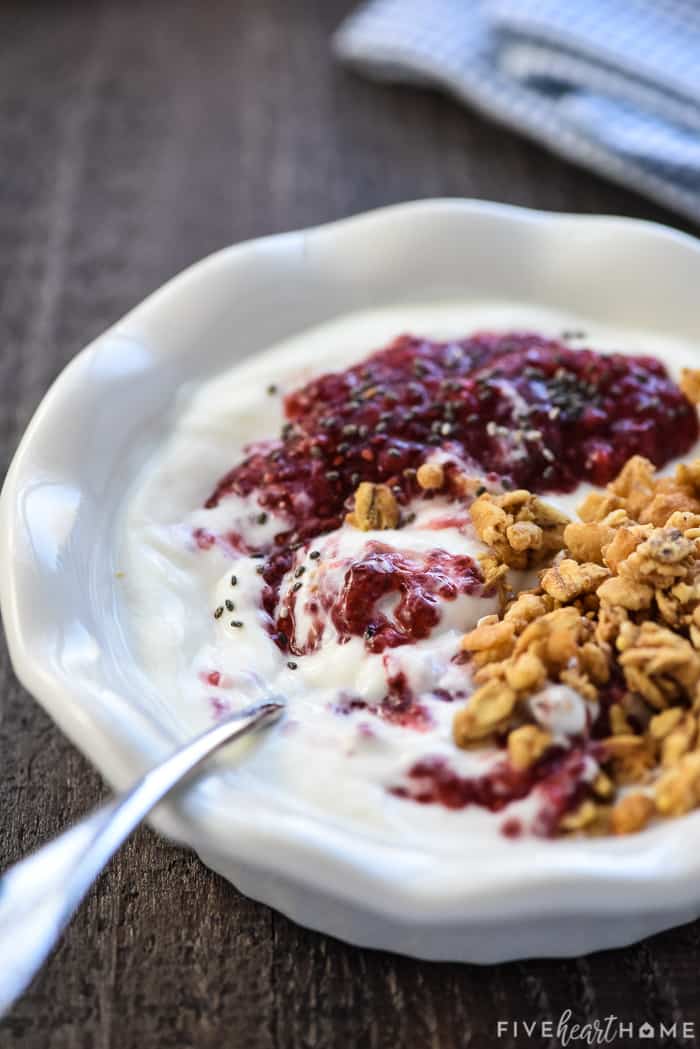 So have I convinced you to try Chia Seed Jam yet?
I think you'll love the flavor, and I think you'll love that you can easily add this nutritious seed to your diet...tiny bit by delicious tiny bit!
More Breakfast Treats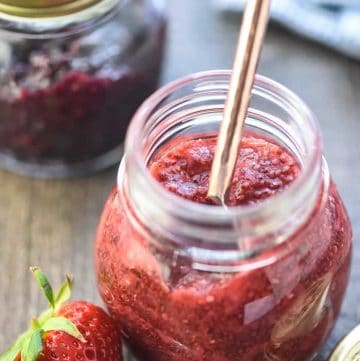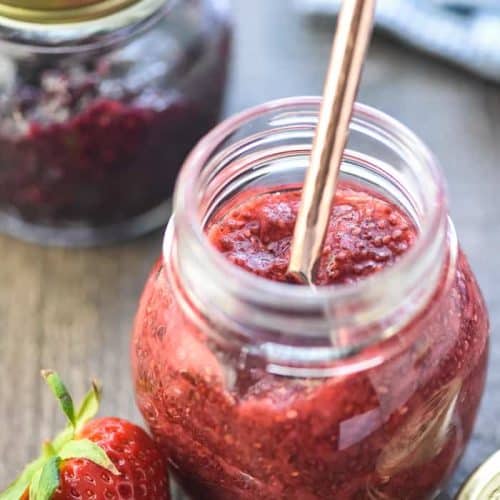 Chia Seed Jam
Chia Seed Jam is a quick, easy, delicious, and nutritious way to make jam without extra sugar or pectin using any fresh or frozen fruit you have on hand!
Print
Pin
Rate
Ingredients
2

cups

frozen fruit

1

teaspoon

lemon juice

1 to 2

tablespoons

water

,

only if necessary

2

tablespoons

chia seeds

1

tablespoon

honey OR sweetener of your choice

,

optional
Instructions
In a medium pot set over medium heat, add frozen fruit and lemon juice. Stir as the pot heats up and the fruit thaws, adding water only if necessary (to get the fruit moving and/or keep it from burning). Cook until the fruit is soft, broken down, and bubbly, about 5 to 10 minutes. Mash the fruit with a fork or the back of a spoon to your desired consistency, then bring to a simmer.

Stir in the chia seeds and honey, to taste. Cook and stir for 2 more minutes or until the liquid is reduced. Remove the pot from the heat and allow the jam to cool and thicken.

Transfer any leftovers to a lidded jar or container. Refrigerate for up to 2 weeks or freeze for up to 3 months and thaw in the refrigerator before serving.
Notes
The total cooking time will be dependent on the density of the fruit you use and how broken-down you prefer your jam. Stone fruits (such as cherries or peaches) may need to cook slightly longer in order to evaporate the excess liquid.
This recipe can be made with fresh ripe fruit, if you wish. You'll just need to shorten the cooking time accordingly.
You may use an alternative sweetener, such as pure maple syrup, agave, stevia, or even granulated white sugar
Calories:
34
kcal
|
Carbohydrates:
6
g
|
Fat:
1
g
|
Potassium:
67
mg
|
Fiber:
1
g
|
Sugar:
3
g
|
Vitamin C:
21.5
mg
|
Calcium:
25
mg
|
Iron:
0.4
mg
Post originally published on May 16, 2019, and updated on June 16, 2020.